The Return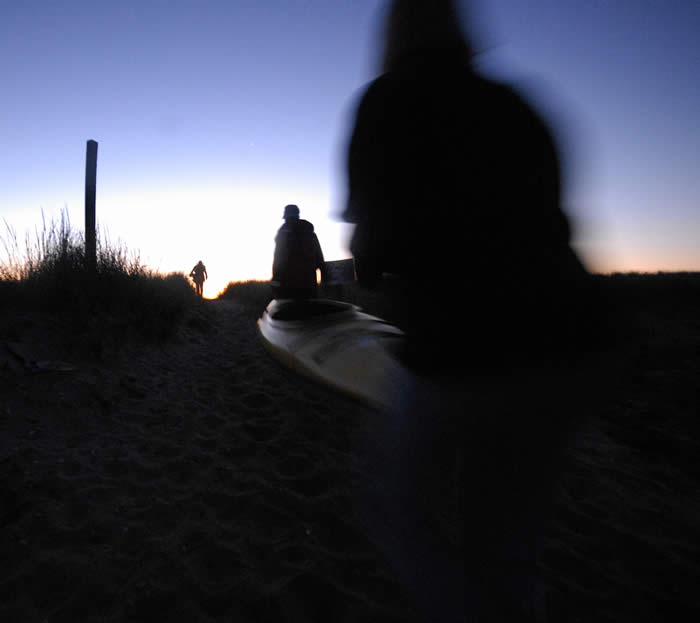 On sunday, the 20th of September, 2009, Kim Hart returned to his birthland. His spirit has always been here, of course, but on that particular Sunday we gathered at sunrise to celebrate his life.
There are eleven of us - Val Hart, his brother; Niklas Hart, his son; Julia Hart, his daughter-in-law; Cornelia Hart, his granddaughter; Sam Low, his cousin; Elizabeth Hart and Kirsten Hazler, his nieces, and his good friends Terry and Judi Vose, Grace Valenzuela (Val's wife), and Karin Swanson (Sam's wife).
The place is a family beach on Martha's Vineyard where Kim spent his summers. For the last week or so, the weather had been unsettled - strong north winds buffeted the coast, bringing rain and crashing surf. But on Saturday, the winds died and the sky began to clear. On this Sunday morning the air is still and crystalline. The ocean has gone mirror flat. The rising sun lies just below the horizon as we make our way onto the beach.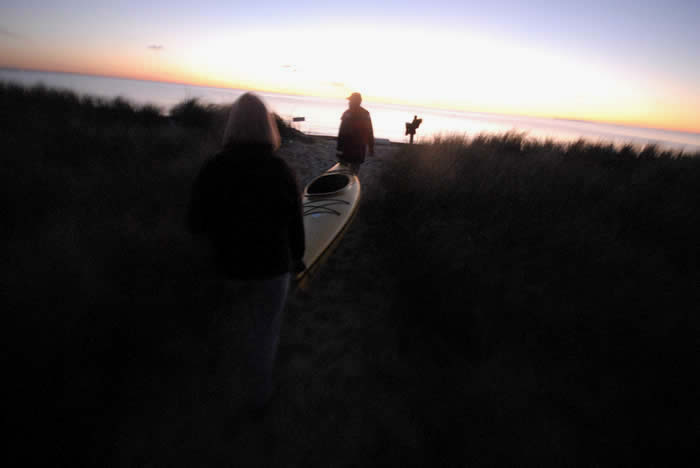 Sunrise is the time when life returns.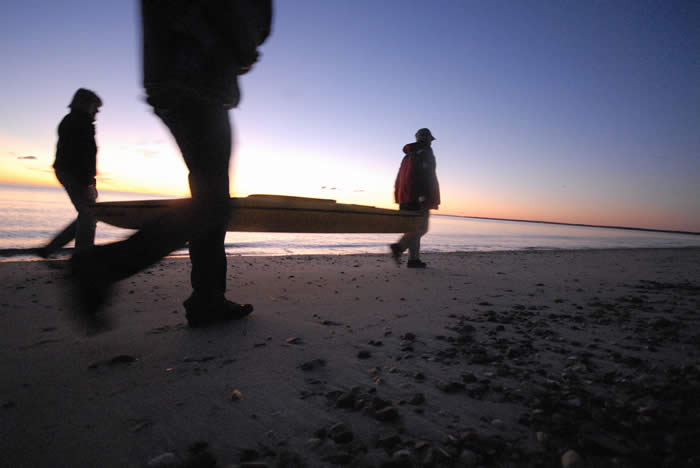 And so we return with the sun to Kim's beach.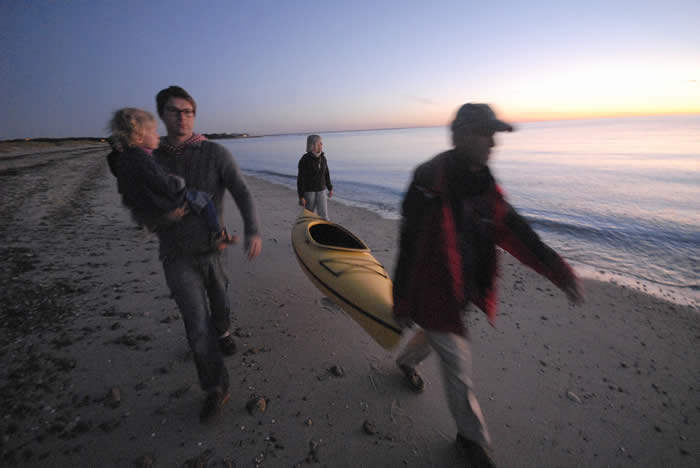 Niklas and Cornelia, Karin and Terry.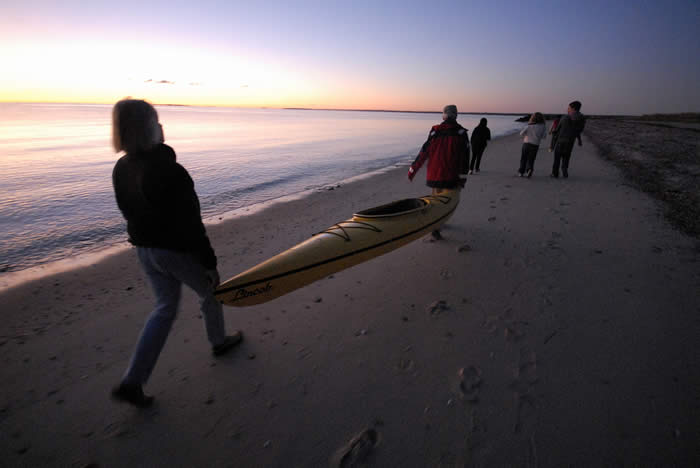 The tide is ebbing and the sand is hard beneath our feet. The air is cool. At this moment, I think all of us have entered our own private worlds. There is silence.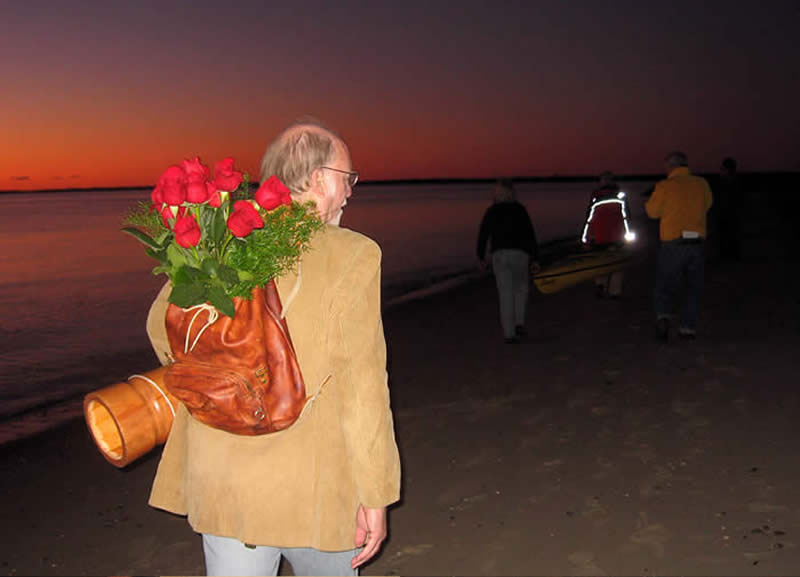 Val carries a drum which he bangs slowly as we walk along. In his backpack, the kind that Norwegian schoolchildren use to carry their books - he carries roses for the ceremony. Kim gave the backpack to Terry twenty-five years ago and now Terry has given it to Niklas.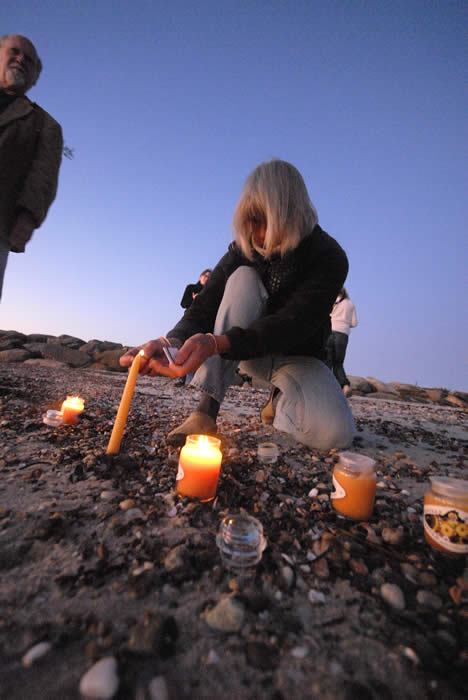 Karin lights candles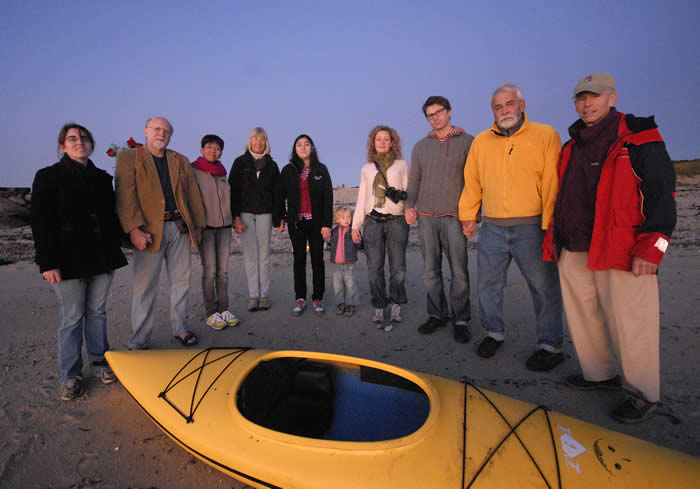 Kirsten, Val, Grace, Karin, Elizabeth, Cornelia, Julia, Niklas, Sam, Terry.
Judi takes our photograph.
Before the ceremony begins - Val reads a final farewell to Kim that he composed a few hours earlier.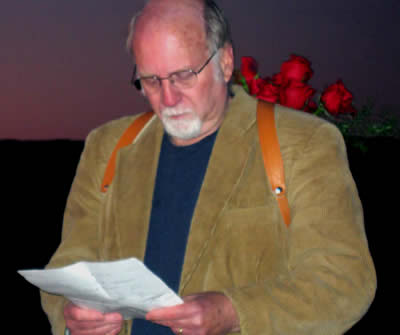 It's six months and a few days since we laid your body to rest in your beloved adopted Norway. Now we are gathered together on your beloved native soil of the Vineyard.
We are here to give a final farewell to your restless spirit. We have created this ceremony the best that we could – in a way that honors you and shows the respect we feel toward you: as a father, grandfather, husband, uncle, cousin, friend, and brother.
We will fill a bundle with stones from the beach. Each stone will remind us of the rock you were -- massive, solid, of true weight.
Your good and worthy son Niklas will transport the bundle to sea by kayak, just beyond the jetty, and set your spirit free into the salt water that was as natural to you as the air we breathe.
We on the shore will chant a Hawaiian incantation to the rising sun, which will remind us, as your Ernest Hemingway did, that amid all the grief and sorrow and unhappiness in the world, nevertheless the sun also rises.
Set your spirit free now, and join the universe that unites all things living and dead, and know that we honor you, we love you, and we will never forget you.
Farewell, Kim.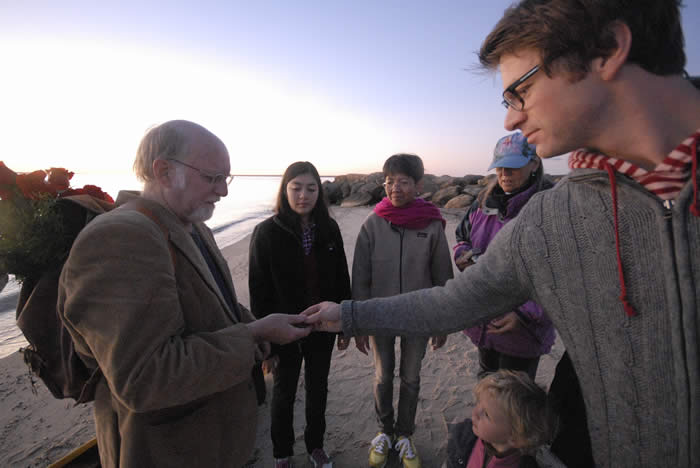 Val, Elizabeth, Grace, Judi, Cornelia, Niklas
One of Kim's favorite belongings was a fanny pack that he wore on his belt. In it he carried any manner of things that a photographer might need ready to hand.
Hawaiians believe that a person's mana - the power of his individual spirit - resides in everything that he touched or wore or held dear. So the pack represents Kim's spirit. Each of us select a single stone from the beach, a symbol of our aloha - our love - for Kim, and give it to Val who will put them all in Kim's pack.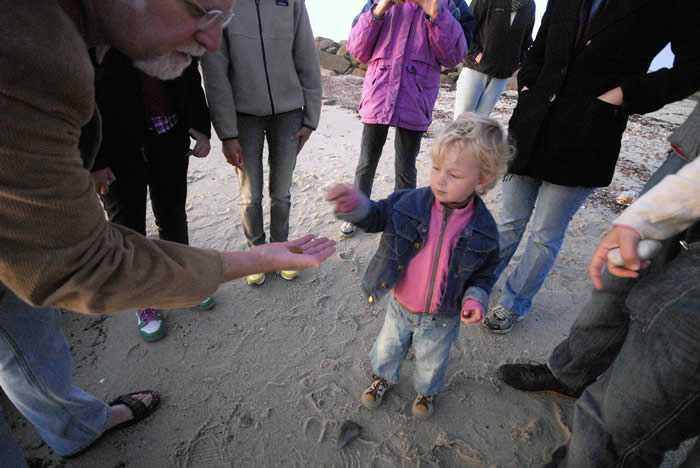 Cornelia has chosen a special rounded stone for Kim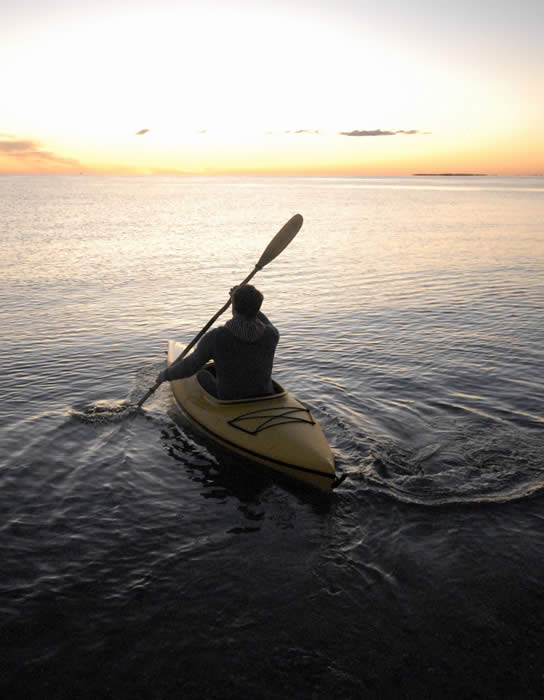 Just before sunrise, Niklas paddles to a place of his choosing. He carries the pack and a single rose.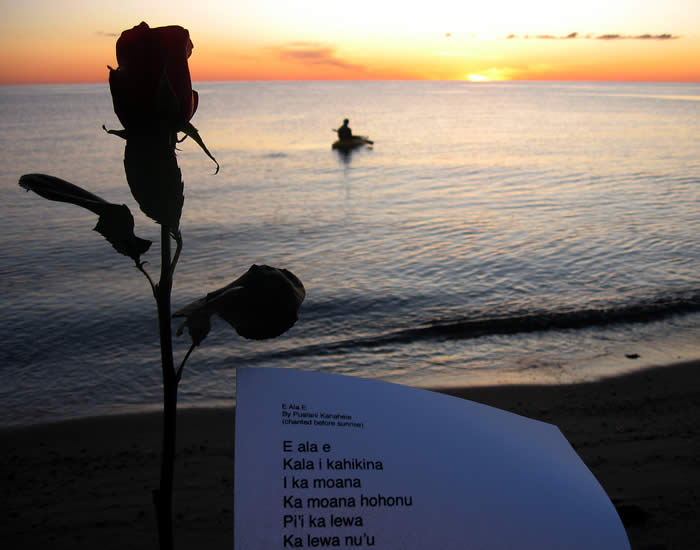 Sam, being part-Hawaiian, has suggested a chant that is used throughout the islands to welcome the return of the sun - and of life. As Niklas gives Kim's spirit to the currents and lays petals from the rose on the ocean, we join our voices to accompany him and to welcome Kim.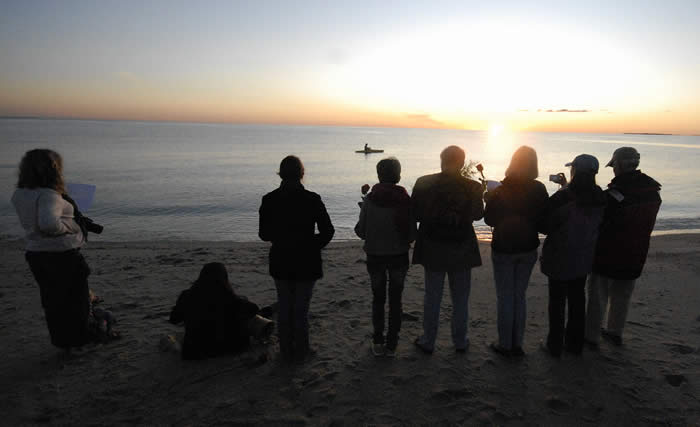 E ala e
Awaken/Arise

Kala i kahikina
The sun in the east

I ka moana
From the ocean

Ka moana hohonu
The ocean deep

Pi'i ka lewa
Climbing (to) the heaven

Ka lewa nu'u
The heaven highest

I kahikina
In the east
Aia ka la.
There is the sun

E ala e!
Awaken!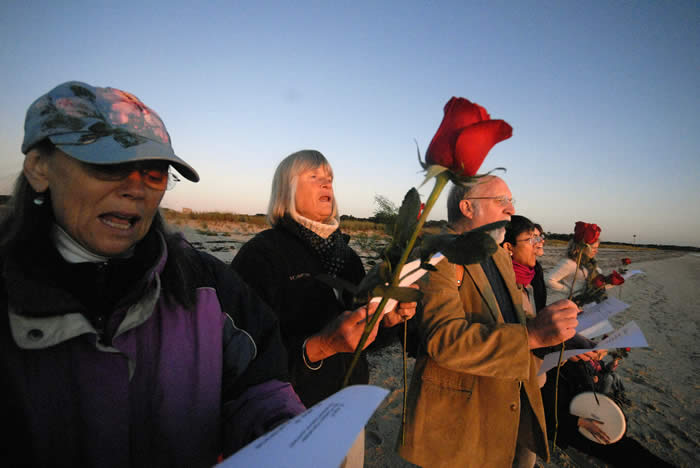 The chant is continued as the sun rises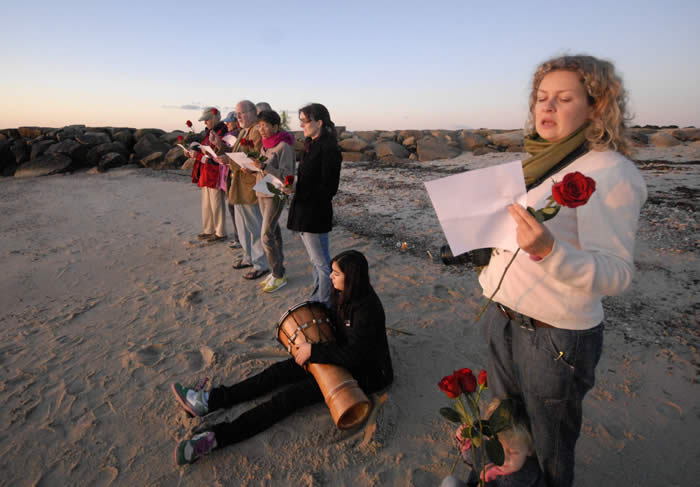 Later, Niklas will tell us that he felt our love and support carried out to him in the words of the chant.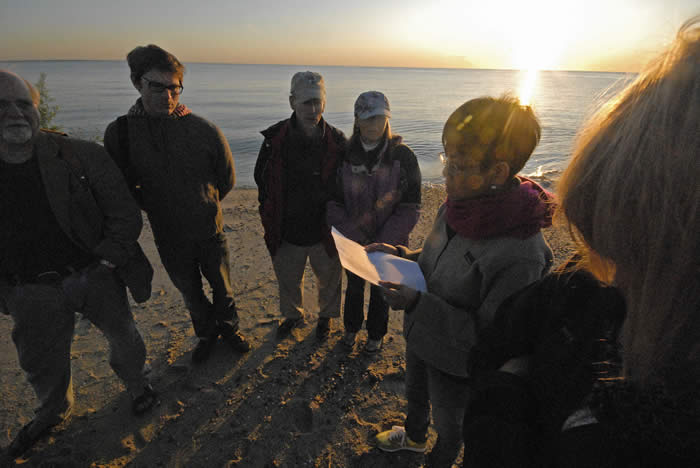 When Niklas has returned, we share our thoughts of Kim and read from letters written about him from his friends and family in Norway.
Dear Randi, Kaja, Niklas and all who are gathered here to remember Kim
The woods are lovely, dark and deep,
But I have promises to keep,
And miles to go before I sleep,
And miles to go before I sleep.
This Robert Frost wrote in his poem Stopping by Woods on a Snowy Evening, and I think it is proper to start here when remembering Kim. Kim was a distinctive person in his personality and stature whom I am very glad to have known. I give thanks for all the good memories I have with Kim. For all the miles on ski and on foot in the mountains and not in the least in Oslomarka (the forest around Oslo). Very few know Oslomarka as well as Kim did. He was an explorer and thanks to him I have been on many thrilling and spectacular places in Oslomarka: Skinskatberget, Pershusfjellet, Asdøljuvet, Mørkgånga, names full of fairy-tales, to mention some. Places to which I would never have come had it not been for Kim. Stor-Stygg Svånåtind in brilliant eastern sun with Kim and his close friend, my brother Gunnar, all along the the Jostedal glacier on a brilliant and hot day in June, kayaking on the lakes called Fjordane (The fjords) and through Oslomarka and on and on. Adventures which have made my life richer and which I would not have been without. Now you have much too early walked your last miles, and we can only call down peace upon you and remember you with melancholy.
Ola Peder Hole
Kim, it´s hard to believe you´ve been gone half a year. I think it´s because you´re still here. I take a camera off the studio shelf and - SNAP! - we´re on an Oslo street, shooting pictures on a cold winter night after a few beers at Dubliner Pub. I look at the water & see a kayak trip. I go into the woods and you´re there too, finding some new path.
Randi said to me once about my afternoon visits at your place: "you two talk and talk and talk. And then, when you´re ´finished´, you both walk down to your car and stand around for another quarter of an hour, continuing the conversation". She was right. That Conversation has no end.
Jim Bengston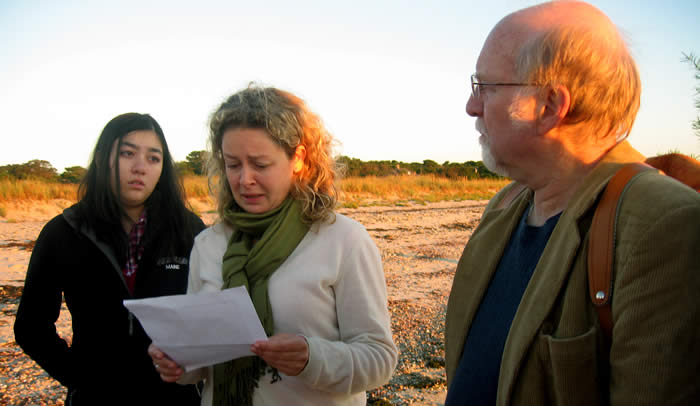 Sometimes when I am out with my kayak, I think about Kim. Last Sunday, I was out on the fiord, meeting a Scottish man, (about my age 60+) who had been paddling and skiing Norway from south to north and back again! First he went skiing from the South and ended up North - then he changed the skies for the kayak, and paddled all the way along the coast from the North back South to Oslo (It is more than 2500 km, one way!). The whole trip took 259 days! Meeting this man, It really reminded me of Kim. Skiing and kayaking. We were often talking about tours like this - on our smaller "expeditions" in the Oslo fiord or at the Koster Island. A pity we did not do the BIG expedition together - but at the same time the "small" and friendly moments and meetings we shared, sometimes around a campfire, are the golden moments of our fragile lives.
Knut W. Jorfald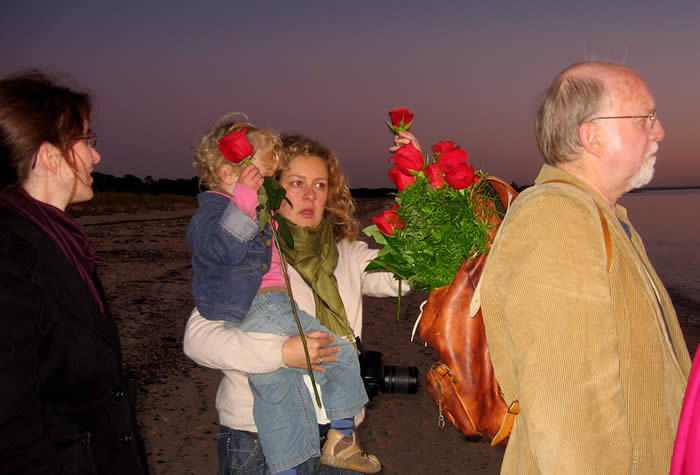 Cornelia and Julia choose a rose from Val's backpack.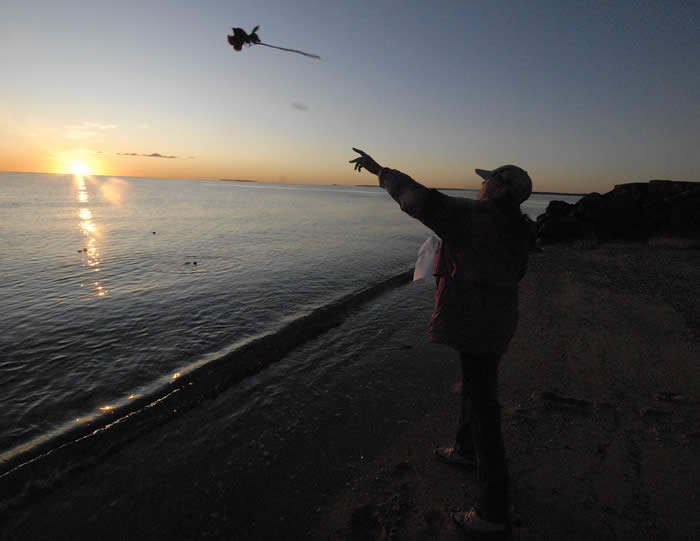 Each of us gives our rose to the sea along with our thoughts of Kim. The outgoing tide carries them slowly away from shore.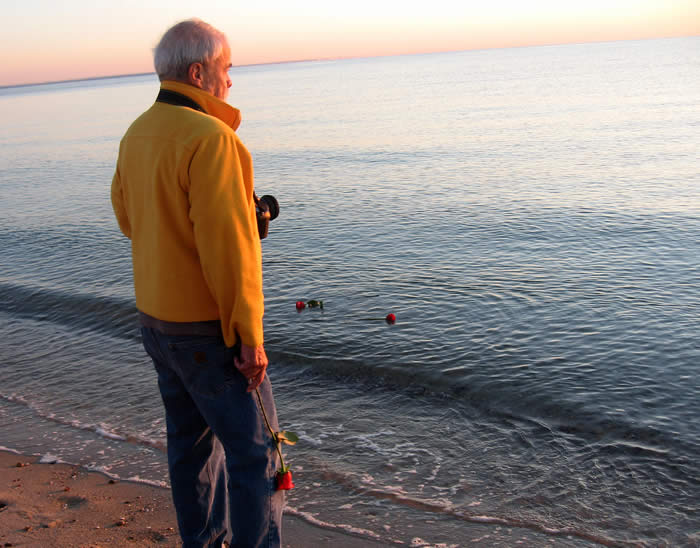 Sam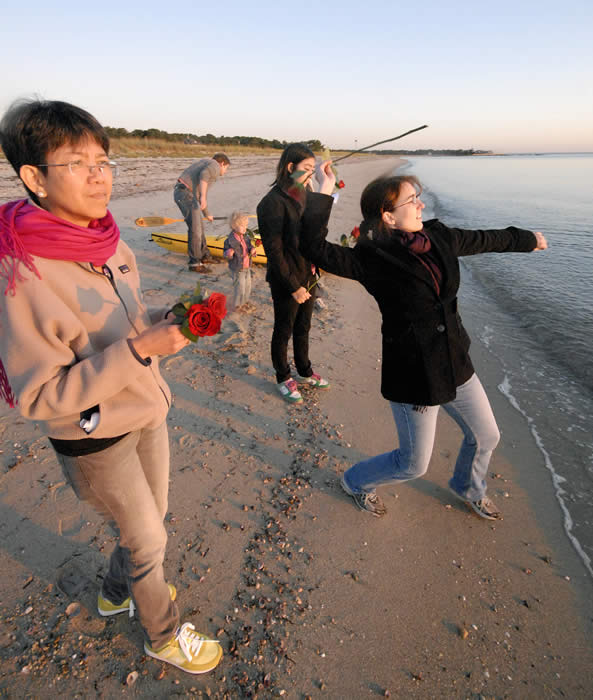 Grace, Niklas, Cornelia, Elizabeth, Kirsten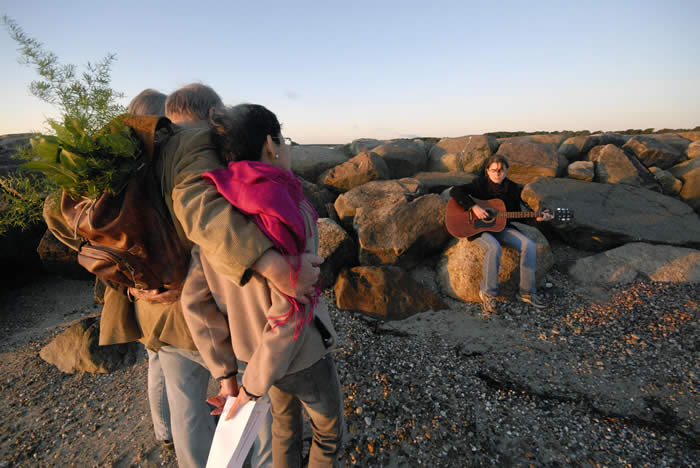 Karin, Val, Grace, Kirsten
To honor Kim, Kirsten has composed a melody to accompany the words of Wendell Berry - a famous American poet.

He goes free of the earth.
The sun of his last day sets
Clear in the sweetness of his liberty.
The earth recovers from his dying,
The hallow of his life remaining
In all his death leaves.
Radiances know him. Grown lighter
Than breath, he is set free
In our remembering. Grown brighter
Than vision, he goes dark
Into the life of the hill
That holds his peace.
He is hidden among all that is,
And cannot be lost.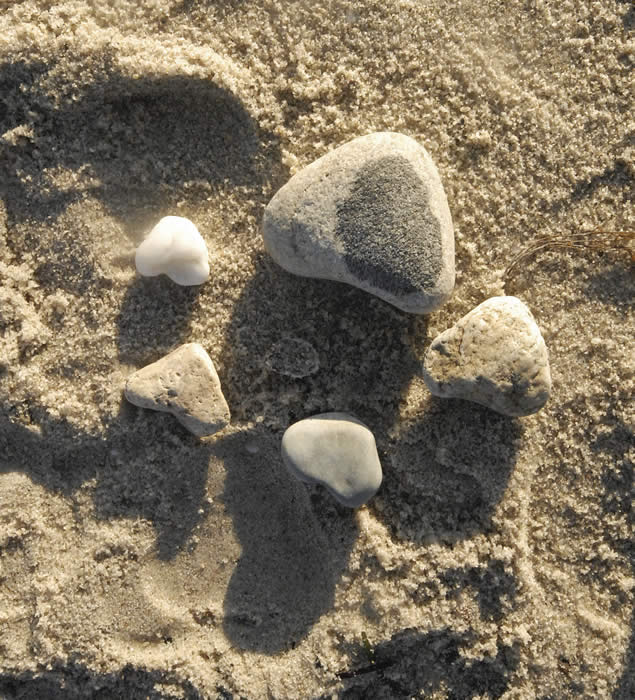 On this beach there are many stones - polished and shaped by the sea.
But in all the time we have wandered the beach seeking them - we seldom find ones shaped like these.
Hearts.
Just before we leave, in a few minutes of searching, Karin finds five.
Hart stones...
from Kim.