FAST CARS
UNCOVERING THE SECRETS OF SPEED
The Genesis of Nova's Fast Cars Documentary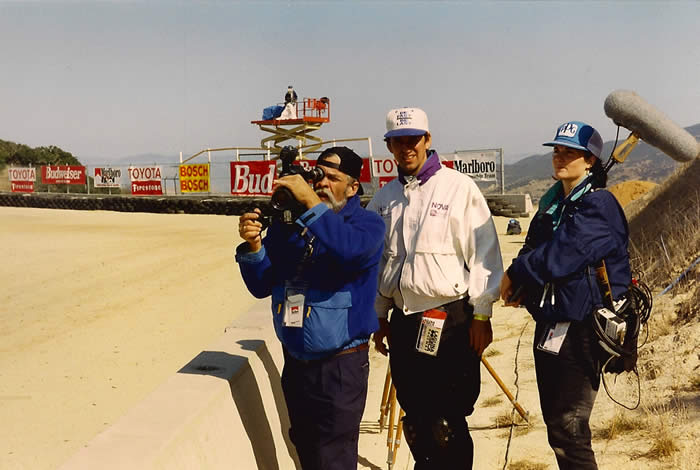 Filming IndyCar race at Laguna Seca
My car jolted over a rough stretch of race track. The tachometer wound up to its limit. The speedometer passed one hundred miles an hour. Ahead, four red cones caught my full attention - the braking zone for the sharp right hand corner known as Big Bend . This was competition school at Lime Rock race track in north-western Connecticut . I came here seeking the adrenaline rush of motorized combat. I discovered instead a Zen encounter with the laws of physics and the beginning of a three year quest to reveal the secrets of speed in a NOVA film.
"Fast Cars" was from beginning to end a gamble. The racer's world is a secret one - a multimillion dollar struggle to discover the winning edge. Would a champion race team allow us to film the intimate details of their battle to win?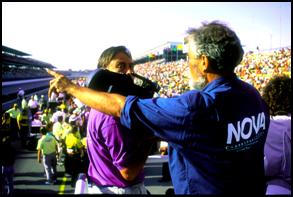 I was immediately attracted to Bobby Rahal. Peering at me through thick eyeglasses, he seemed at first the antithesis of a racer. Yet his eyes revealed a bright intelligence and a ferocious competitive nature that marked him as a three-time IndyCar champion.
Rahal wins by cunning. He knows precisely when to accept risks and when to wait for more impetuous drivers to crash or break their machines so he can surge into the lead. And Rahal had accepted an unusual challenge - to build his own race car in America . All other teams buy cars from English builders whose decades of experience provide a seemingly unbeatable edge. Could Rahal build his own car, using the best of American science, to win the world famous Indianapolis 500 automobile race?
On a bright sunny day at Phoenix International raceway, a dramatic moment seemed to produce an unequivocal answer - "no!" After a day of testing during which we had filmed his car from every possible angle, Rahal took to the track for one last set of laps. His speed had been inching higher all day. The car seemed poised to reveal true brilliance. But as he dived into a high speed turn, he spun uncontrollably into the cement retaining wall. We heard the heart-rending sound of crumbling carbon fiber and the scream of shredding tires. At the scene of the accident, we found Rahal standing forlornly beside his broken machine. Amazingly, his first words were an apology to his crew for the work required to repair the damaged car. A mechanic smiled as we filmed the aftermath, "we'll let him have one or two of these," he said, "just to see if he's pushing it to the limit."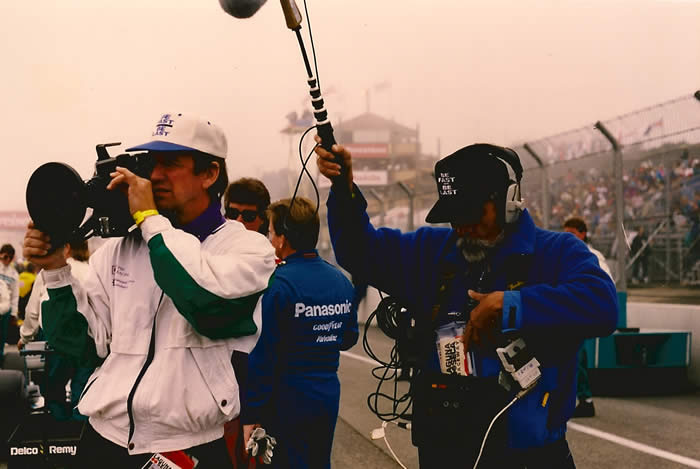 Filming at Indianapolis
Finding the limit took us on an emotional roller coaster ride during three races leading up to the Indy 500. The car's first contest was promising, a sixth place finish. But in the second race, it was so unpredictable that Rahal feared for his life. During the third race - just before the big test at the Indianapolis Motor Speedway - the car placed second and threatened to win, a moment of exhilaration for all of us. But the overall lesson of these three races was sobering. The car could be blinding fast, yet she was so temperamental that the team dubbed her "Sibyl" after the famous woman with deadly multiple personalities.
The nature of our car's personality disorder was hidden in her aerodynamic shape. At high speed, any car will tend to fly. To combat this, Indy car's have wings, front and rear, which are tilted down to press the car onto the track. The car's underbody also produces low pressure which literally sucks it to the track. But all of these aerodynamic devices also produce drag which kills speed on the straights. The trick is to find just enough downforce to provide traction but not so much as to destroy straight line speed. Some cars have a large window in which delicate adjustments can be made. Rahal's car had an extremely tiny one.
As our filming continued, we found ourselves linked with Rahal in a dangerous game in which he would race on a razor's edge of traction - his life hanging in the balance. As we readied our cameras for the final weeks of filming, we had no way of knowing how ugly the game would turn at The Indianapolis Motor Speedway where cars routinely attain speeds of over 225 miles an hour.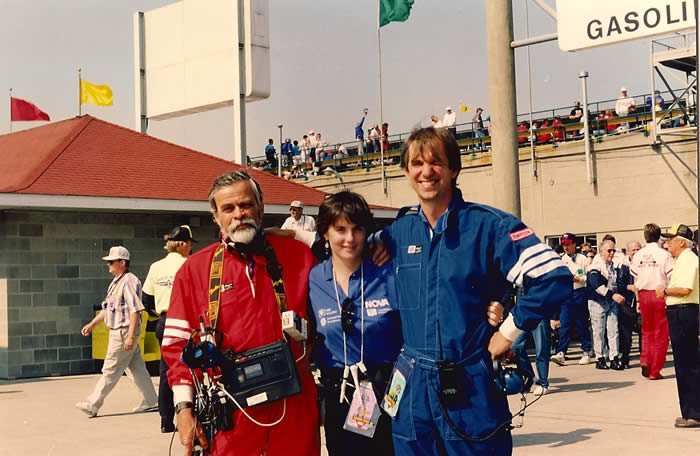 The team at Indy
________________________________________
Sam Low wrote, produced and co-directed "Fast Cars." He is a veteran filmmaker who was series producer of an eight-part PBS series on the Maya Indians of Central America . Low has a Ph.D. in anthropology from Harvard University . When not working on films, he drives his Porsche race car on tracks throughout New England . Nova is produced for PBS by the WGBH Science Unit and is made possible by grants from Merck, Lockheed, the Corporation for Public television and public television viewers. "Fast Cars" was also funded partially by the National Science Foundation. NOVA is closed captioned for deaf and hard-of-hearing viewers by The Caption Center at WGBH.