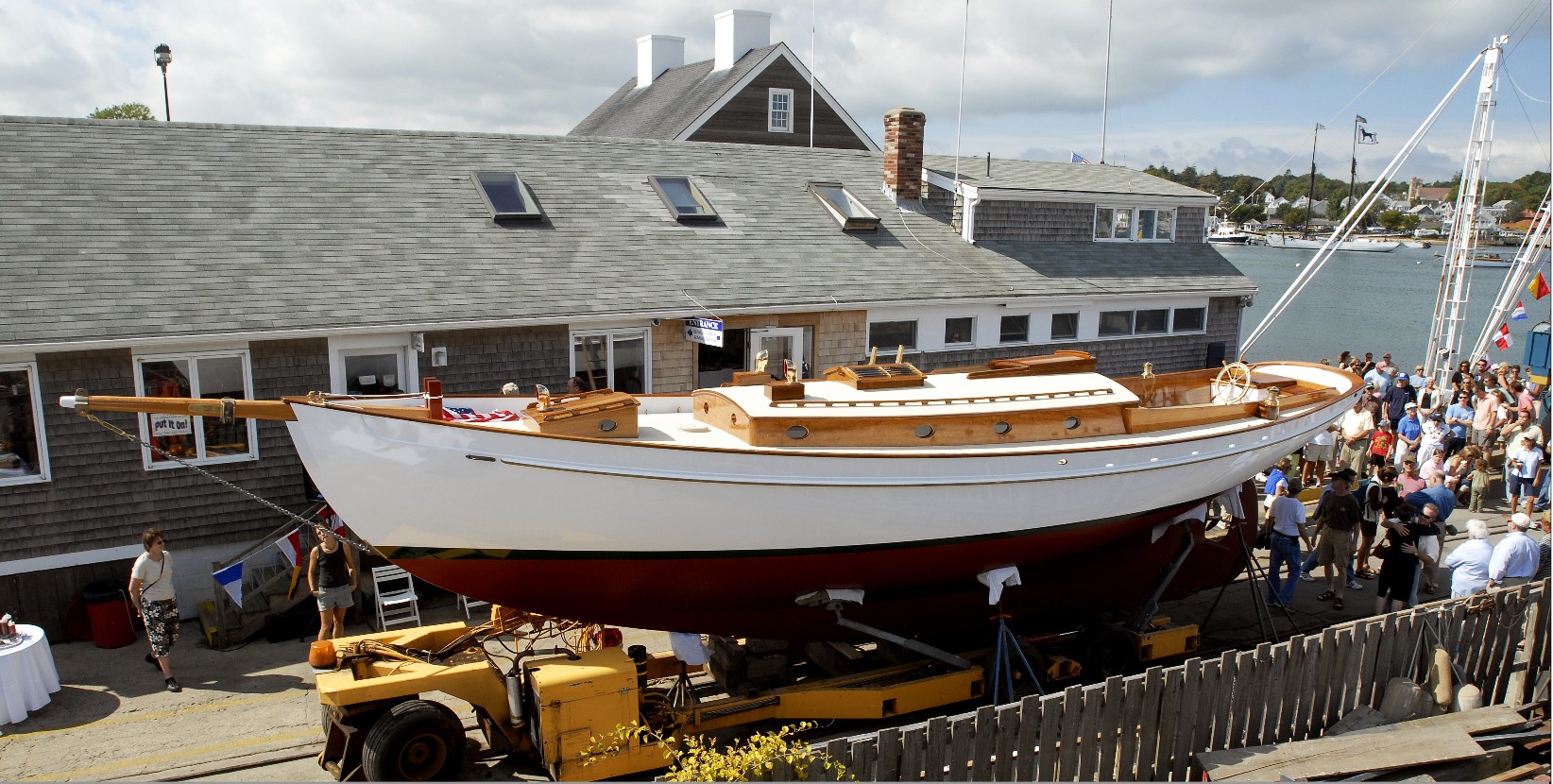 On Saturday, September 22nd, with the sound of bagpipes swirling around her and the report of cannons, the ketch Destiny - built by Rick and Chrissie Haslet - was launched at Martha's Vineyard Shipyard.
On hand were hundreds of Martha's Vineyard residents along with age old friends of Rick, his father and sister and Chrissie's dad.

The following are a few photographs of the event for the enjoyment of all those who have waited these sixteen years with baited breath for this moment.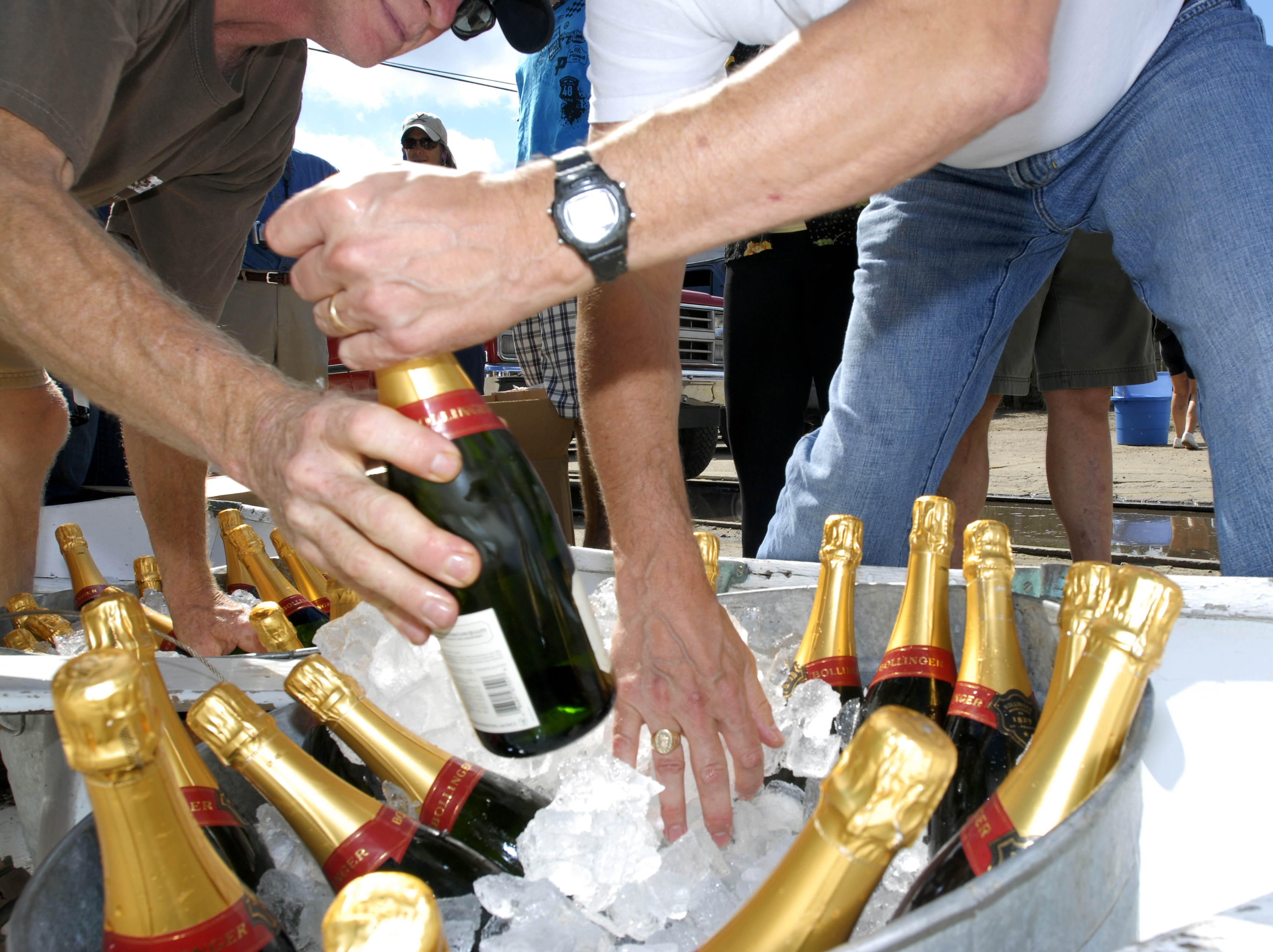 Sixty bottles of champagne, donated by a good friend of Rick's, are iced down.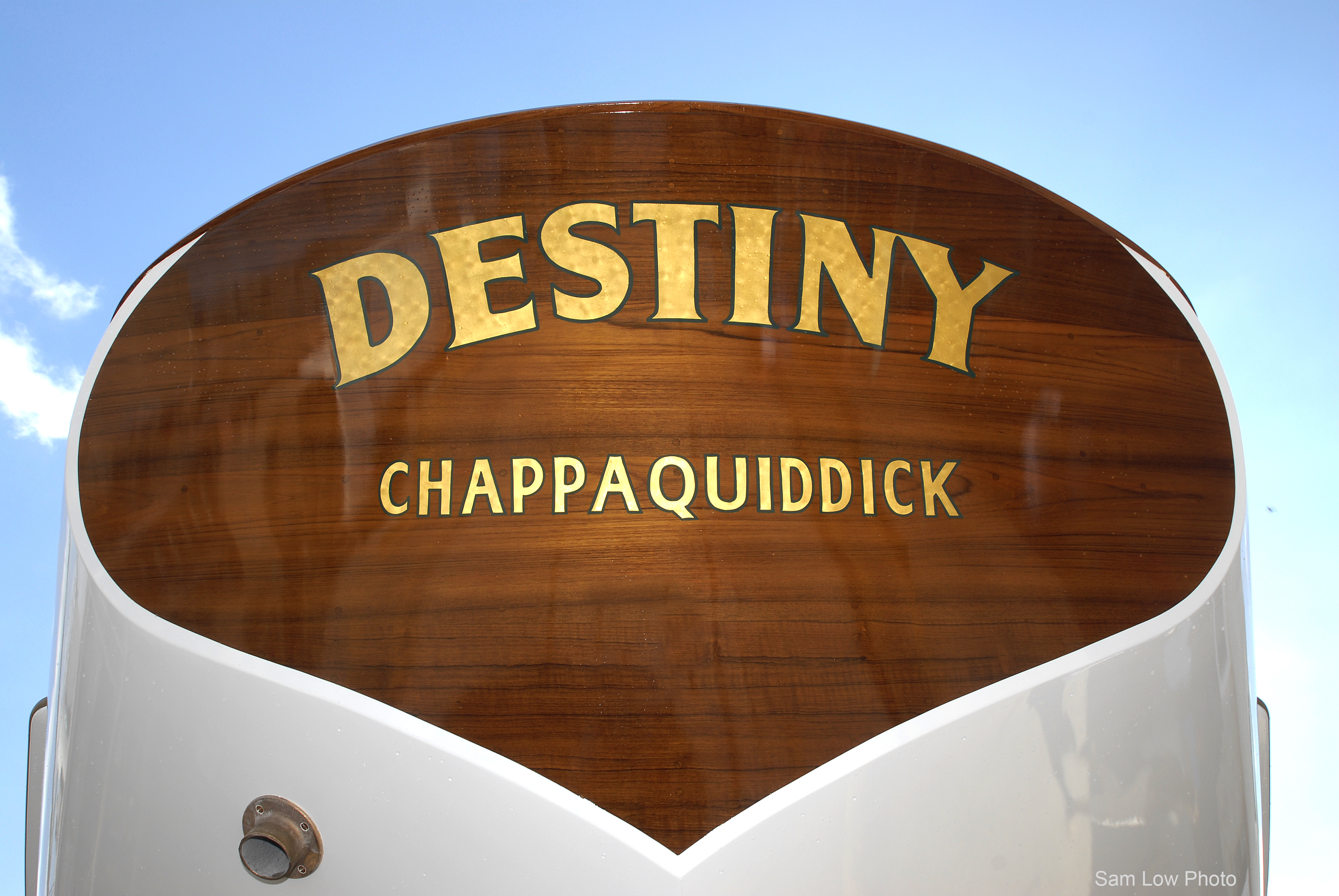 Destiny gleams in the morning sun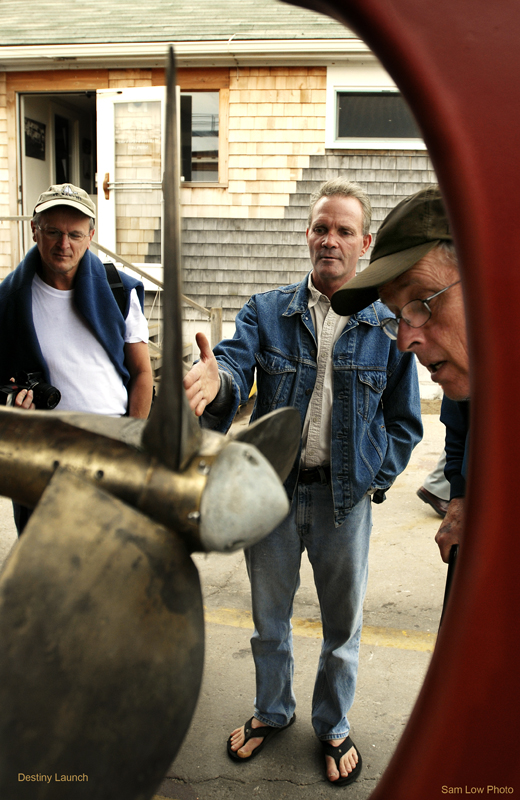 Rick points out the advantages of Destiny's custom propeller to two of his oldest friends, Rob Coburn (L) and Tommy McCraine (R).
The metal fittings for each part of the boat – the gudgeons and pintels that hold the rudder to the hull, for example – were each shaped by Rick out of wood, then covered with fiberglass, then shipped off to a foundry where the pieces were made.
Rick is the Quality Control Manager for Martha's Vineyard Shipyard. Before that he worked for seven years for Dick Newick, the famous designer and builder of Moxie, a trimaran that won the OSTAR across the Atlantic race. He took Rogue Wave, another Newick trimaran, to Bahrain in the Persian Gulf. Rick's first boat was a Sea Sprite, designed by Carl Alberg. He bought a bare hull and finished the boat himself, then sailed her to the Bahamas. He was 22 years old.
"She was twenty one feet and a little small," Rick says, "but I took her down to Florida from Bay Head, New Jersey and I lived aboard her for two years."
His next boat was a Herreshoff H28 ketch which he sailed for 12 years – from 1978 to 1990. He followed the age old boat bum schedule - sail until your money runs out then put ashore to earn some.
"I would pull into a marina with only a few canned goods left and within a week I had more work than knew what to do with."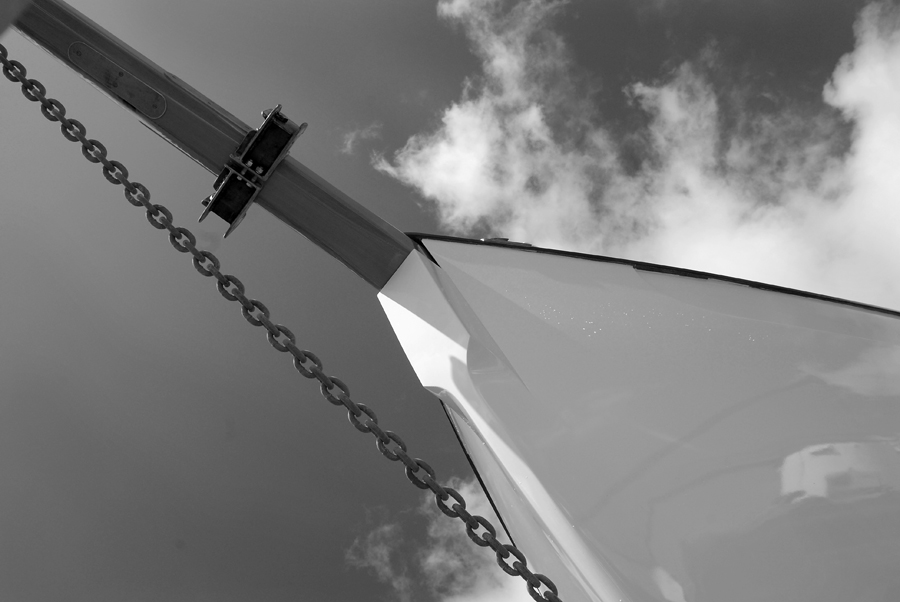 Destiny's lines are classic - following the tradition of John Alden and inspiration from Nat Benjamin.
"The basic design is mine," Rick says. "I knew what I wanted her to look like, the sheer line, the bow, the stern, but I didn't want to spend all this time and not have her be right so I asked Nat Benjamin to draw the ship's sections."
Destiny is not all wood – there's about 200 gallons of epoxy in her. The hull is "strip planked" with inch and a quarter strips of western red cedar, each glued to the other. This technique allowed Rick to build the boat himself because you don't need massive timbers to provide strength.
"I could do it all with small tools," he says.
For added strength, Rick put bronze ring nails every eight inches – staggered throughout the vessel's length. He laid two layers of fiberglass by hand on the inside, two outside and six on the keel and stem.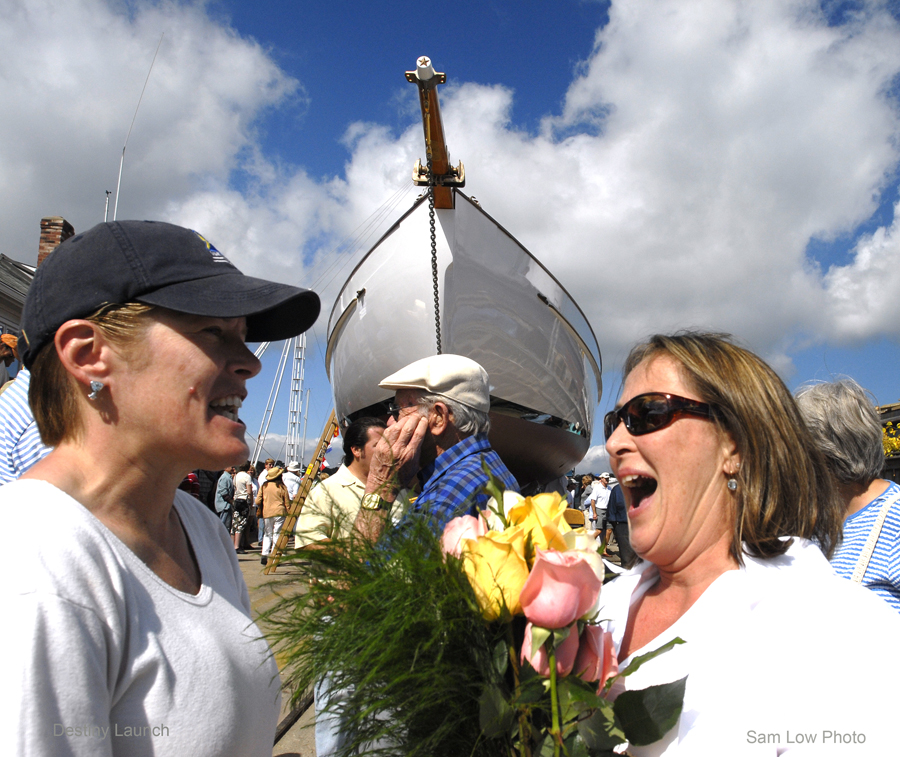 Chrissie (R) enjoys a moment with Laurie Welch of Oak Bluffs.
"Chrissie is a real adventurer," Rick says. "She shipped aboard a shrimp boat out of North Australia for six months as a deck hand. That is really rough water. She was born in New Zealand and Kiwis are always on the water."
Like most Kiwis, Chrissie went on a walkabout to see the world. She cooked for a cattle crew so far in the Australian outback that the nearest store was 600 miles away, then she went sightseeing in Southeast Asia and on to Colorado where she ski-bummed at Breckenridge. There she met Lisa Smith who invited her to the Vineyard for a visit. "I got off the ferry and went up to Le Grenier restaurant to meet her," Chrissie recalls. "I put down my backpack and Robin came over and offered me a job." Chrissie stayed on for the summer and, after traveling some more in Europe, eventually returned to the island to settle.
Chrissie started an interior decorating business – called, appropriately, Destiny Interiors. She sewed all the cushions for Nat Benjamin's schooners Juno and Rebecca. In her Chappy studio she sells shutters and shades and creates almost anything out of fabric for the best homes on the island. A perfectionist, she does all the work herself which leads to long days and steady seventy hour work week.
"She goes to work before I leave in the morning and she works until I come home every day," says Rick. "She is very dependable. If she says it will be done on February 13th at eight o'clock it will be done even if she has to work all night."
"We're both like that," says Chrissie, "we couldn't be together if we weren't."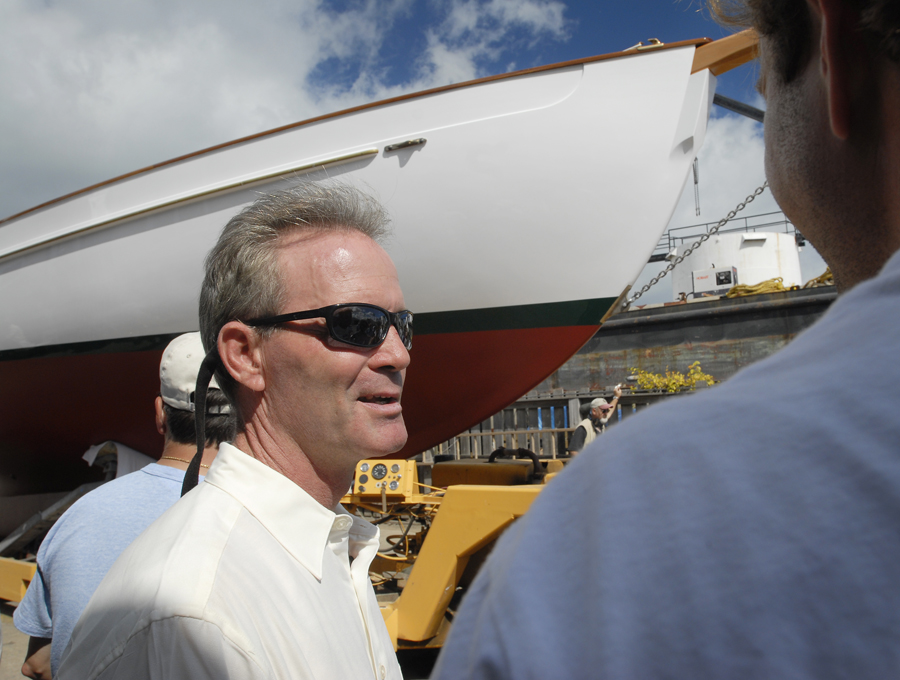 Rick and his Destiny
Aesthetically the boat is Rick's design but the shape of the hull which determines how she will sail is Nat Benjamin's.
"I always have liked Nat's boats," Rick says. "They look beautiful and they sail really well. He just has a feel for that."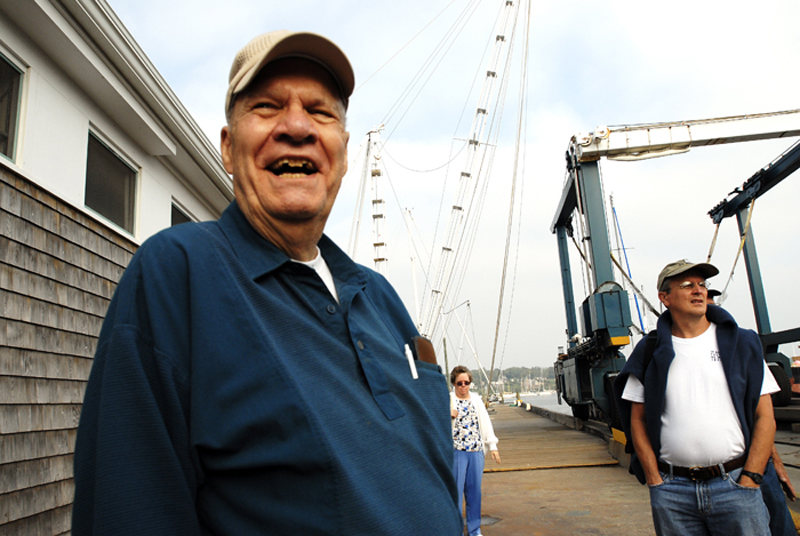 Rick's Father, Dick Haslet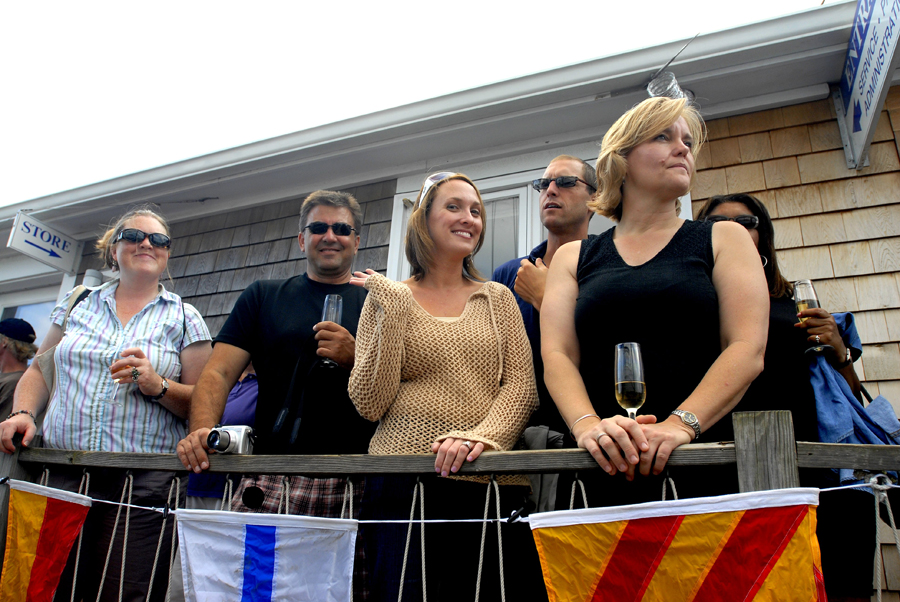 Hundreds of people gathered from all over the island - and beyond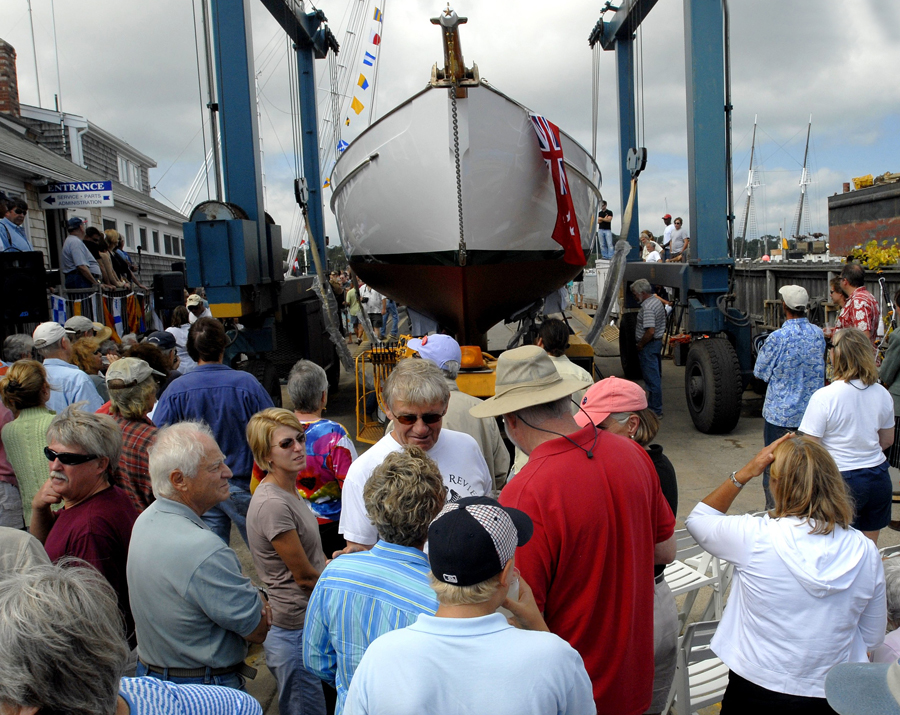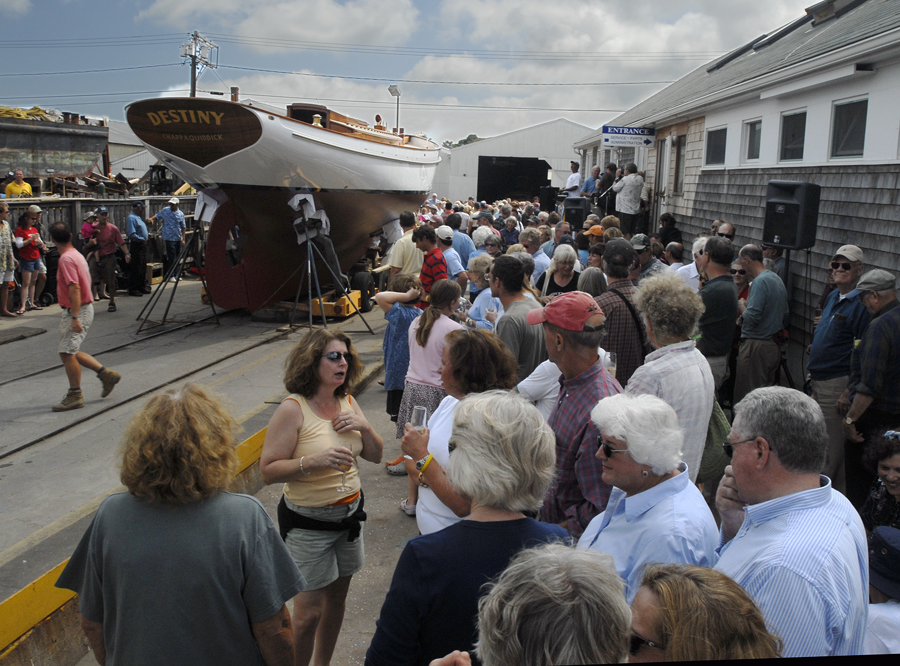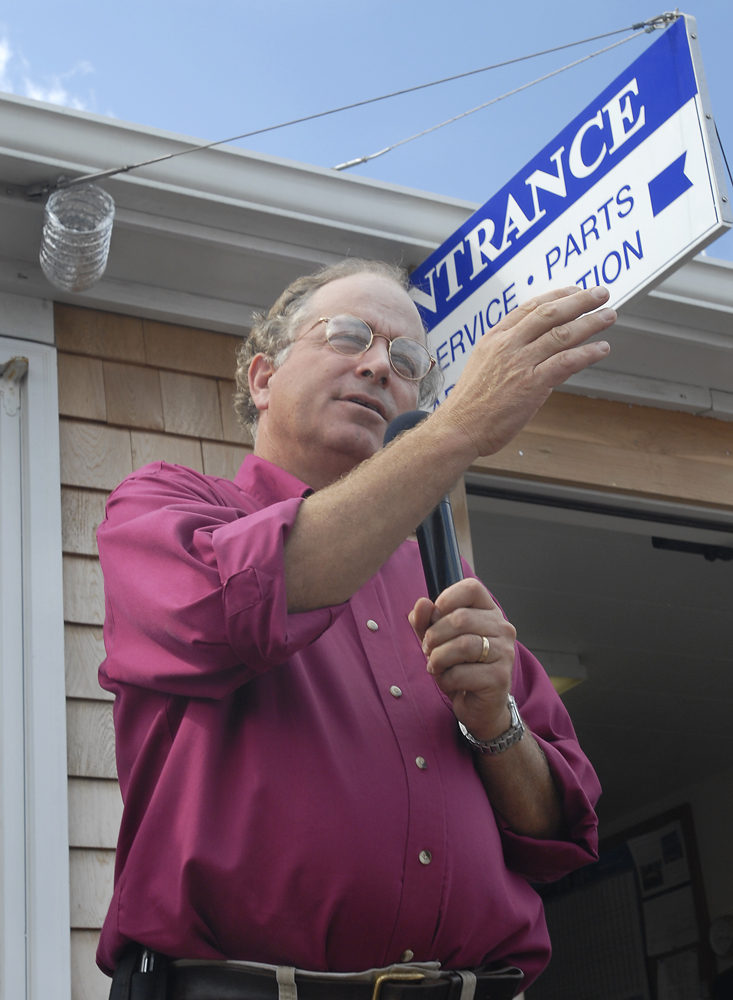 Phil Hale recalls his long standing friendship with Rick and Chrissie.
"I could not have built Destiny without Phil's help," Rick recalls. "He provided constant support and a place to build her."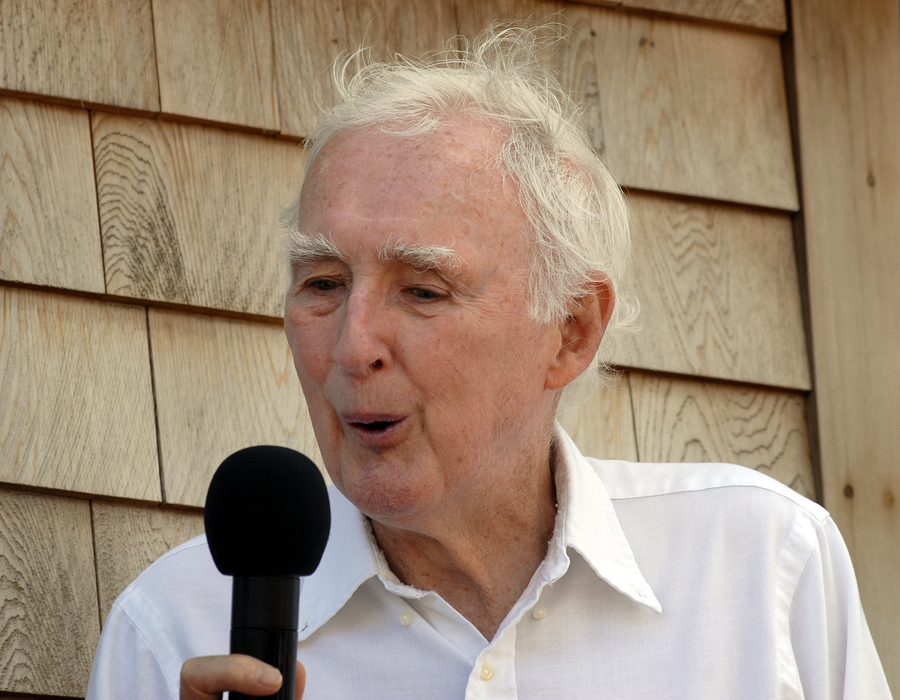 Famous designer and Rick's mentor - Dick Newick.
Rick worked for seven years for Newick, the designer of (among many other multi hulls vessels) Moxie - a trimaran that won the OSTAR across the Atlantic race in 1980.
"When you are sixteen you can come and work for me," Dick had said. And so, when Rick turned sixteen, Dick received a letter from him: "When do I start?"
Rick began working for Dick in Saint Croix, then continued when Dick moved to Martha's Vineyard. "That's how I got to the Vineyard in the first place," Rick recalls. Rick learned the complexities of fabricating such things as high tech outriggers and masts and hulls of cutting edge materials - epoxies, resins, Kevlar and carbon fiber - from Dick. He was put in charge of making an aerodynamic shaped mast for one of Dick's trimarans on the Vineyard, using strip glued pieces of wood and combining them with carbon fiber for strength and for light weight. All of this experience is reflected today in Destiny.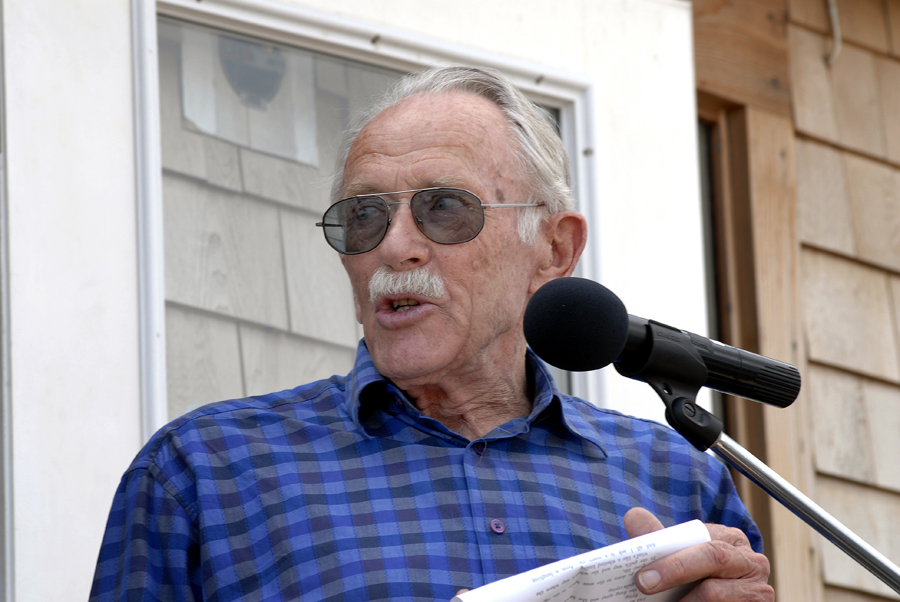 I must down to the seas again, to the lonely sea and the sky,
And all I ask is a tall ship and a star to steer her by,
And the wheel's kick and the wind's song and the white sail's shaking,
And a grey mist on the sea's face, and a grey dawn breaking.
Les Allan, Chrissie's father, flew in from New Zealand to share the event and to read John Masefield's poem - Sea Fever.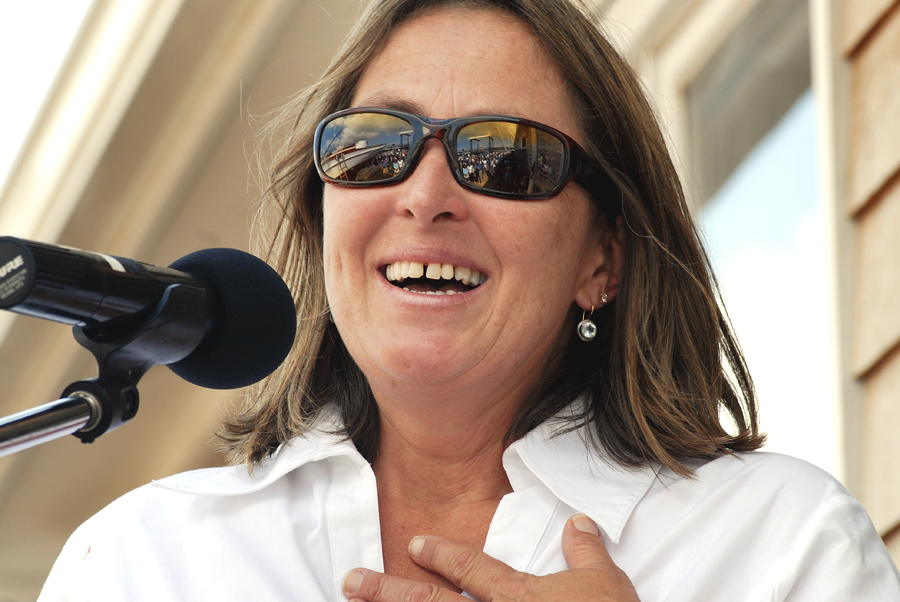 "This is Rick's dream, it is his purpose in life, his destiny," Chrissie tells the assembled throng.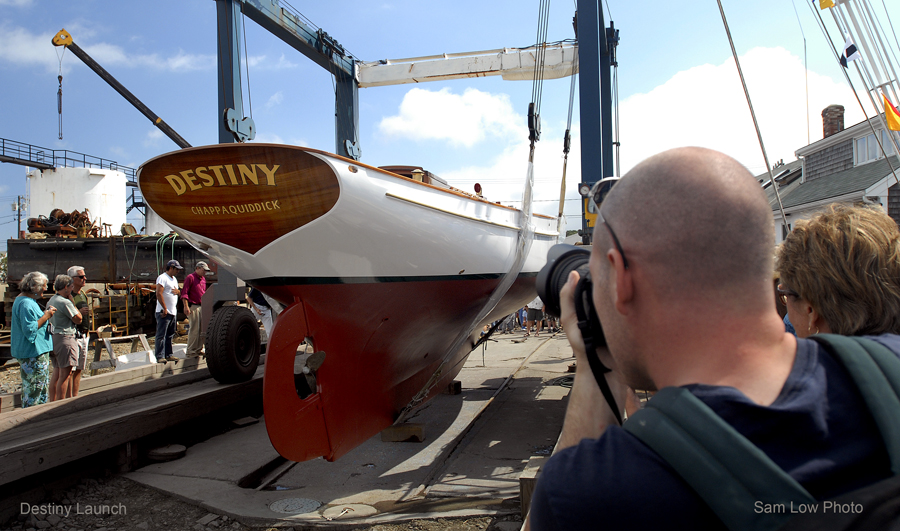 Destiny is worked carefully down the ways.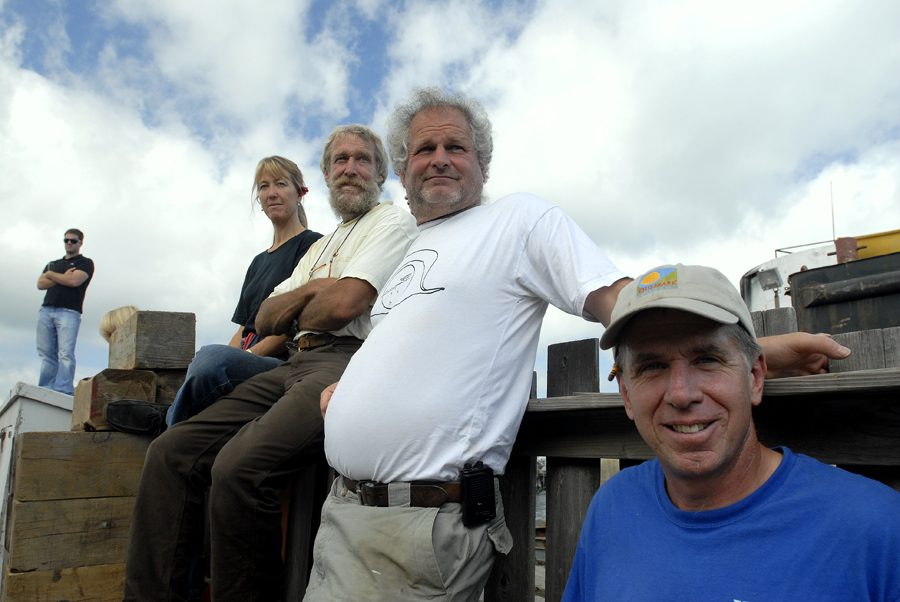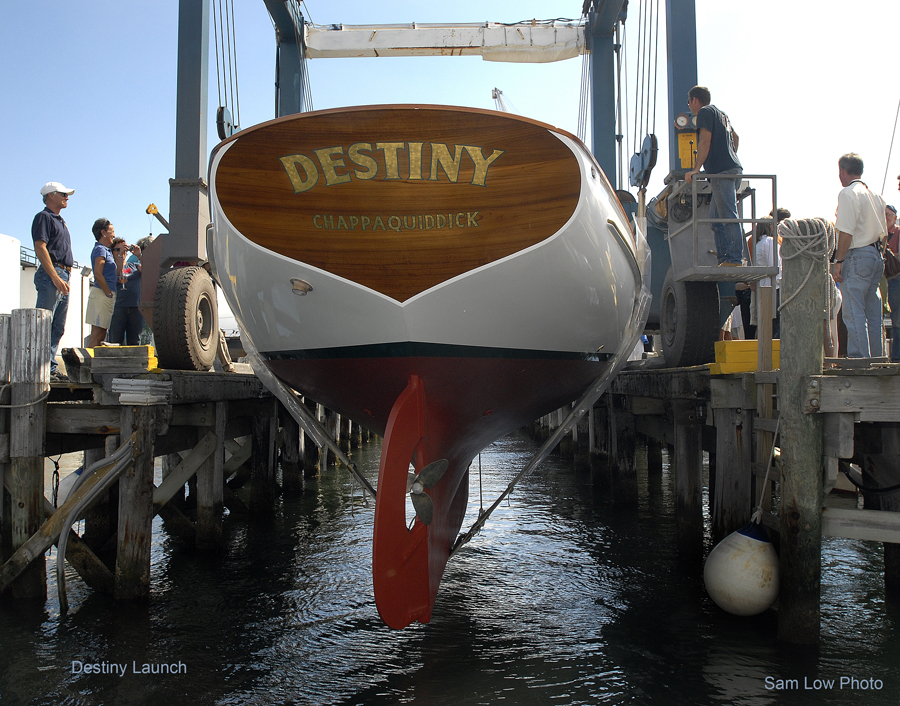 A dream - and a destiny - about to be realized.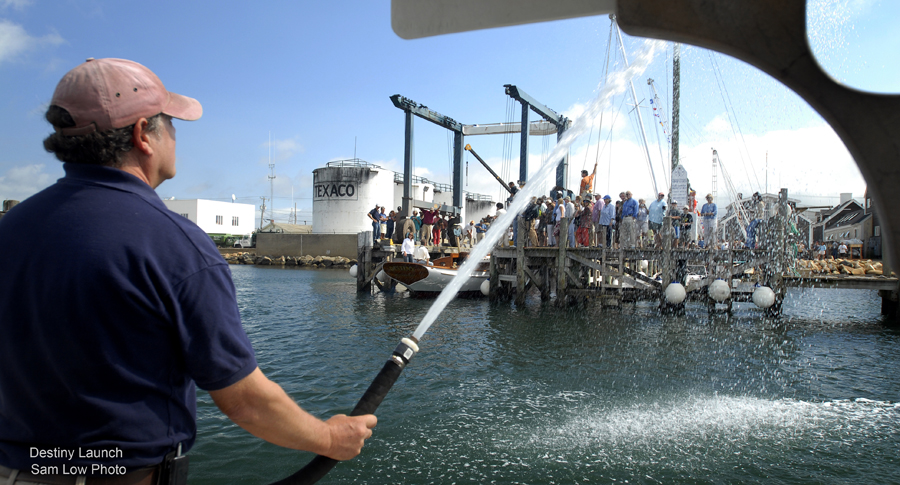 Mike supports the launch with a geyser of spray from the shipyard's work boat.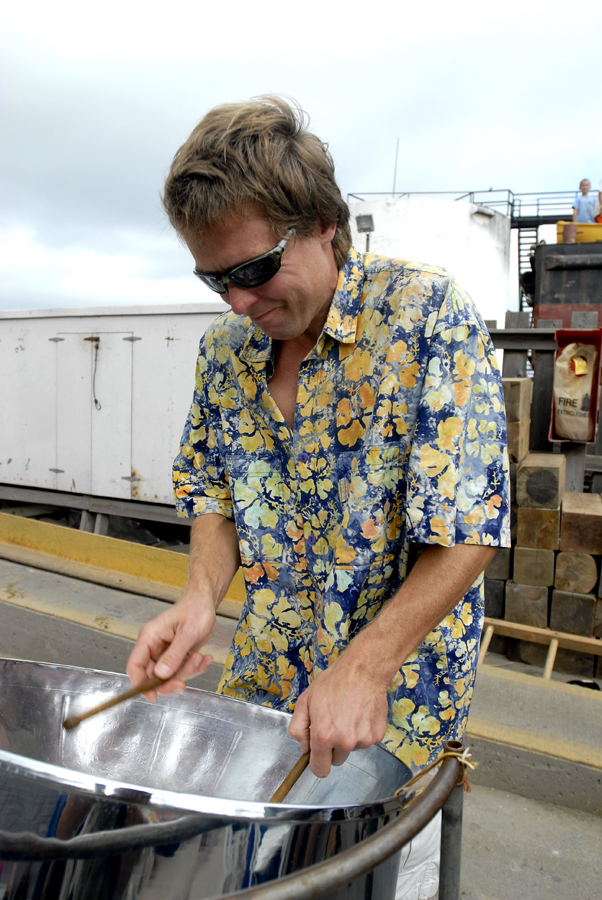 Rick Bausmann plays with his band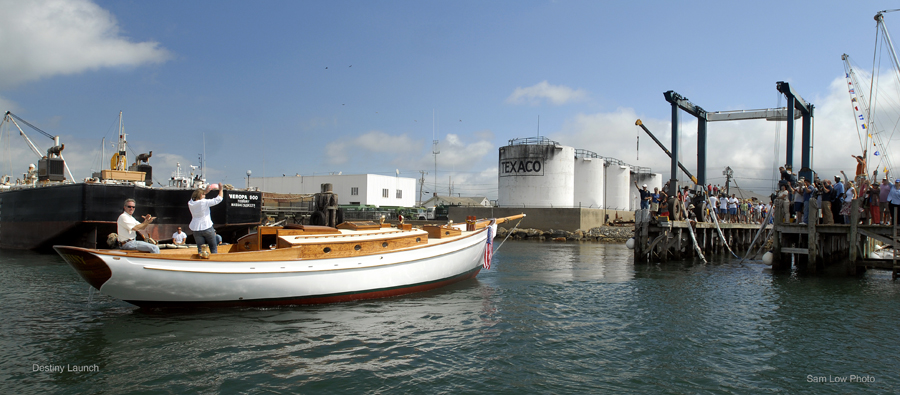 The gleaming ketch floats free in her element at last.
"Destiny – it means freedom to me," Rick says. "I think that maybe in a former life I died at sea. I don't know why, I just think that. I have a tremendous respect for the sea. It was my destiny to come back and live on the sea."
Photographs and text by Sam Low
See also http://www.samlow.com/vineyard/AketchcalledDestiny.htm for an article about Destiny.