Kim Hart
August 29, 1939 - March 10, 2009
This web page is dedicated to Kim Hart. I will post here anything that anyone may send to me. Please email your photographs and remembrances to me - Sam Low - at samfilm@aol.com. Kim spoke many languages so just write in whatever language is most comfortable for you...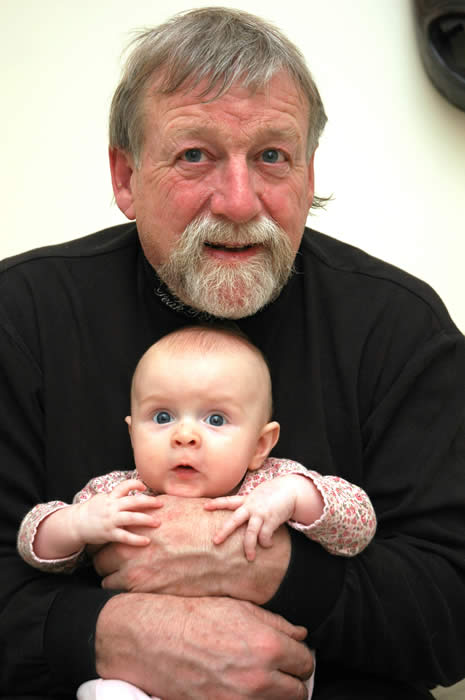 Kornelia & Vava (Niklas Hart Photo)
Kornelias tanker
Kjære Vava. Du tøyset fælt. Nå sitter du på en stjerne og vinker til
meg. Jeg vinker tilbake. Jeg elsker deg.

Dear Vava. How you fooled around. Now you are sitting on a star,
waving at me. I am waving back. I love you.
_______________________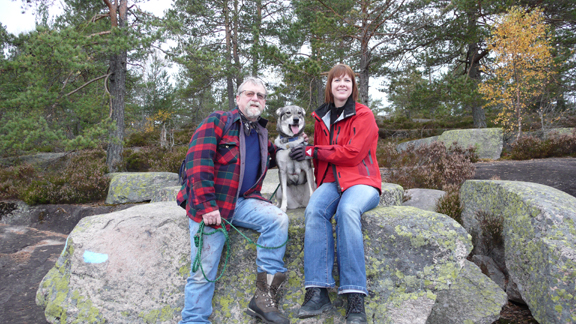 Kim, Tika and Kaja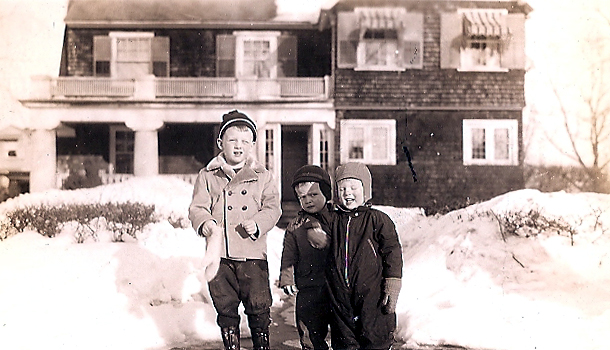 Kim, cousin Sam Low and brother Val Hart
Sunnyledge, New Britain, Connecticut
c. 1947
Remembrance - by Val Hart
Brother Kim
Kim was born August 29, 1939, three days before Hitler sent his troops into Poland and touched off the Second World War. After I was born three years later, our family moved to Oakland, California, as our father served on an Army transport vessel in the Pacific. When the war was over, we moved back to the ancestral city of New Britain, Connecticut, the so-called "hardware capital of the world." Our forebears had made their fortunes during and after the Civil War in this small industrial city. They were solid Republicans. During election campaigns, the Democrats would march through the neighborhood, waving signs and shouting slogans. Our grandparents would draw the curtains in silent disdain.
We lived for a short time among a small cluster of homes on a hillside on the outskirts of New Britain. One winter day Kim and I – he must have been 7 – were out sledding in the roads. Kim came shooting out of a side street and right under a moving car, scraping off the top part of his head. Doctors patched him up with a steel plate in his skull, and as far as I know he never had a problem with it. Even at an early age, Kim was tough – and hard-headed.
Dad was an avid skier, and taught us both how to ski. Being older, Kim learned first. I expect Dad's instruction was the same for both of us. It consisted of hauling the kid up a short slope, pointing him downhill, and giving him a shove. Dad would take us on school vacations or weekends to nearby ski places like Mohawk or Jiminy Peak, distant big mountains like Stowe, Vermont, and once in a while to the ultimate – Mont Tremblant, in Canada. Maybe it was the European ambience of Mont Tremblant – the easy-going après-ski atmosphere, the allure of conversations overheard in French – that first sparked Kim's interest in exploring the idea of living outside his native country.
Our mother never went on these ski trips with us. She had broken her leg skiing, and as a result she gave up that sport in favor of tennis and card games and socializing with her many friends. Though she had trained as a nurse, when she married Dad she became a stay-at-home wife and mother, common enough in those days. I'm not sure she ever really knew what to make of Kim's habitual exuberance and independence. If she got after him about something, he would often tease her with a long drawn-out "Motherrrrrr!" That would please her and exasperate her at the same time.
Although it was apparent early on that Kim was going to go his own way in life, and that he had a certain disdain for the social set surrounding us, yet he moved easily in those circles, such was his charm and intelligence and sometimes sardonic sense of humor. He was so hungry to make the most out of every situation, the most out of every moment. He learned from Dad the principal skills that Dad had to teach – skiing, boating, and taking photographs – and then he made those skills his own. He was a very good student of life, though not so good a teacher, at least from my perspective as his younger brother. He had definite notions of how things should be done, and no hesitation at all in trying to drum those notions into me, to the point that it felt sometimes like force-feeding. As much as I looked up to my older brother, I nevertheless resisted what seemed to be his efforts to make me a littler version of him. He could even be a bully about it sometimes, telling me to do this or to not do that. We had our share of arguments and fights. It was not an idyllic childhood of close, loving brothers. And there was much time apart, as we went to separate boarding schools. Soon he was off to Williams College and then to his chosen life in Europe and eventually Norway.
We saw each other intermittently through the years. As we both grew older, our relationship mellowed and deepened. The things that had divided us fell away, and a true affection developed between us, something like love. It was in these later years that I had the best time with my brother. Following the wedding party of Niklas and Julie, Kim and I drove down past the Swedish border to the town of Smoegen on the coast. We kayaked for two days among the skerries, whenever we wished hauling our craft up onto the smooth rocks and basking in the sun or diving into the warm water. I'll miss Kim forever, and will cherish those sweet times we had together before he went.
_______________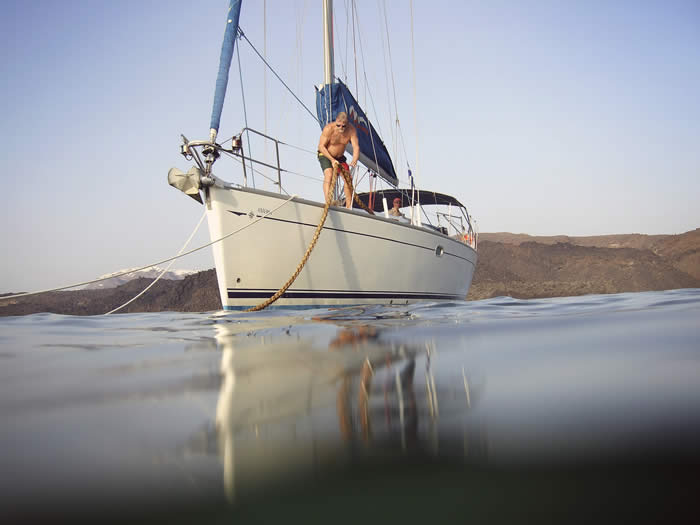 Kim hauling in the anchor on a recent sailing trip in the Cyclades

Remembrance - by Sam Low
How do you describe someone like Kim. Colors? Red, yellow and blue. Music? Something "classical" - maybe "Peer Gynt Suite", not Wagner, and perhaps a little American country western. Kim was beer - definitely not a martini. He was dungarees and tweed, rumpled tweed.
One of Kim's first loves was language. From an early age, I think he just loved the different sounds of French and Latin and Greek and German and Spanish. He liked what they represented - different ways of thinking and seeing the world. He liked to talk with people, of course, and to do that, if you intended to travel, you needed to know lots of languages. So, when he was young, he set out to learn them - by living in the countries where they were spoken.
Anyone thinking of Kim will also think of the famous Einstein formula, E=MC2. Energy and mass squared. That's him. If Kim was awake, he was moving, and he could move fast and long. He was a wad of muscle.
Kim's father loved to ski and he took Kim skiing when he was young. From then on, Kim was in the mountains whenever it snowed. He skied down the best mountains in the world and he loved to travel cross-country. At one point, he tried out for the American Olympic biathlon team - learning to shoot at targets and run long distances. He didn't make it, but he tried hard and I am sure he was not disappointed. Trying hard was enough. Getting strong. Being disciplined.
Kim's life motto was "keep it simple." It was partly a reaction to the overcomplicated consumer society he saw all around him, but it was much more than that. If the things in your life were simple, you were free. Free to act, to move, to see, to think.
Kim was loyal. If you were his friend, you were his friend for life. If you were family he would take care of you and love you - for life. If you were a stranger, he would assume that you might soon be a friend.
Here's something interesting - I never ever saw him lose his temper.
Kim was more like a brother than a cousin, We were raised in a tight family - Kim, his brother Val and I - and we spent time together regularly during all the major holidays and on Martha's Vineyard - an island off the coast of Cape Cod, in Massachusetts. We swam there and fished and dug clams and got to know each other.
Kim was older - so he was always blazing a trail for Val and me - the first to date girls and go to college and to travel out of the United States. The trail he blazed was often intimidating because he was so good at whatever he set out to do. He played rugby, for example, which seemed heroic because, unlike American football, it was played without padding and demanded that you hurl your body at your opponent in ways that seemed suicidal. He liked to hike up the sides of mountains. He was a top student and he traveled widely.
Kim chose to go to The Gunnery - a private high school in Washington, Connecticut - known for the ideals imparted by its founder, Frederick William Gunn: intellectual strength, moral courage, physical rigor, and character. I learned from Wikipedia that Gunn was a disciplinarian with a flair for reinforcing his points: students who engaged in fisticuffs were forced to sit in each other's laps for 30 minutes; if you used foul language you were asked to lecture to a herd of cows without using the same word twice; a restless class interrupter was told to run around the church blowing a horn at each corner until he was fatigued enough to sit still. The school's ideals became Kim's and it seems like the kind of idiosyncratic place that Kim would have liked.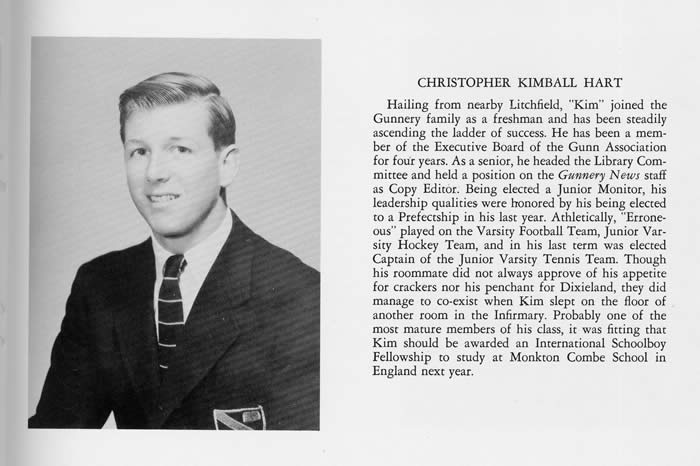 From the Gunnery's yearbook
Kim was, like his brother Val, somewhat embarrassed by his relative wealth and by American consumer society and he decided at an early age that he wanted a simple lifestyle. He seemed to spend much of his early youth searching for the right place to live - spending time in Germany, England, France and then in Norway, where he discovered his place. Norwegians were appropriately unostentatious - at least those that he befriended - and the country was beautiful and unspoiled and open. The women were also beautiful and intelligent and guileless. I remember when I visited him in 1967 he introduced me to one girl who was at the time only eighteen. I was twenty-one, a former Navy officer and I had the best education offered by America. She knew at least four languages while I spoke only a little Spanish. She was versed in political philosophy and literature in ways that I was not. She was also quite beautiful. I could see why Kim was attracted to Norwegian girls particularly when, later, I met Randi.
Kim taught me how to ski cross-country and took me on a trip from Rondane to Lillehammer across glaciers and high snow deserts. I remember that on the first day when we set out from a comfortable lodge the snow began to fall and soon the world around us was enclosed in white and we could not see more than 60 feet all around us. I expected that we might return to the lodge but we kept on into the snow. Kim navigated by compass and a map that he kept folded up in the pocket of his parka and that he examined from time to time. I trusted him - I had to - but I did wonder if he really knew what he was doing. "Don't worry," he told me, "if we get lost all we do is dig a hole in the snow and light a candle and stay up all night and in the morning we will surely find the hut." I did not find that very comforting.
We were planning to ski to a number of huts and the one we were looking for was 15 kilometers or so away in the gloom. We skied for maybe eight hours, mostly without seeing much, when suddenly the snow stopped and I could see that we were descending into a slight valley and that ahead of us, a mile or so away, was the hut. After that first night I would have followed him anywhere - or, at least, anywhere in the snow in Norway.
Kim lived in a single rented room on Niels Jules gate in the home of a Norwegian family. The room was tiny. It had a desk, a chair and a bed. I slept on the floor - or maybe Kim gave me his bed and he slept on the floor. That was more likely. He had some cameras and some books. He introduced me to Hamsun and Tarji Vesas (I am sure I have misspelled this one) and another author that I have forgotten. These were strange books for someone like Kim - mystical, existential, dark - and they revealed a side of his personality that was not often shown.
We went to Holmenkolen and we watched a cross-country ski race. We drank beer. We met girls. I have a picture of him at Holmenkolen (I will find it when I go to my summer place on Martha's Vineyard) in which he is running toward me, grinning, a beer in hand, with a very tall policeman right behind him who is about to grab him by the collar. The two of us had done some minor, good-natured prank that aroused the officer's attention and Kim had looked at me and said: "run." We did, but not fast enough. As I recall it, we were let off with a warning of some minor sort.
We went to Vigoland park where Kim delighted in showing me the erotic sculptures and we went to the art museum to see "The Scream" and other pictures by Munch. We went to Kunsterner Hus to drink beer. At that time, I had no way of knowing that Kim would live in Norway for the rest of his life.

I invited Kim to come to Italy to work on a National Geographic archeology expedition and he showed up with his cameras. We were excavating a Roman shipwreck that carried a cargo of marble from Marmaris, Turkey and foundered in a storm off the coast near a 15th century watch tower where we took up residence. Kim soon became the expedition's chief diver (though he learned to use SCUBA on the job) because of his athletic ability. Most of us could free dive to 40 feet or so and do some useful work there, but Kim could easily go to 80 and stay down long enough to accomplish something. He took a lot of photographs, many of them with an underwater camera loaned to him by the expedition leader, and they were published eventually in a 1969 article in the National Geographic magazine. Kim and I and Terry Vose (a friend from Boston) spent two more summers diving on that wreck, if I recall correctly.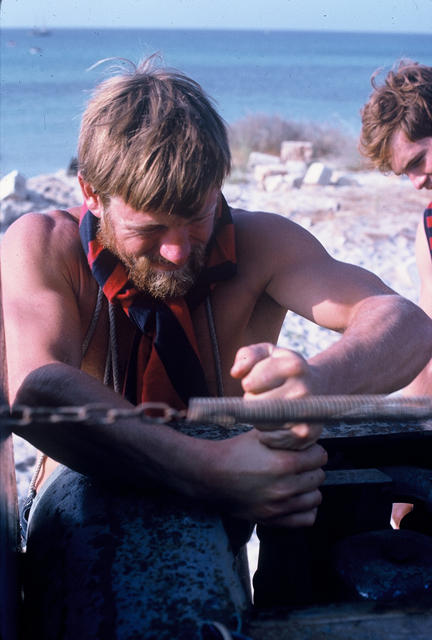 In 1967, Kim came to Italy to dive on an ancient Roman
shipwreck at Torre Sgaratta with Sam Low and Terry Vose.
Here is he trying to start an air compressor on the beach...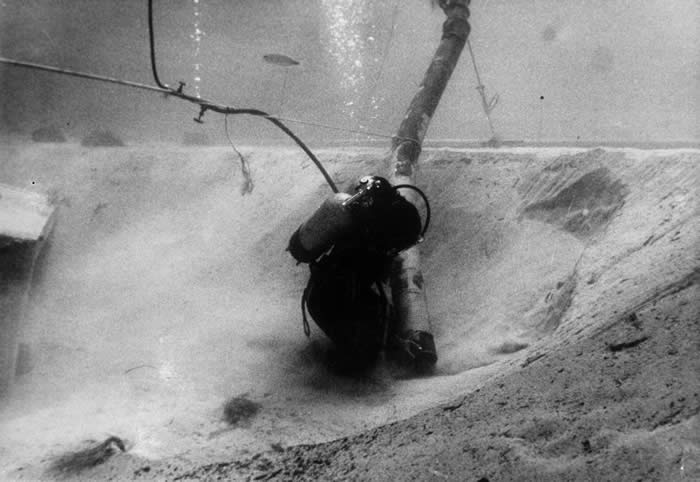 Diver removing sand with airlift - Torre Sgaratta
Kim Hart photo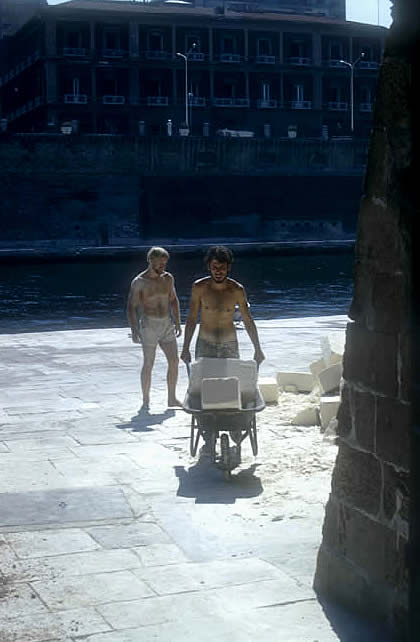 Kim and Terry - Taranto, Italy
Day Laborers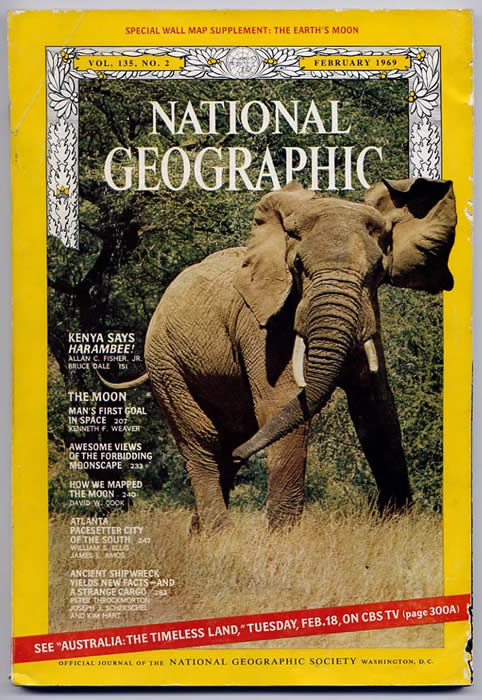 In February 1969, Kim's photographs of the Roman shipwreck
excavation at Torre Sgaratta were published in
The National Geographic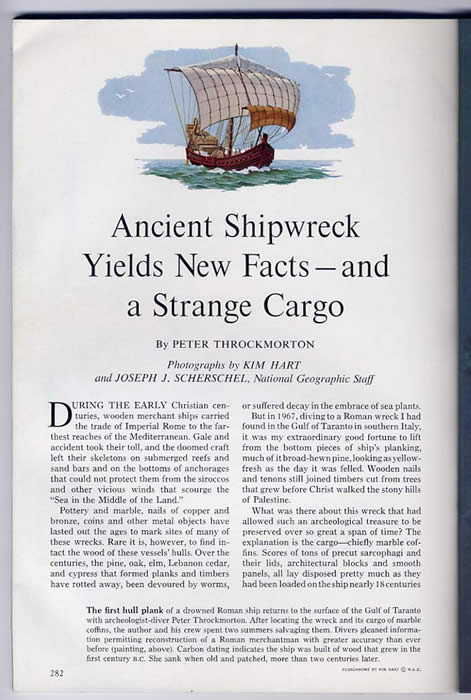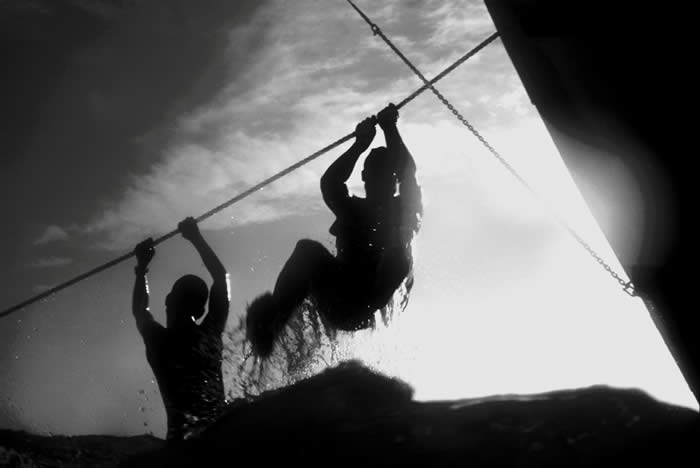 Kim (right) playing on the expedition vessel's anchor line
In 1996, Kim and I met in hawaii and produced an article for the Boston Sunday Globe (Travel Section) about our adventures.
Kim at Volcanoes National Park - Hawaii
We chartered a 38 foot John Alden designed yawl in 2003 and sailed the waters of Maine together. "Kim and I settled into the simple life that a yacht imposes," I wrote in an article published a year later, "rising with the sun and going to sleep with its descent. We jumped overboard to bathe. At sea, Kim took long stints at the helm. In tight spots, I would steer. When not on watch we would read, doze, write or daydream..." Kim objected to the line "In tight spots I would steer" but it was true. I did not trust him at the helm when were around reefs and rocks because he was always looking around for good photographs when you needed to pay attention to where you were going.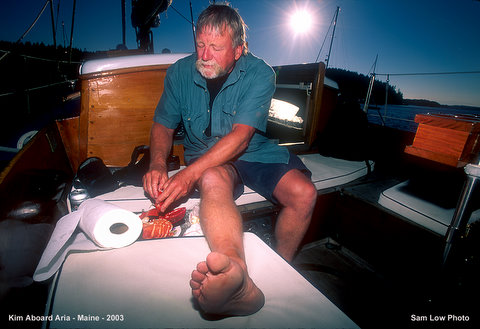 Kim aboard Aria, Maine, 2003
In 2006, Kim and I and Terry Vose set off on a trip aboard a chartered 43 foot sloop through Greek waters.. We spent two weeks sailing and diving and enjoying being together again on the wine dark sea and published an article in Sailing Magazine about the adventure.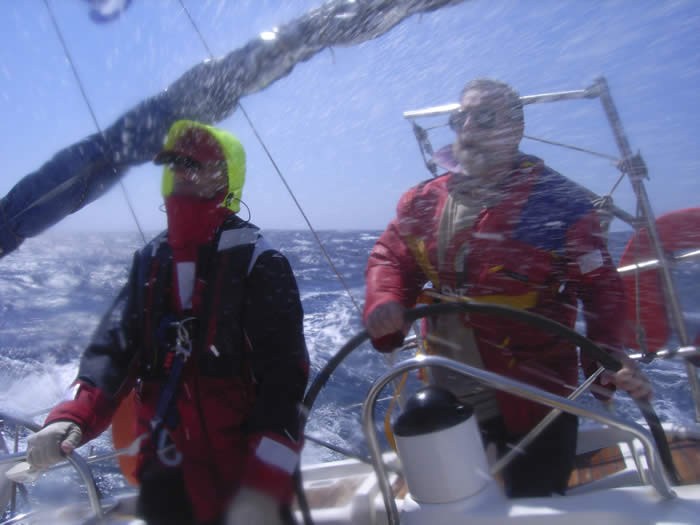 Kim and Terry Sailing in meltemi storm - Cyclades 2006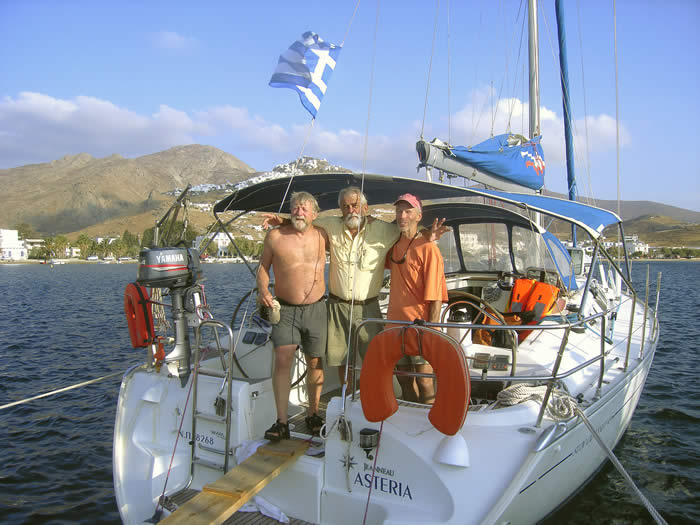 Kim (left), Sam Low (center), Terry Vose
in the Cyclades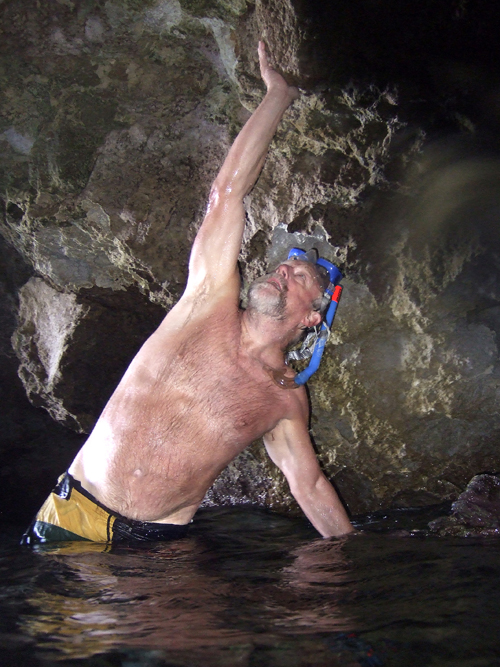 Kim exploring grotto - Santorini
Kim exploring a bottle of wine
Santorini
In 2008, Kim visited Val and me and our families in Maine and on the Vineyard. It was a blessing that he did. My lawn got raked, the basement was totally cleaned out and a pile of rotten wood ended up at the dump. I always get things done when Kim is around.
Kim was almost never without his camera. I am a photographer, too, and I wondered why he did not exhibit his photographs - they were good enough for any gallery to have displayed them. But, I think, that taking pictures was partly for him a way to engage with the world - to get out in it, to see it closely, to inhabit it - and that was enough. It was better to catalog the photographs and send them off to his agent than to spend time in a gallery - there was so much more to see out there.
Memories - Ingerid Strande
Thank you for a very nice remembrance page dedicated to the memory of Kim. We are all very sad because we have lost Kim. I'm sending you a picture of Kim and Randi form one of our many kayak tours. Every year Kim, Randi and I with our families were spending a week on the west coast of Sweden, on Koster not far from a small town, Strømstad.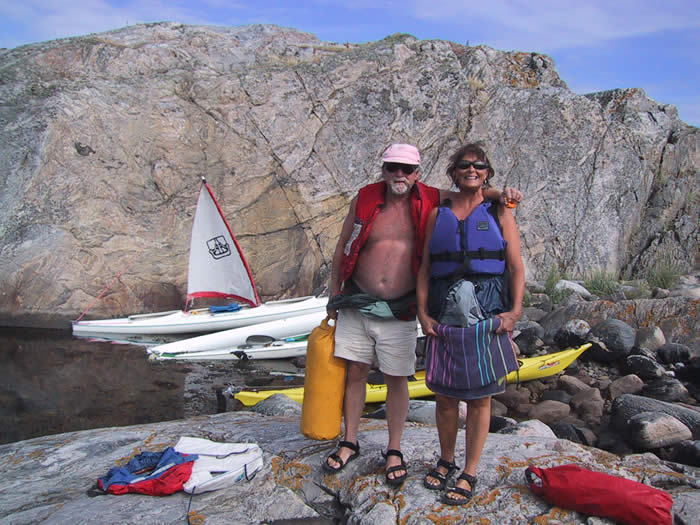 Memories - Kirsten Hazler
The following photographs were taken by Kirsten during a visit with Kim and his family in 2007. Kirsten is Val Hart's daughter - Kim's niece.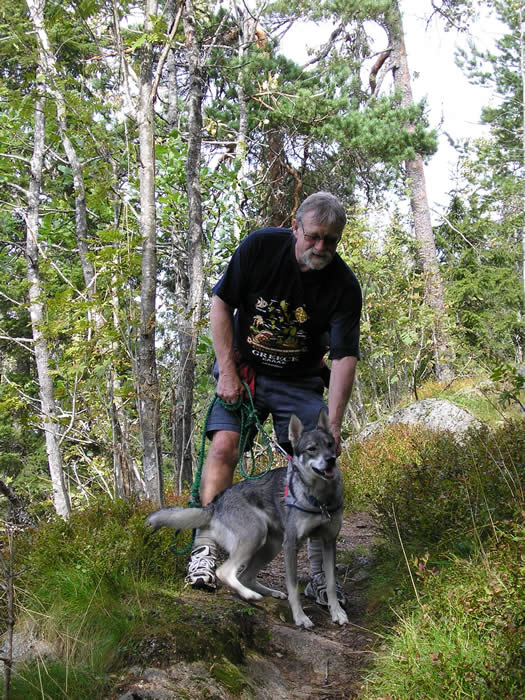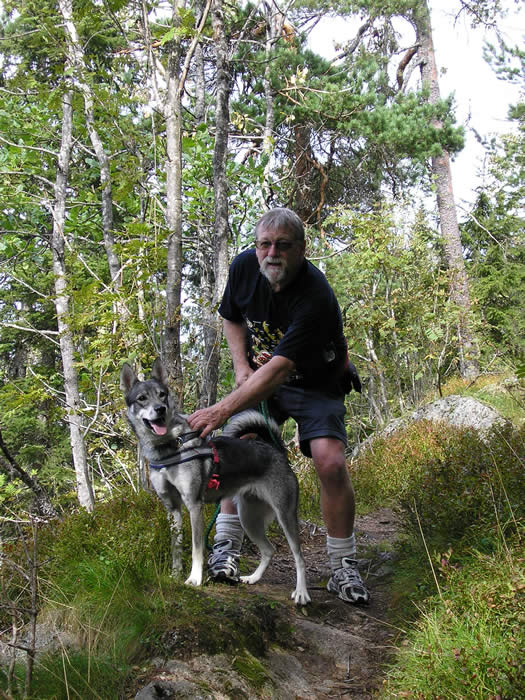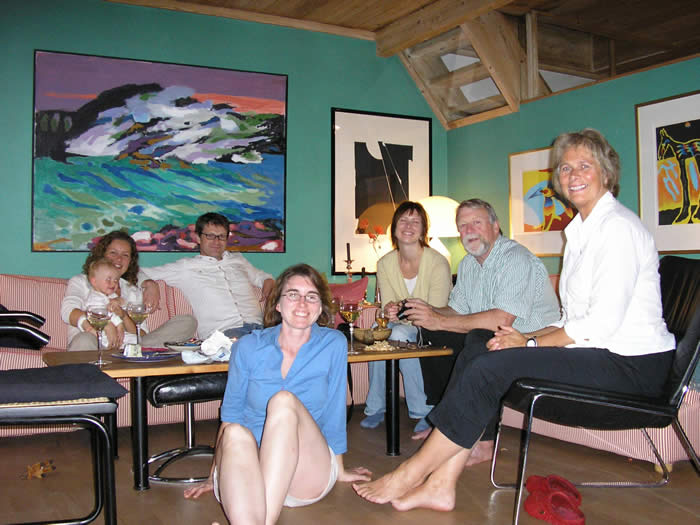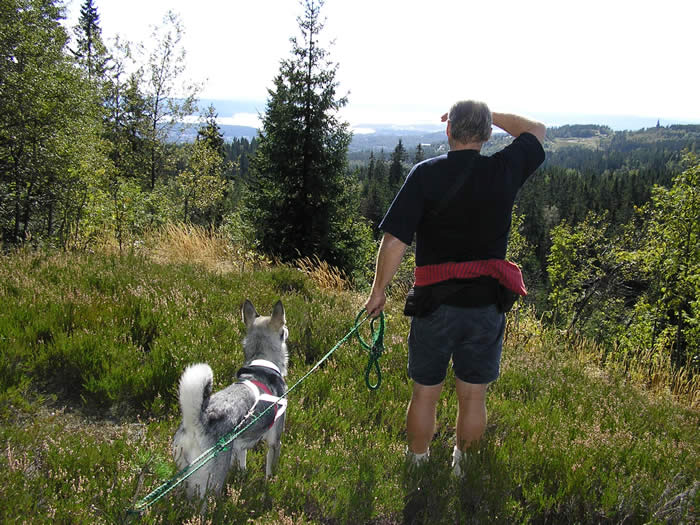 Memories - Jim Bengston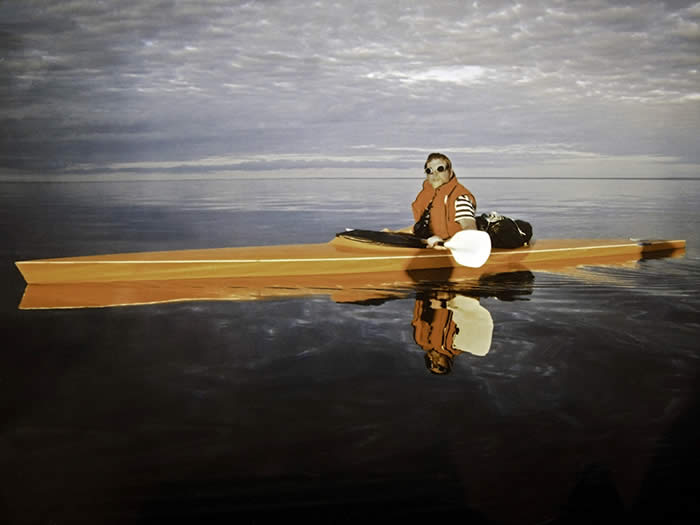 Here´s Kim, June 1989, sitting in one of the places he liked best: his kayak. We´re a few miles offshore on Vänern, Sweden´s largest lake, paddling with my son Marius back to Värmlandsnäs from Kållandsö. What can I say? We did so much together the past 34 years. I can´t get it into my head that this is it. He was a warm & wonderful human being. I´ll miss him the rest of my life.
Memories - Marius Bengston
I grew up with Kim as a "second father" - an inspiration and a constant that would lead me on new adventures and open my eyes to how beautiful the simple things in life are.
Jim\Kim and I (and later also Niklas) would go on annual kayak trips where new lakes and rivers would be explored. Fantastic scenery would be taken in, good food would be enjoyed and problems would be marginalised. These trips taught me that you can only fully understand the magic of a sunny day once you have experienced the adversity of what nature can throw at you.
I was a teenager at the time, but Kim had a special ability to reach out and connect in a very honest and open way. As a result we shared some fantastic times - leaving on multiple day kayak trips or going for walks in the woods around Oslo, just the two of us.
A remarkable man who had the ability to connect with the younger generation, being relevant, a source of stability and unbiased perspectives.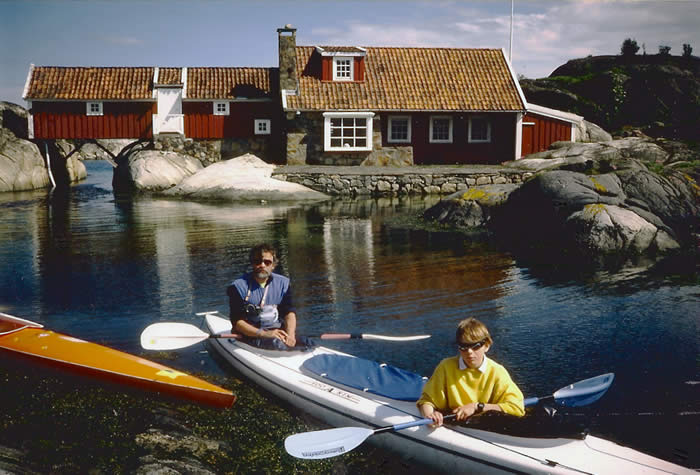 Kim took this photo of Sam and Niklas kayaking in Norway, probably 1985.
Memories - Knut W.Jorfald and Tone Afdal
We always enjoyed Kim´s company - in indoor social life or in outdoor activities. As a freelancer myself I always had great pleasure in talking to Kim about his work and life. A true original man, he was! You don´t meet many of his kind these days!

Many good memories from kayaking with Kim. And many good laughs we had when Kim experimented with using sails on his kayak - using his old rain coat as a sail ! For sure we will miss him a lot!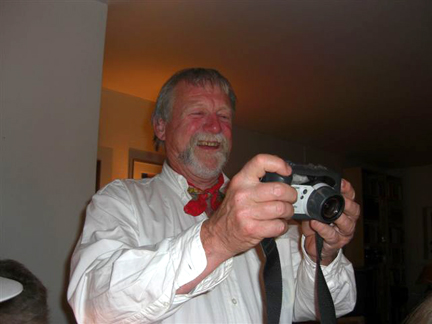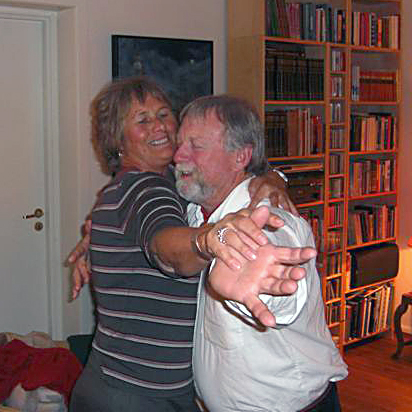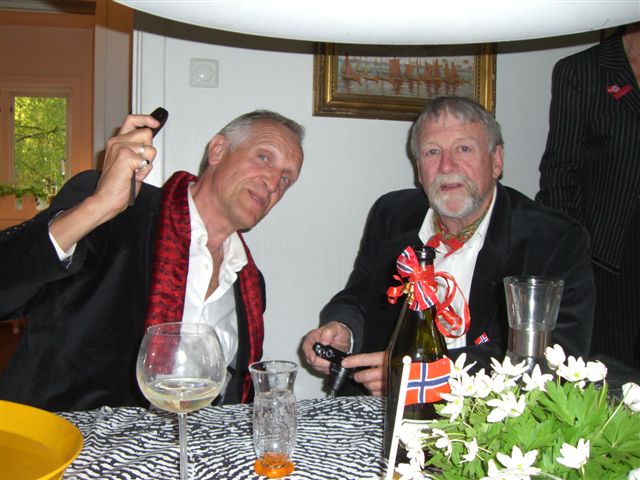 A recent addition from Knut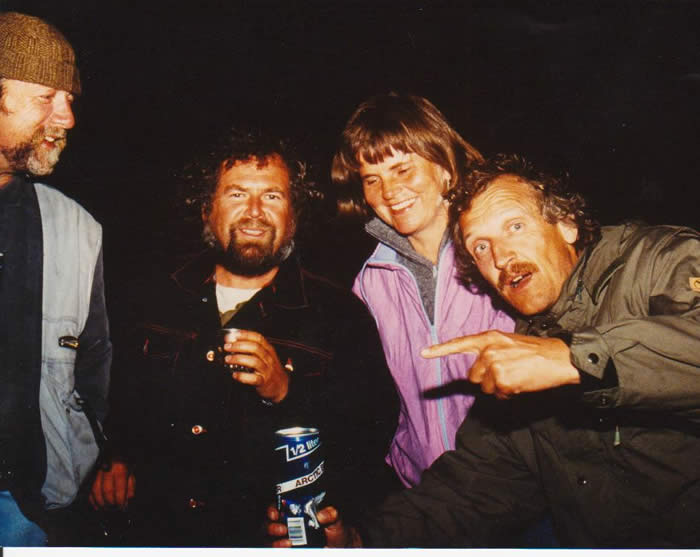 I found this picture in one of my many "boxes". It is from one of our many camping and kajak tours to the Koster Islands in Sweeden. I guess this picture is from beginning nineteen eighties. Not sure... We always had a great time there! You can see we all look happy - including our dear Kim! From left: Kim, Eivind, Ingerid and Knut (me). I think I did some joke with Kim ALWAYS drinking beer, and ALWAYS his own brand!
Memories - Jamie Parslow
Kim in Oslo, 1991.
Kim has been a bonus for me in this life. He was a dear and loyal friend, a pleasure, with an enthusiasm and joy for life i´ve rarely witnessed in others. I hope Kim knew how much he was appreciated and loved. Words are inadequate...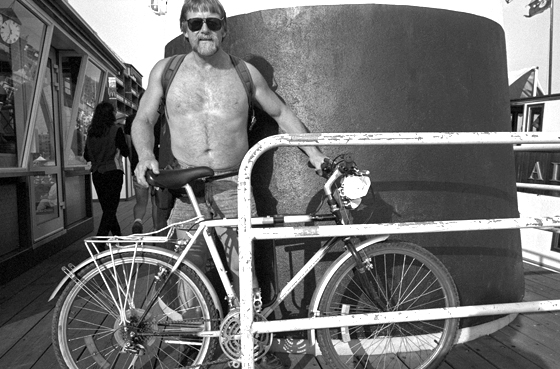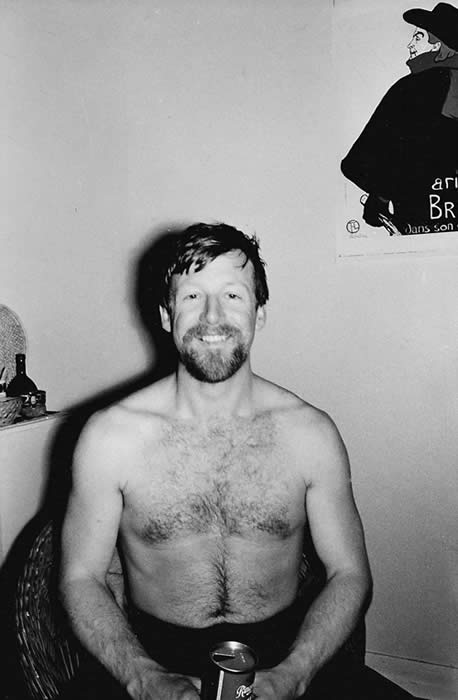 Kim June 1969
An Ode to Kim Hart: CHRISTOPHER KIMBALL HART or 'Kimon' 1938 – 2009

Kim and I met in 1967 in Oslo when I stopped there with his first cousin, Sam Low, on our way to a marine archeological expedition. A few months later the three of us joined the excavation in Italy of a 2nd century A D Roman merchant ship. He was an impressive strong intelligent man; a Viking would be a descriptive word. A great cross country skier, excellent kayaker, scuba diver and professional photographer with a Norwegian stamp to his credit. Kim has his master's degree from Williams College in German where he spoke better German than his professor. He loved languages and spoke about seven. As a traveler, he was the best and before he traveled to another country he learned that language. I remember traveling on a small Greek ferry boat with some French people and Kim's French was so good they thought he was from Belgium. I unknowingly followed him ten years later traveling to Mt. Kilimanjaro and Machu Picchu,

I learned a lot from Kim about his philosophy of 'keep it simple', about travel, the outdoors, photography above and below the water and life. More recently I spent 14 days with him on a bare boat charter sailing the Cycladic Islands of Greece which was 2 ½ years ago. He also came to stay with my wife, Judi, and me last fall in Duxbury, MA near Boston. I have just been to Oslo shockingly for Kim's funeral and was treated as a family member which pleased me greatly.

He has been a great friend for over 40 years and for those who knew him, he will always be with us. My deepest sympathies of course lie with his immediate family, his wife Randi, son Niklas, wife Julia, granddaughter Kornelia; daughter Kaja, his brother Val and first cousin Sam Low.

Go well Kim – Sto Kalo Kimon

From your friend Terry Vose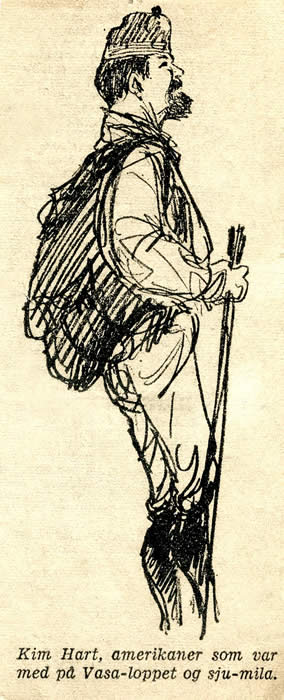 I'm attaching a clipping from a Norwegian newspaper that Kim had sent me sometime in the late sixties, from one of his ski races.
Dani Rosen
From Gunnery Classmates
I was a classmate of Kim's at the Gunnery, many years ago. Our class was about 30 students, so you got to know everyone. As we were often sorted by last names, physically we were frequently close. (Interestingly, my roommate one year was Dick Hart, no relation.) He was a class leader and became a Prefect in our senior year. That year we roomed in the Infirmary and he was in charge, the only dormitory without a teacher to keep things in control. The group in the Infirmary were not troublemakers and we never gave Kim any problems. Most of us had acne to one degree or another and I remember that Kim was always conscientious about this and would soak his face and neck with a hot washcloth to keep the pores open, so frequently his face and neck were red. He was much more of a jock than I was. He was one of the crew members of the shell which I coxed (I was quite small). I am sorry that he is now gone, but it sounds like he had a great life without any declining old age, which he would not have enjoyed.
My condolences to you and the rest of his family.
Robert Johnson
I am class of '57 from The Gunnery and knew Kim a bit the two years I was there. Just this morning I was meeting with two classmates to plan our 55th reunion and Kim's name came up. Peter Smith, his freshman year roommate, said he had lost touch over the years, and we talked about how to possibly find Kim. When I got home I Googled Christopher Kimball Hart and up came your webpage! What a wonderful memorial you have created! I emailed the site address to the class; hopefully you will hear from some of them.
Louis (Louie) Allyn
Christopher Kimball Hart: A Remembrance
Peter Smith <phsmith@dss.ucsd.edu>
Kim Hart and I were four-year classmates at The Gunnery, a boarding school in western Connecticut. We roomed together as freshmen and as juniors, so we knew each other pretty well. I still remember shaking his hand at commencement in June 1957, myself bound for college and him about to leave for Europe. Little did I realize that our paths would never cross again.
Even as a very young man, Kim revealed characteristics that would come to shape his life. He was remarkably self-reliant, independent, clear-minded, and quietly confident. With a dry wit and droll sense of humor, he often exuded an air of bemused detachment. He was a good friend but not a joiner. He took part in adolescent rituals while recognizing their absurdity. He graciously accepted awards and accolades, but never made a point of seeking praise. And Kim was able, smart, competent—formidably so.
Two anecdotes come to mind. During our freshman year, as Thanksgiving approached, Kim and I attempted to ferment some apple cider in order to create an alcoholic drink. We applied doses of sugar and raisins and set the jars of cider on our windowsill, where they would never be detected. The night before vacation, as a light snow began to fall, we gleefully consumed this ill-tasting concoction in the glow of hidden flashlights. What a daring sense of triumph: Drinking at The Gunnery! And getting away with it! We were ages 13-14, still children, elated by our victory. It was a very grand moment.
As seniors Kim and I played together on the varsity football team, which was suffering through a terrible season. The last chance to salvage our honor came in the final game against arch-rival South Kent. Late in the fourth quarter we were hanging on to a narrow 7-6 lead. South Kent was marching rapidly toward our goal line with short passes over the middle, so we decided to change our defensive formation and assign one of our players to occupy their passing lane. Kim and I looked at each other in the huddle: Who should take this position? And accept this awesome responsibility? I declared he should do it. He agreed with only the slightest flicker of hesitation. Though not as tall as South Kent's receivers, Kim managed to break up their passes, and—hallelujah!—we ended the season with a hard-fought win.
Months passed, commencement arrived, farewells took place—and we never saw each other again. I regret that very much. Looking back on things, I must confess to having seen Kim as a rival—in the classroom, in athletics, in extracurricular activity, you name it—but while I competed so very intensely with him, Kim was not that much interested in competing with me. The truth is that he and I had much in common, and I would have welcomed an opportunity to explore those affinities. I am awed by the life decisions Kim was able to make, and heartened to learn that he enjoyed the warmth and pleasure of such a beautiful and loving family. I will miss Kim Hart, and I will keep a lookout for that star he's riding now.
"ERRONEOUS"
Kim's Nickname
A mystery\by Val Hart
While a high school student at The Gunnery, my brother Kim's nickname was "Erroneous." I discovered this curious fact from his yearbook entry, and I wondered why Kim would have such a nickname, since the most common meaning of the word (from my American Heritage Dictionary) is: mistaken, or containing or derived from error. These definitions hardly seem to fit the Kim I knew, and I suspect would cause some consternation among family members, his many friends, and the countless numbers of people who crossed paths with Kim at some point during his lifetime of travels. None of us, I venture to say, would normally associate Kim with mistakes or errors. This is not to say that Kim didn't err from time to time, but when he did, it was usually because he was trying something new, or adventurous, or challenging, some attempt that contained perhaps an undue element of risk. And he willingly would take that risk in order to have a chance at success, and failing that, to learn from the experience. His motto would always be, "Nothing ventured, nothing gained." Kim gained much from his many ventures. His occasional errors were necessary steppingstones along the way to a very full life, marked much less by mistakes than by intelligent and reasonable decisions.
I think Kim would laugh at the ambiguous notion of "Erroneous" being applied mistakenly to him. Taking on that nickname may have been an early (risky) attempt to confuse and confound. As one who was already at such a young age an avid student of languages, Kim would surely have known the Latin derivation of the word, which is a vagabond or wanderer. This has more to do with the code of the knights errant of the medieval age, involving roving, especially in search of adventure, and, later, straying from the proper course or standards, or wandering outside the established limits. A more pulpit-pounding definition of the word "err" is to violate accepted moral standards, even to sin. Whether or not Kim ever crossed these particular borders is for each of us to judge, if we are so inclined, but the indisputable fact is that Kim's entire life was bound up in travel, in searching, and in fashioning his own individual code of conduct, while scoffing at those who were still caught up in the limitations of standard social behaviors and attitudes.
(If any Gunnery people can tell us how school nicknames were acquired, or anything in particular about Kim's nickname, please let me know at vhart001@maine.rr.com or Sam for inclusion at his website. Also, friends may want to respond, from their experience with Kim, to the truth or error of my "erroneous" comments.)
From Williams Classmates
I have been the secretary of the Williams College Class of '62 for the past 35 years. The college sent to me your Vineyard Gazette story about Kim and I will excerpt from it (with your permission) for our next set of class notes which, unfortunately, will not appear until late this year.

I did not know Kim well either at Williams or afterward but I did know of him and admired him. I remember he was always doing something outdoors - skiing, hiking, camping - I wish I had done more of that myself. Among other reasons, I might have gotten to know this extraordinary man better.

My sympathies to you and Kim's family.
Bill Ryan '62
I was a Williams class and fraternity and ski team mate of Kim's so I appreciate finding your site for his memory. Well done.

I saw him in Oslo some five years ago and we had a good tour of his haunts, in the driving rain no less.

I was sorry that he passed away without our knowing he was in health trouble.

I have sent your link to other fraternity friends and they are enjoying catching up with his life as few of them had the chance to cross paths with Kim over the years.
Charlie "Spike" Kellogg
From Old Friends
I have very fond memories of Kim, we dated for a while in my teenage years. Then he was off on his adventures, and I was off to college, marriage and babies.
Lucy Sheldon
It's been almost 40 years since I've seen Kim and yet..... I always had such a strong memory of the times we all were together, they were important events for me. I loved your family, your father and mother, cousins, uncles and most of all, Kimon. I'm so sorry that I will never get to see him again.
Dani Rosen
A letter from Kim
While going through his father's papers, Niklas found the following typescript written more than twenty years ago. Perhaps it was written to himself - as a kind of diary of which this is the only example found so far. Perhaps it was to a friend - or to his college, Williams, for a class memorial. We will never know - but this is the essential Kim...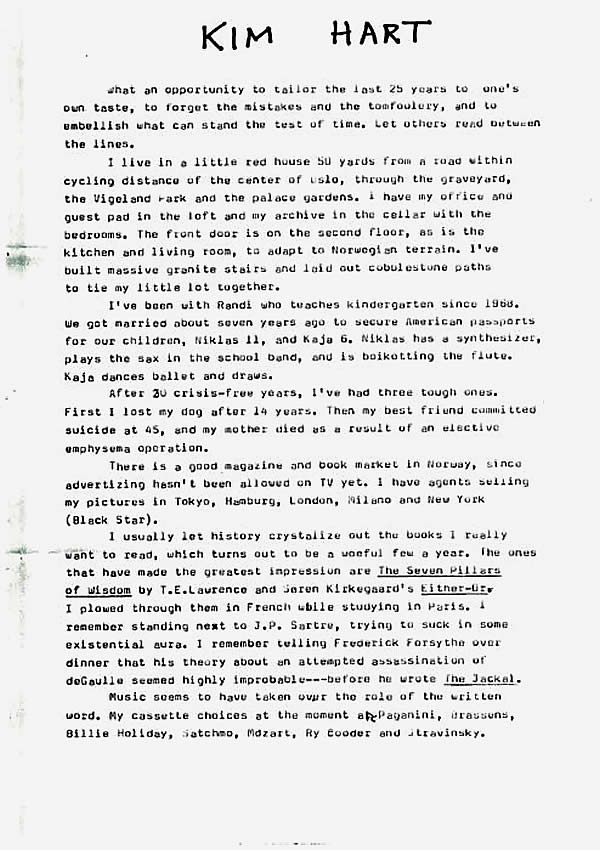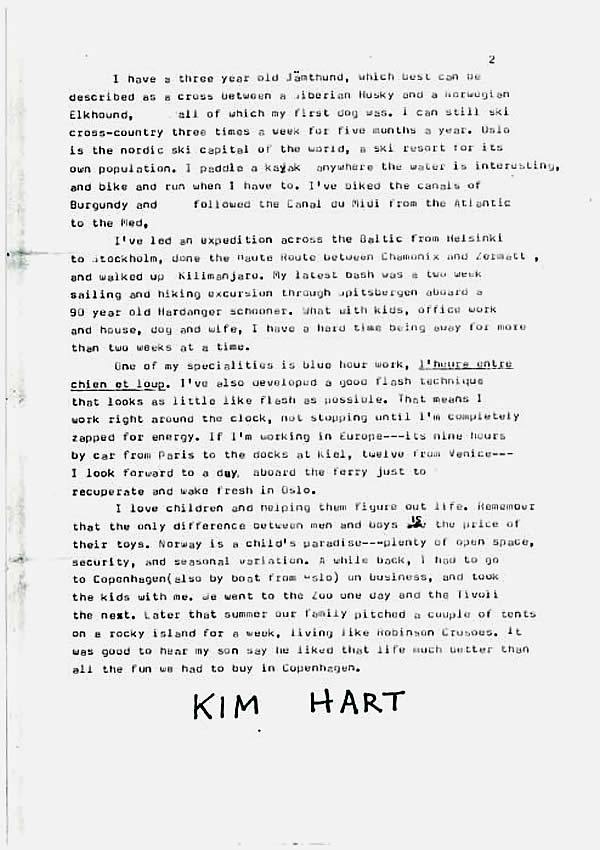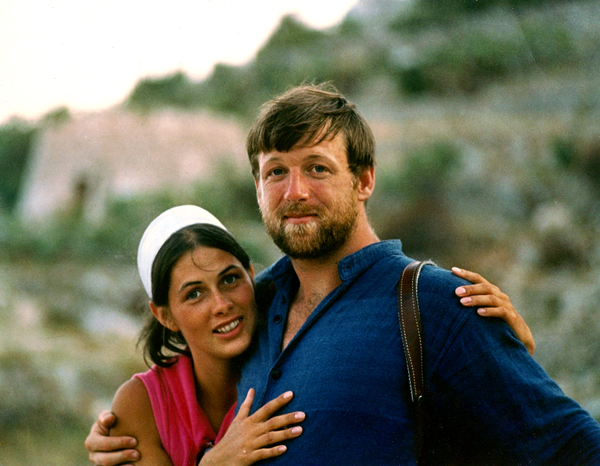 Kim and Randi 1968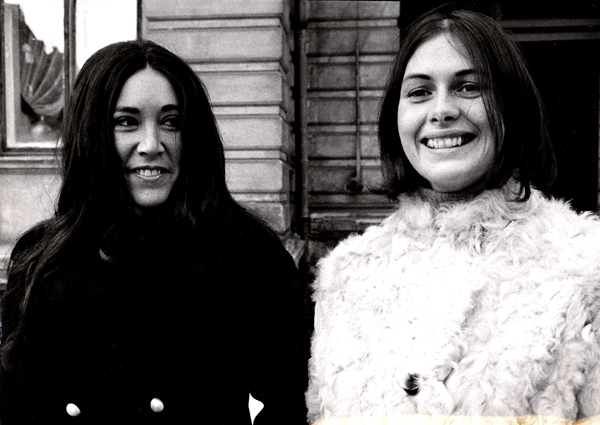 Dani Rosen and Randi 1968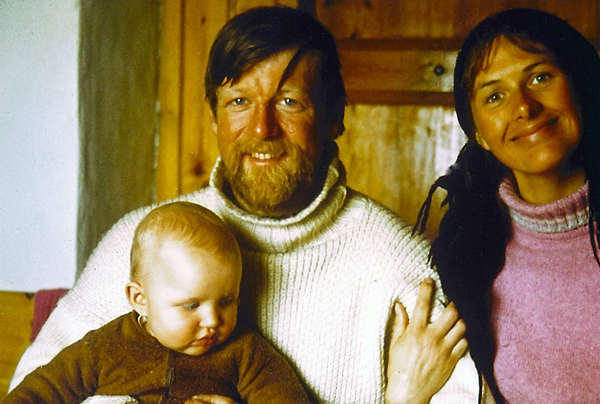 Niklas, Kim and Randi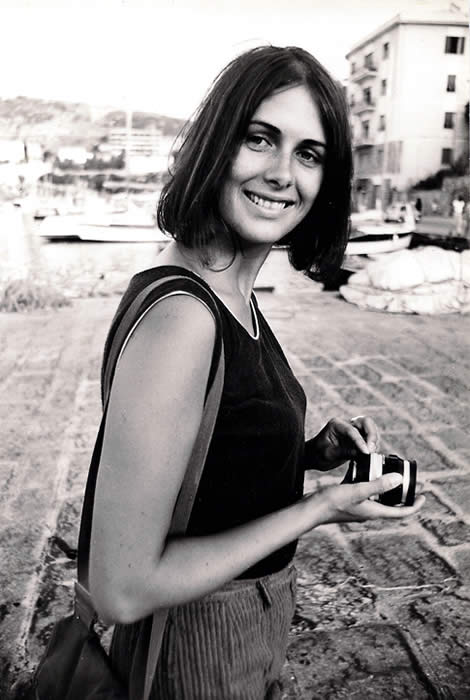 Randi in Porto Ercole 1968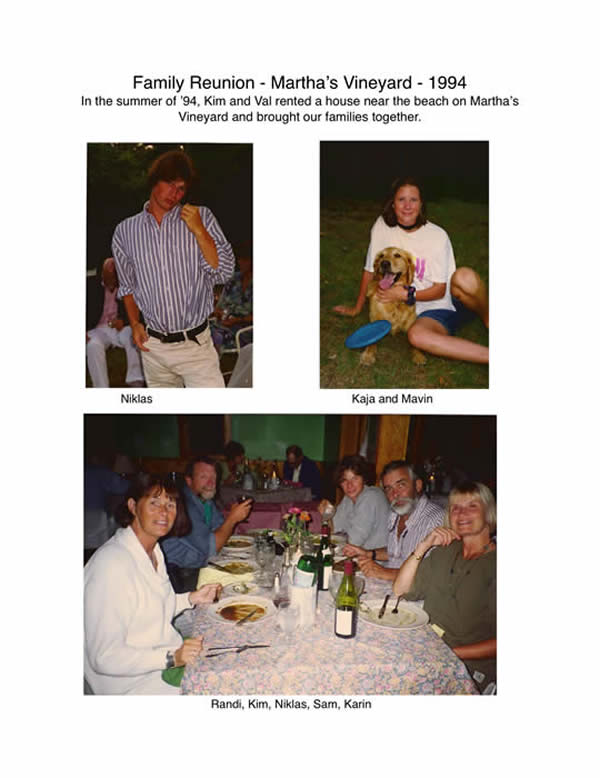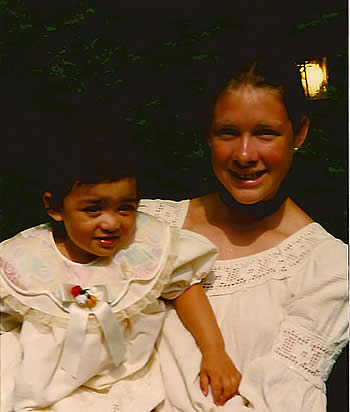 Kaja and Elizabeth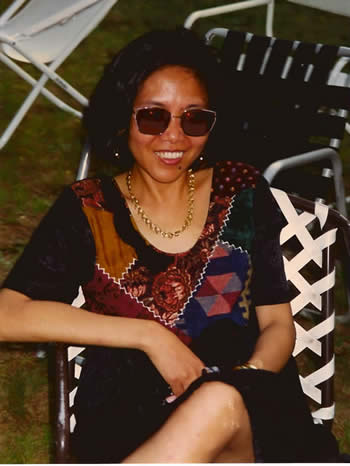 Grace Valenzuela de Hart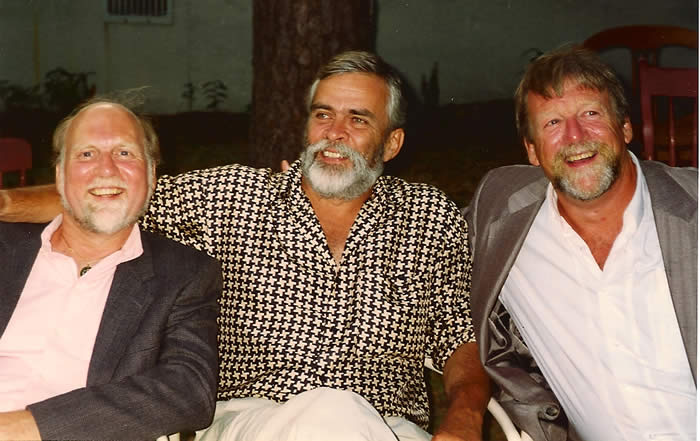 Val, Sam, Kim
In 2002, Kim and Niklas paid a visit to the Vineyard.
Here is a shot of them with Sam - at sunset - on the beach near Cape Pogue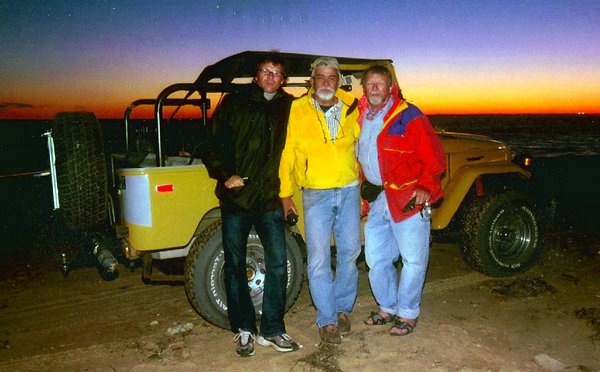 Click here to connect to Sam's website