HARTHAVEN HERALD SPRING EDITION FINAL
The Harthaven Herald
Spring Edition - 2020
"if you don't know where you are, you don't know who you are." Wendell Barry
A Corona Spring
By Sam Low - editor/publisher
Our response to the Corona Virus, individually and as a community and nation, has taught us a lot about the meaning of the word "home." And in a small community like ours in Harthaven, I think these lessons are particularly poignant. I asked some of you to compose essays about your Corona Spring and you have risen to the occasion with warmth, depth and thoughtfulness by describing how you turned to activities that were positive. You took time to work on chores that had been long deferred - maintaining your homes, gardening or otherwise beautifying our community. And many of you delved into your creative side - painting, sculpting, throwing pots and writing about precious moments spent here in Harthaven. Perhaps most important, as all of you flocked to your Harthaven homes this inward turn to solitary work was matched by an outward one toward community. I hope you enjoy reading these essays as much as I did.
A Swirling Cloud of Memories
By Mark Grandfield

My earliest memory is of taking a bath in the soapstone double sink that used to be in the kitchen at 29 Farm Pond Road. I was probably 2 years old. I grew up there every summer, staying with my brothers, my sister, my mother and our Gramma Coholan and surrounded by a colorful cast of characters - our neighbors.
"The secret to life is enjoying the passage of time," said James Taylor many years ago. As I've been working on my family's house this spring I've been surrounded by time echoing around the old walls. In this uncertain era, time has both taken on and lost meaning. The daily, present time has become, for me, somewhat surreal as the usual markers of days and weeks are like riding on a carousel. Then there's the constant parade of glimpses and flashes of the past in the house. While restoring and cleaning the property, I find myself on the same porch where I sat as a young boy pulling ticks out of the dog's ears with various Peases and Stevens kids; where I sat for lunch with my grandmother, mother and sister; where we had parties overlooking the back yard and pond; where I got married. Working in the kitchen, I remember sorting through blueberries that Dorsey and I picked up by the Hyde's house and waiting for the toast to shoot out of the old toaster. The living room is where I'd play Rummy with my grandmother and we'd have family dinners and toast marshmallows in the fireplace. All these images are strangely vivid as I work around the house - as though a slide show is displaying images on the walls. There's a mixed bag of feelings conjured up - some embraced and some pushed down before they can make their way to the surface. This vessel of personal and family history brings joy, sadness, nostalgic longing for an idealized past and an acceptance of the present that's just out of reach. Time, to me, is like a swirling cloud holding memories, and aspirations and although these things are
Martha's Vineyard
Charming Campground House and adjoining buildable lot
soon to be for sale
in very desirable Harthaven location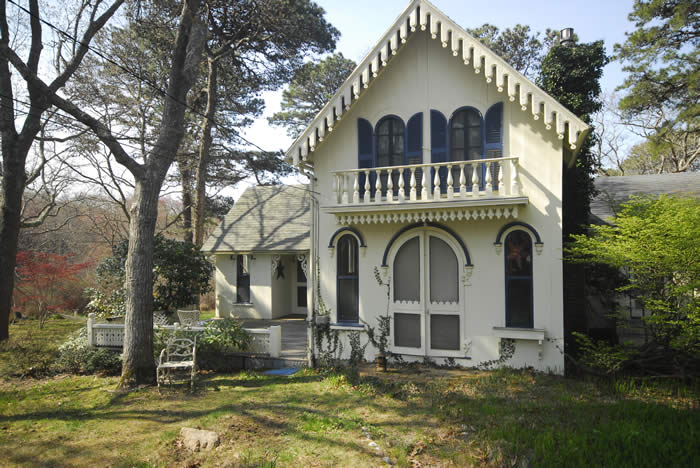 The Gingerbread House on Martha's Vineyard.
The Gingerbread House is located in an exclusive (but definitely not stodgy) community - Harthaven - with two miles of community private beach (a three minute walk), a private harbor and a community tennis court. Sandy roads and walking paths are bordered by Farm Neck golf course and conservation land. The Gingerbread House is a real Victorian cottage, built in the 1850s and moved from the famous Oak Bluffs Campgrounds in 1939. The Campgrounds was created in the 1830s by a group of devout Methodist worshipers in Oak Bluffs as a circle of tents around a grove where they worshiped. Over the years, the Campground tents were improved in gingerbread Victorian style to small cottages known through the world (really) for their fairy tale charm. In 1939, my parents, both of them artists who summered on the Vineyard, purchased the Gingerbread House and moved it to Harthaven. It is now nestled into pine woods overlooking the Farm Neck golf-course. There is a large deck looking out onto the golf course. The rooms are tiny by modern standards but charming in their coziness. Upstairs is the 'master' bedroom with an antique bed, and adjoining bedroom with a single bed and a tiny bedroom called 'the doghouse' suitable for a child. Downstairs is another bedroom with two singles. A studio annex attached to the house is insulated and heated and provides a fine working place for an artist or writer.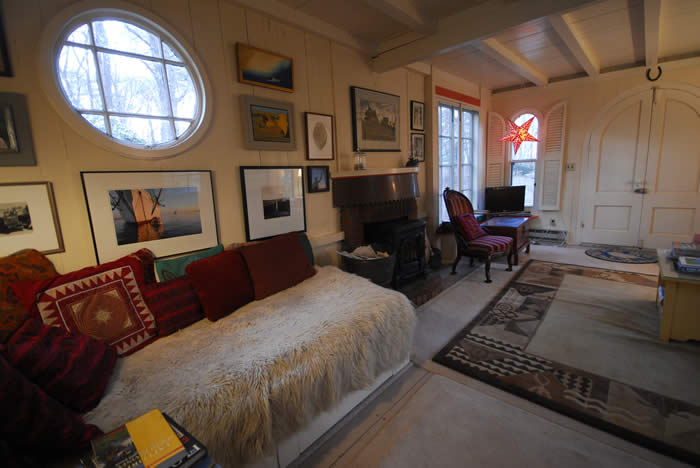 Living Room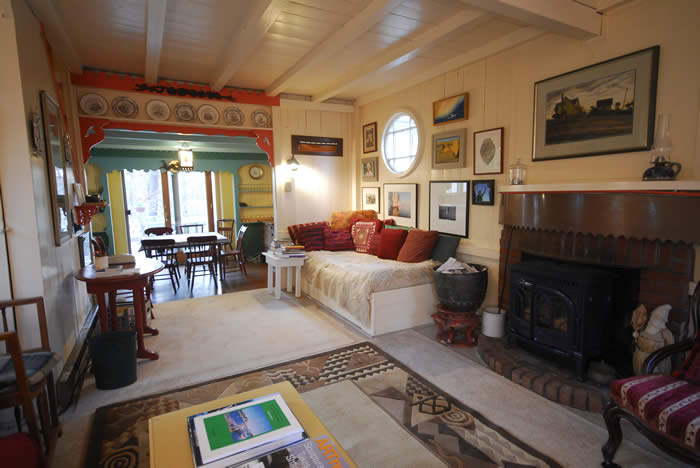 It is a Victorian fairy tale of a house, painted inside with many different complementary hues and decorated with gingerbread trim and hand-painted curlicues rendered by its original artist owner. It has always been a congregating place for well-known artists such as Thomas Hart Benton, Stephen Dohanos (Saturday Evening Post illustrator) and the actor James Cagney who traced their hands and autographed them on one of the bedroom doors.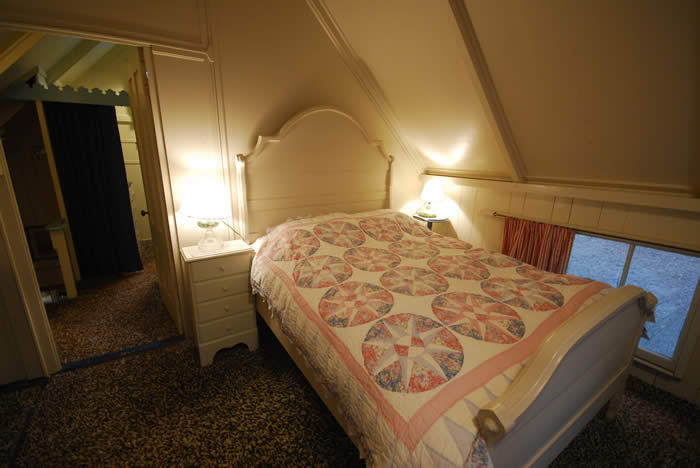 Master Bedroom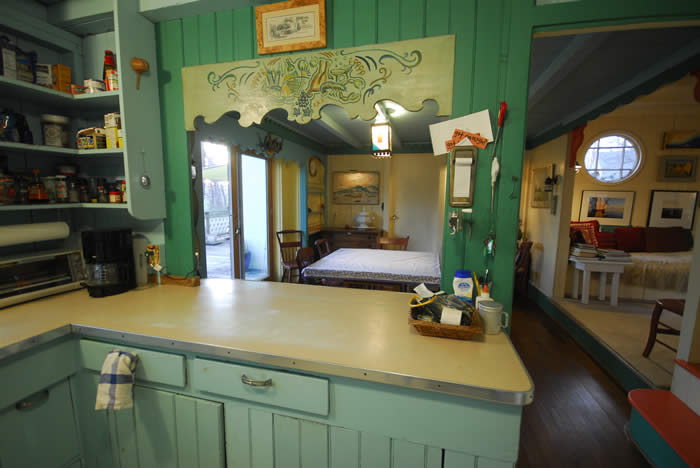 Kitchen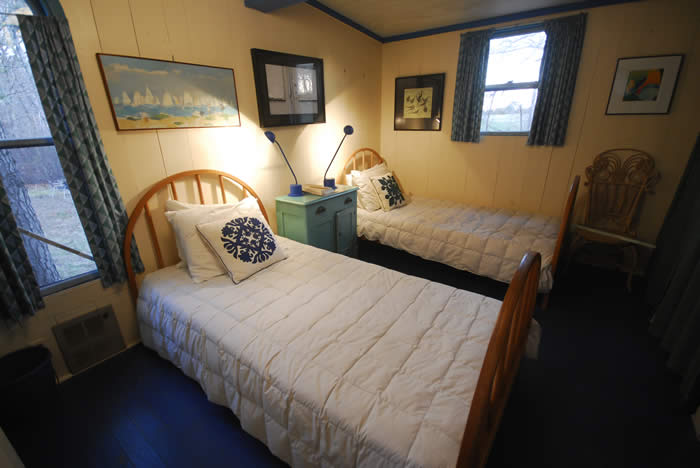 Blue Bedroom
Harthaven was created beginning in 1914 when the Hart family purchased about 150 acres of farm land and invited friends and relatives to build their homes. Harthaven Harbor is the only private harbor on Martha's Vineyard. There are about two miles of private community beach for your enjoyment. A bike path leads into Oak Bluffs a short distance away and Edgartown about 5 miles down the road. The roads in Harthaven are all sand and lightly traveled. Enjoy the nearby Farm Neck Golf Club or play tennis on the community court located in a private forested lot nearby. The beach is a short walk away and is reserved for residents, guests and renters in the community.

Harthaven Community Beach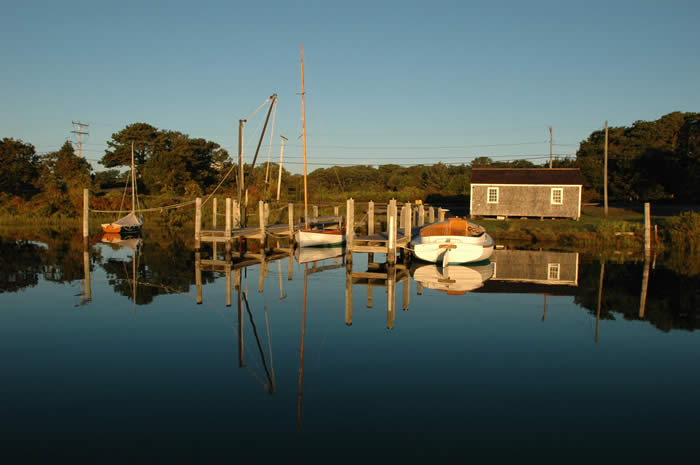 Harthaven Harbor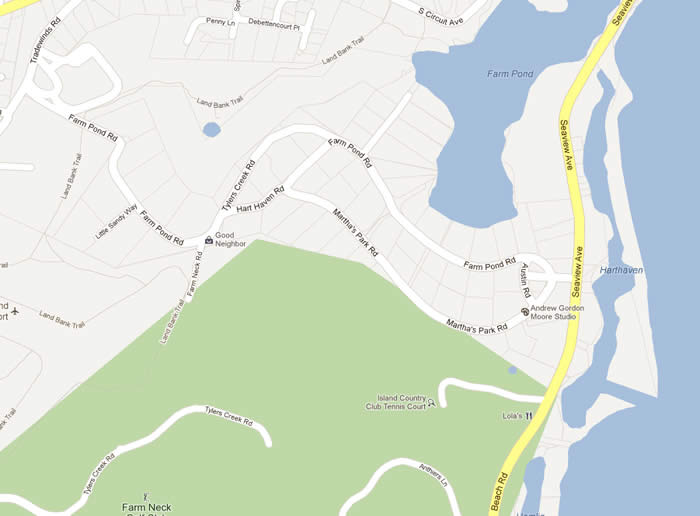 Map of Harthaven (approximate - this is a Google Map) - the private harbor is to the right (East) and the beach extends north from the entrance to the harbor. There is also another private beach to the south (not shown) with a raft. The Campground Hoiuse is located on Martha's Park Road (shown below).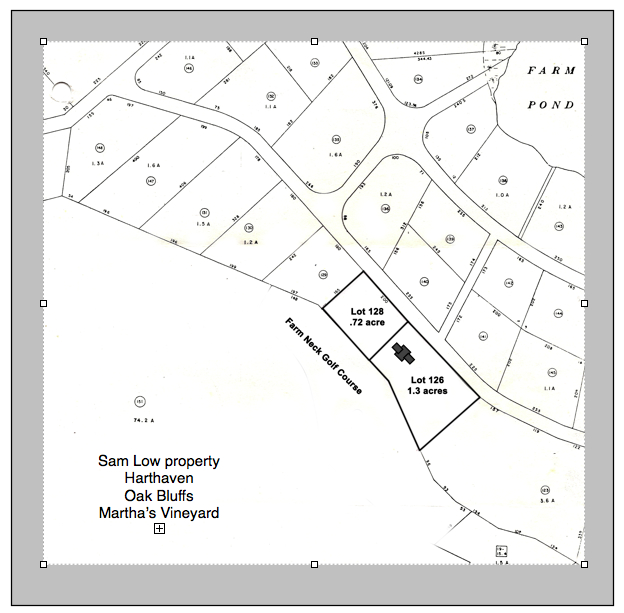 The Campground House sits on 1.3 acres and looks out over Farm Neck Golf Course.
A buildable .72 acre lot adjoins the property to the west. The lot may be sold separately, but if the two were purchased together the new owner could build a winterized home on the smaller lot and use the Campground House as a charming, and very unique, guest house.
This property is not yet on the market (January 2012) - but will be soon.
Interested parties please call Sam Low at 508 687 9771.