Martha's Vineyard
Charming Campground House and adjoining buildable lot
soon to be for sale
in very desirable Harthaven location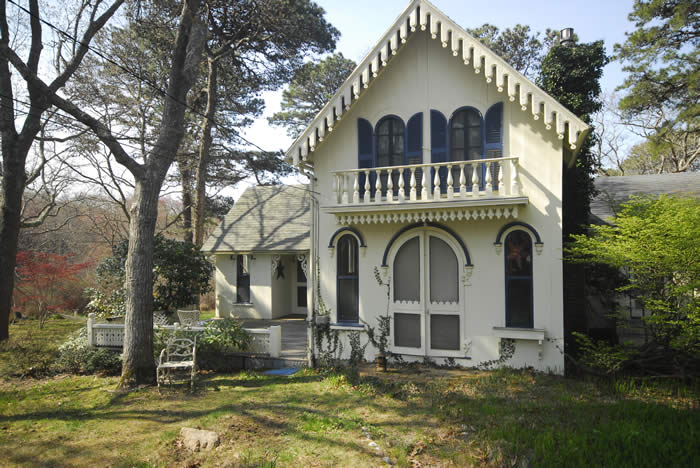 The Gingerbread House on Martha's Vineyard.
The Gingerbread House is located in an exclusive (but definitely not stodgy) community - Harthaven - with two miles of community private beach (a three minute walk), a private harbor and a community tennis court. Sandy roads and walking paths are bordered by Farm Neck golf course and conservation land. The Gingerbread House is a real Victorian cottage, built in the 1850s and moved from the famous Oak Bluffs Campgrounds in 1939. The Campgrounds was created in the 1830s by a group of devout Methodist worshipers in Oak Bluffs as a circle of tents around a grove where they worshiped. Over the years, the Campground tents were improved in gingerbread Victorian style to small cottages known through the world (really) for their fairy tale charm. In 1939, my parents, both of them artists who summered on the Vineyard, purchased the Gingerbread House and moved it to Harthaven. It is now nestled into pine woods overlooking the Farm Neck golf-course. There is a large deck looking out onto the golf course. The rooms are tiny by modern standards but charming in their coziness. Upstairs is the 'master' bedroom with an antique bed, and adjoining bedroom with a single bed and a tiny bedroom called 'the doghouse' suitable for a child. Downstairs is another bedroom with two singles. A studio annex attached to the house is insulated and heated and provides a fine working place for an artist or writer.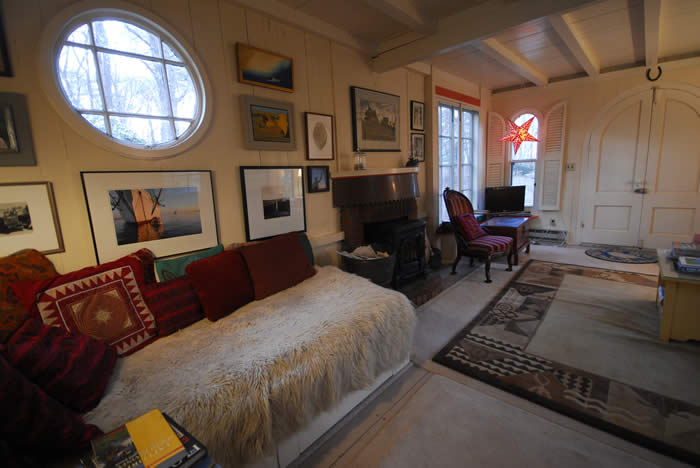 Living Room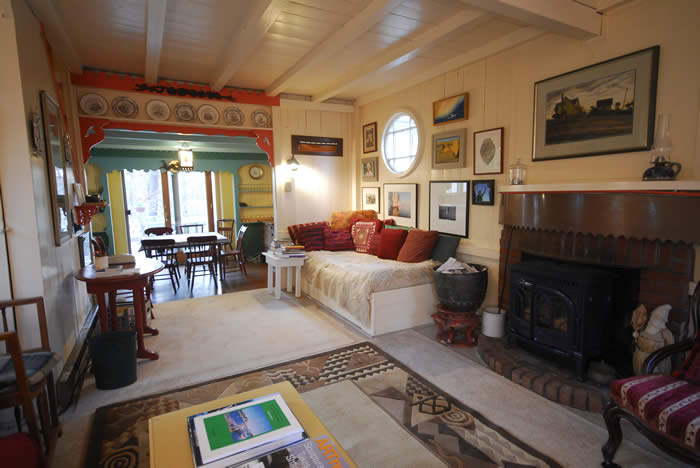 It is a Victorian fairy tale of a house, painted inside with many different complementary hues and decorated with gingerbread trim and hand-painted curlicues rendered by its original artist owner. It has always been a congregating place for well-known artists such as Thomas Hart Benton, Stephen Dohanos (Saturday Evening Post illustrator) and the actor James Cagney who traced their hands and autographed them on one of the bedroom doors.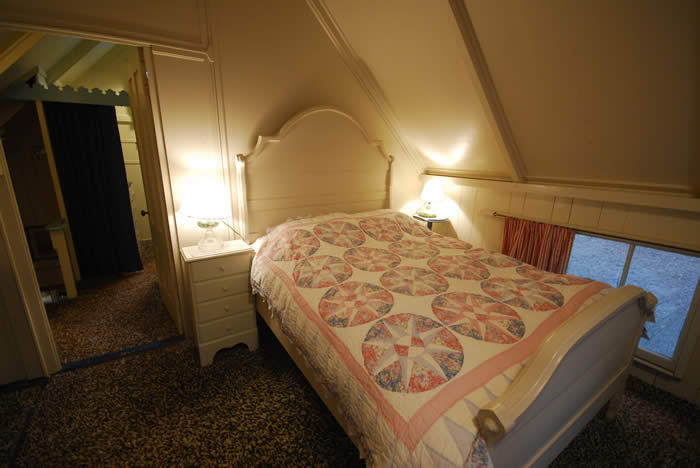 Master Bedroom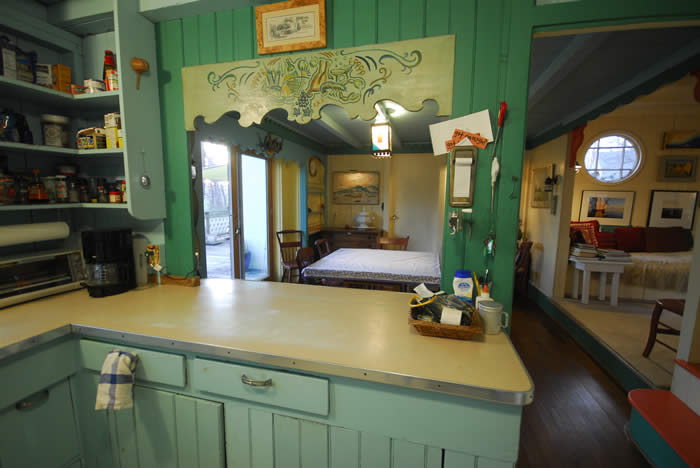 Kitchen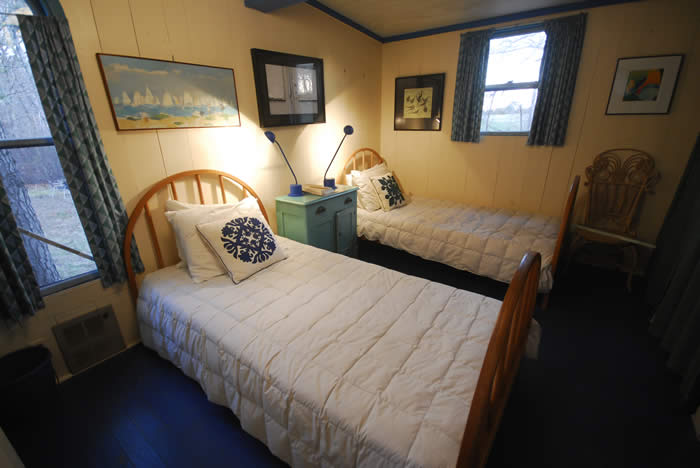 Blue Bedroom
Harthaven was created beginning in 1914 when the Hart family purchased about 150 acres of farm land and invited friends and relatives to build their homes. Harthaven Harbor is the only private harbor on Martha's Vineyard. There are about two miles of private community beach for your enjoyment. A bike path leads into Oak Bluffs a short distance away and Edgartown about 5 miles down the road. The roads in Harthaven are all sand and lightly traveled. Enjoy the nearby Farm Neck Golf Club or play tennis on the community court located in a private forested lot nearby. The beach is a short walk away and is reserved for residents, guests and renters in the community.

Harthaven Community Beach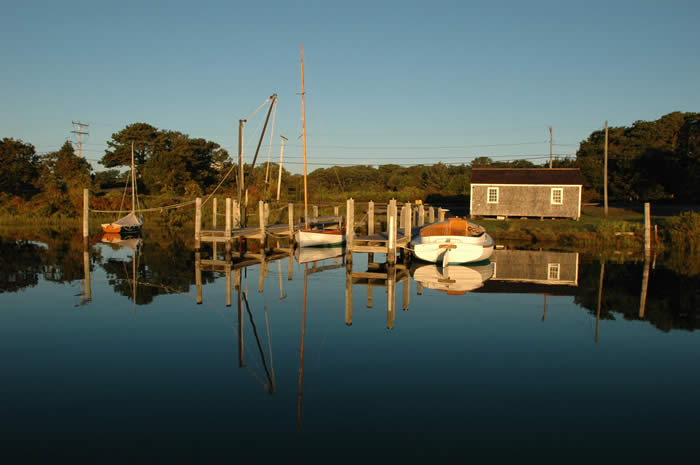 Harthaven Harbor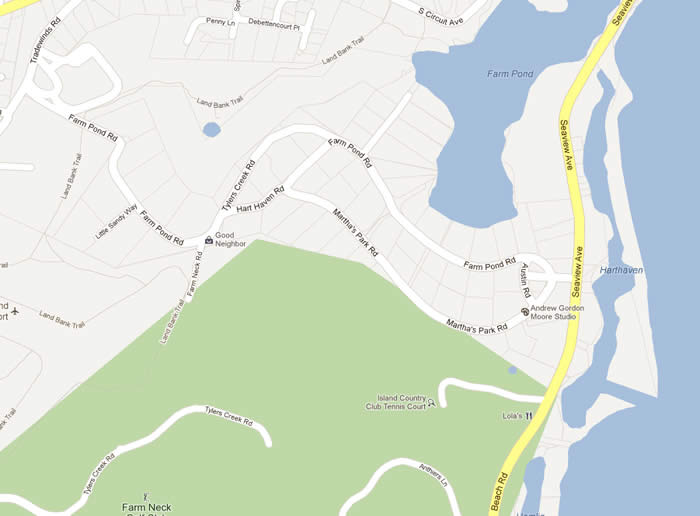 Map of Harthaven (approximate - this is a Google Map) - the private harbor is to the right (East) and the beach extends north from the entrance to the harbor. There is also another private beach to the south (not shown) with a raft. The Campground Hoiuse is located on Martha's Park Road (shown below).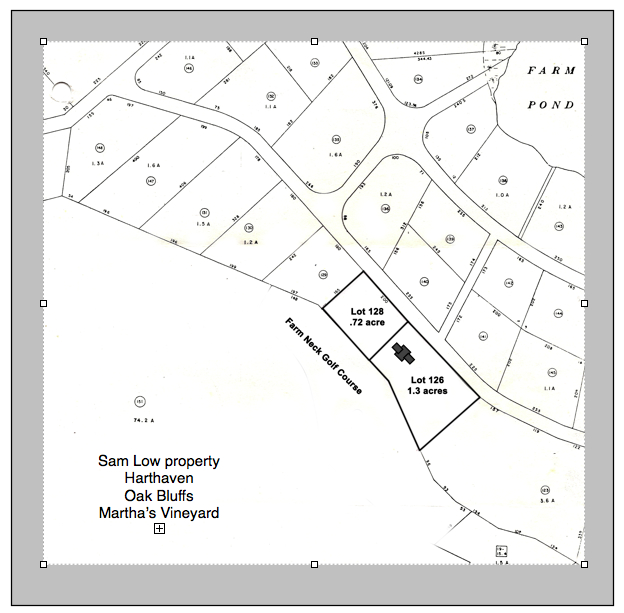 The Campground House sits on 1.3 acres and looks out over Farm Neck Golf Course.
A buildable .72 acre lot adjoins the property to the west. The lot may be sold separately, but if the two were purchased together the new owner could build a winterized home on the smaller lot and use the Campground House as a charming, and very unique, guest house.
This property is not yet on the market (January 2012) - but will be soon.
Interested parties please call Sam Low at 508 687 9771.