SCREENING ROOM
The Navigators
A fascinating documentary
about the world's greatest seafaring people.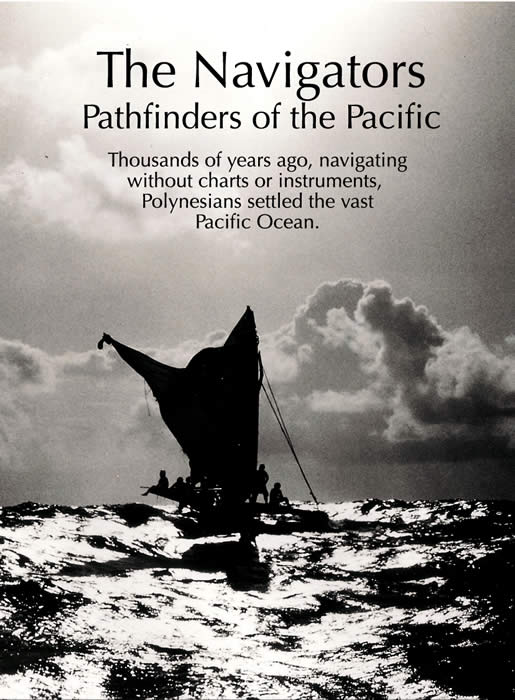 Micronesian canoe off Satawal
Steve Thomas photo

Over 1.000 years ago, the scattered islands of Polynesia were settled by an ancient seafaring people. Where did they come from? How did they navigate across the vast Pacific Ocean to settle one-third of Earth's surface?
Thor Heyerdahl proposed that Polynesia was settled from South America by voyagers who drifted aboard primitive rafts like Kon Tiki, pushed along by prevailing winds and currents. But he was wrong. The Navigators follows archeologists working on the Tahitian island of Huahine, in Fiji and Hawaii as they prove that ancient Polynesians voyaged in the opposite direction, from Island Southeast Asia, aboard large seaworthy canoes capable of forcing their way against the winds and currents.
To find out how they might have navigated, anthropologist/filmmaker Sam Low traveled to the tiny island of Satawal in Micronesia's remote Caroline islands. There he filmed Mau Piailug, who still practices an ancient art of wayfinding without Western instruments. In a ceremony known as "unfolding the mat," Piailug arranges 32 lumps of coral in a circle to represent the points of his "star compass." We watch as he builds a canoe using breadfruit sap and coconut husks as caulking and coconut rope to lash the planks together. In a dramatic demonstration, Mau sails Hokule'a, a replica of an original Polynesian canoe, from Hawaii to Tahiti: 2500 miles across the ocean, finding his way as ancient Polynesians once did, by a following a world of natural signs.
The Navigators is the story of the world's greatest diaspora - an ocean migration across ten million square miles of empty sea.
"A beautifully photographed, carefully organized program..."
Boston Herald
RECENT SCREENINGS
CAPE COD MARITIME MUSEUM
THURSDAY, APRIL 30, 2015
HARVARD UNIVERSITY FRIDAY, MAY 1ST, 2015
Friday May 1, 2015. Presenting The Navigators film and discussing Malama Honua at Harvard University. Organized by Kau'i Baumhofer, Hui Anuenue (formerly Boston Hawaiian Club), Chan School of Public Health Native American Student Organization and Punahou Alumni Association New England. Dancers are from From Hoku Pa`a Hula Collective: Melissa Dullea, Chiyo King,Yoshiko Gray, Gerri Anson, Dara Casey, Cami Parenteau, and Nancy Griffin.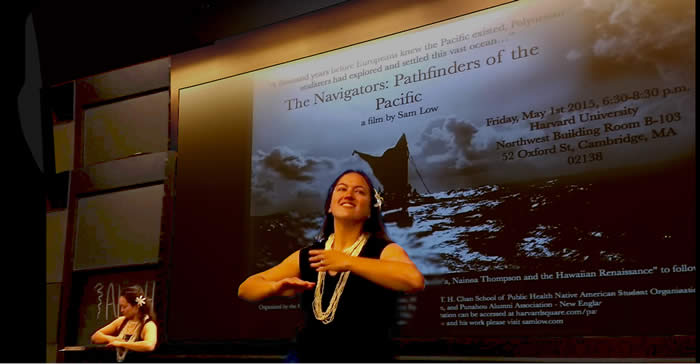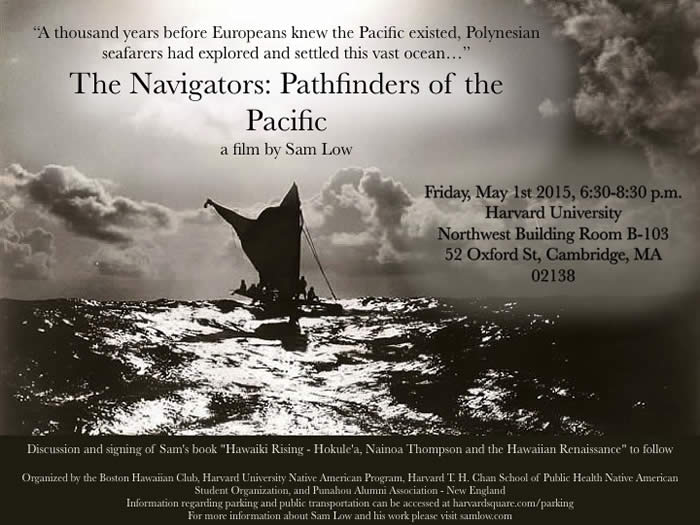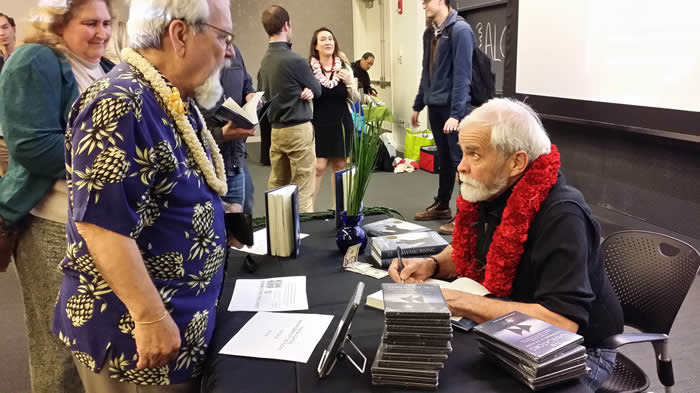 The Navigators
is available for purchase
ON AMAZON.COM
http://www.amazon.com/Navigators-Boyd-Estus/dp/B00IYSU9NI
This is a remastered version on DVD made possible with a grant from the Hawaii Council for the Humanities. The new version is cleaner and contains more information. For additional information contact Sam Low at samfilm2@gmail.com.
Sam's new book
Hawaiki Rising - Hokule'a, Nainoa Thompson and the Hawaiian Renaissance
is a good companion for The Navigators film.
Please click below for information about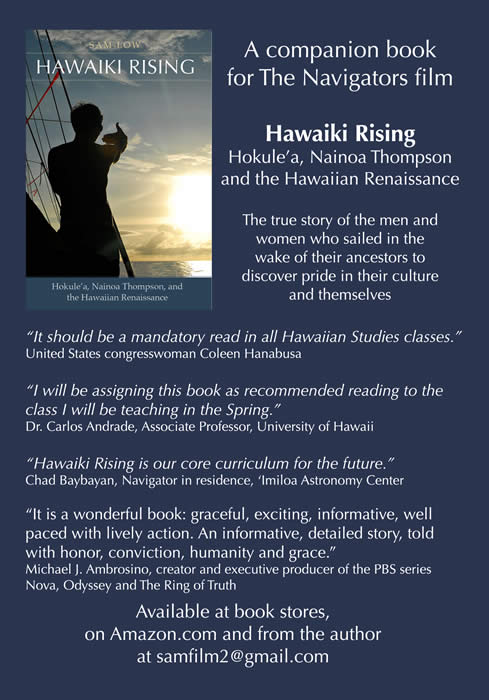 SCREENINGS
The Navigators was shown at
The Hawaii Book and Music Festival
May 19, 2013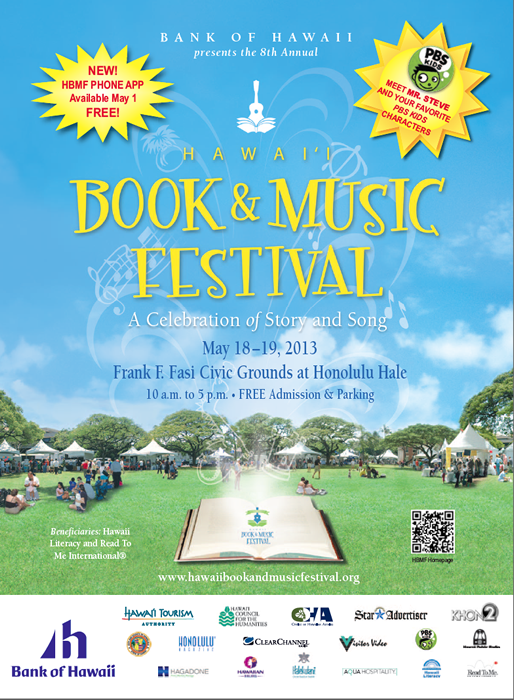 The Navigators was shown at
Mystic Seaport Museum
on October 18th, 2013

"Your personal contributions were very much valued by the participants. You could tell from the questions asked after the screening of your film. Also, there was considerable "buzz" from participants... there is no doubt in my mind that they will be influenced by the story of the Polynesian navigators, the resurgence of interest in their culture, and the "Hawaiian Renaissance" characterized in your book."
David A. Helgerson

The Navigators was shown at Maine's famous boatbuilding school
The Apprenticeshop
on November 8, 2013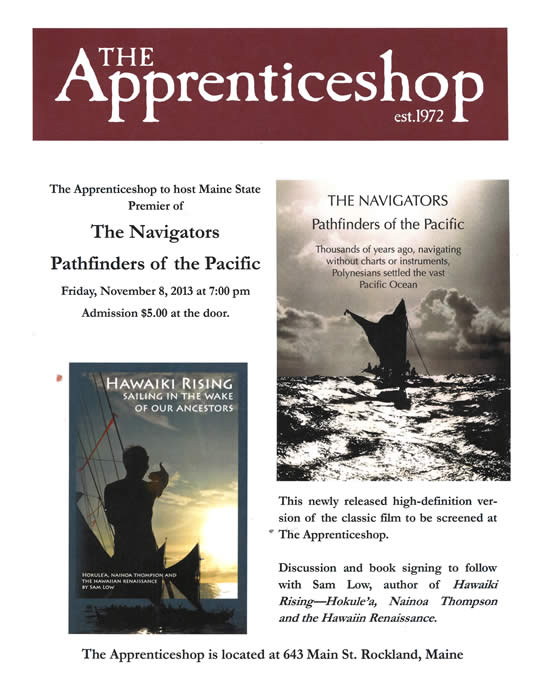 "Sam Low's presentation was captivating and educational! Our boatbuilding and sailing community truly enjoyed the vision, challenges, and successes portrayed by Sam's film and his enlightening discussion afterwards. Our organization has a history of building and sailing important traditional vessels in the Atlantic. "The Navigators" story left our audience with an inspiring and deeper appreciation of the Hokule'a's accomplishments, the people who brought her to life, and the Polynesian seafaring cultures now re-flourishing through-out the Pacific."
KC Hayniger
Waterfront Program Director
Apprenticeshop
Please click below for an interview with Sam about The Navigators and Hawaiki Rising - with Lance Lee, founder of the famous boat-building school, The Apprenticeshop.
----------------------------------------------------
for more information about the film - please click
The Navigators The Story of the Film

The Navigators Reviews and Press Clippings
The Navigators Teacher's Guide
----------------------------------------
THE NAVIGATORS was shown at the famous
PALACE THEATER
in downtown Hilo on May 23, 2014
with a panel discussion afterwards
with five PWO navigators.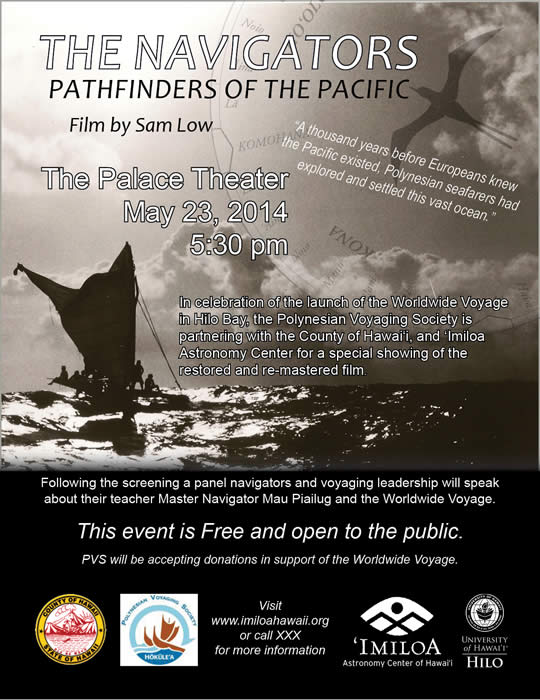 The Navigators was shown
for a panel discussion of Pacific Voyaging at
The 20th annual conference
of the New Zealand Studies Association
in Oslo, Norway in June of 2014. .
The film was "extremely well received," says Professor Ian Conrich from the University of South Australia, "and worked perfectly with the scheduled panel and conference direction. Thank you for supporting the event."
The Navigators was featured at the
Waimea Ocean Film Festival
with three screenings in
January, 2015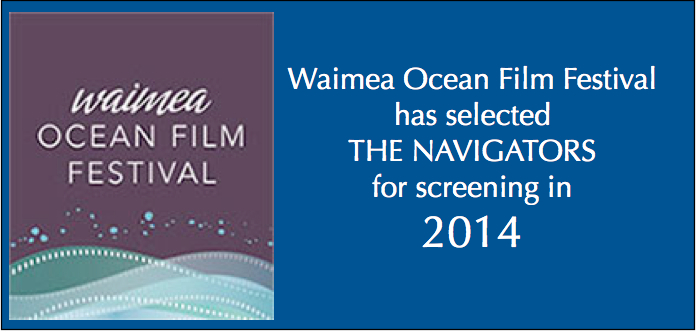 'It was a treat to have Sam Low as speaker and special guest at the Waimea Ocean Film Festival this year. Sam brings a unique perspective to our understanding of Hawaiian and voyaging history, past and present, as his background comprises both a PhD in anthropology from Harvard University and his personal experience as crew member of Hokule`a and cousin to Hokule`a captain and leader Nainoa Thompson. Sam's book Hawaiiki Rising provides a gripping account of Hokule`a's history, offering rare personal insight into the story and journey still unfolding with Hokule`a's worldwide voyage underway today.'
Tania Howard
Executive Director
Waimea Ocean Film Festival, Hawaii
Additional 2014 Screenings
May 20, Volcanoes National Park, Hawaii Island
May 21 Pu'ukohola Park, Hawaii Island
May 22 Kaloko-Honokohau Park, Hawaii Island
May 22, Pu'uhonua o Honaunau Park, Hawaii Island
--------------------------------------------------------------------------------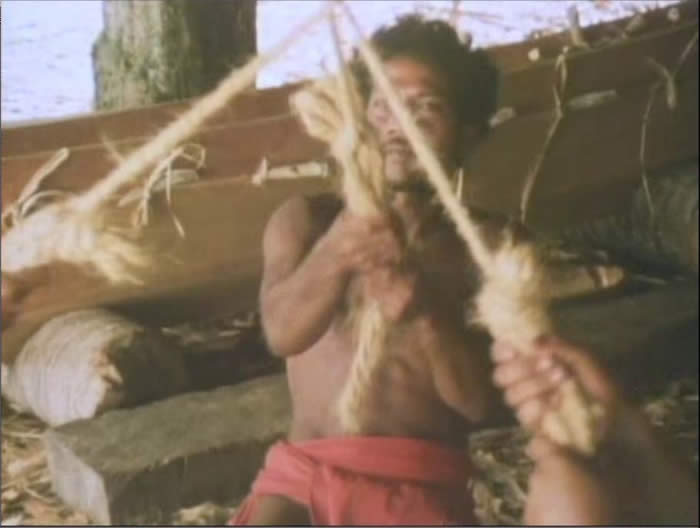 –––––––––––––––––––––––––––––––––––––––––––––––––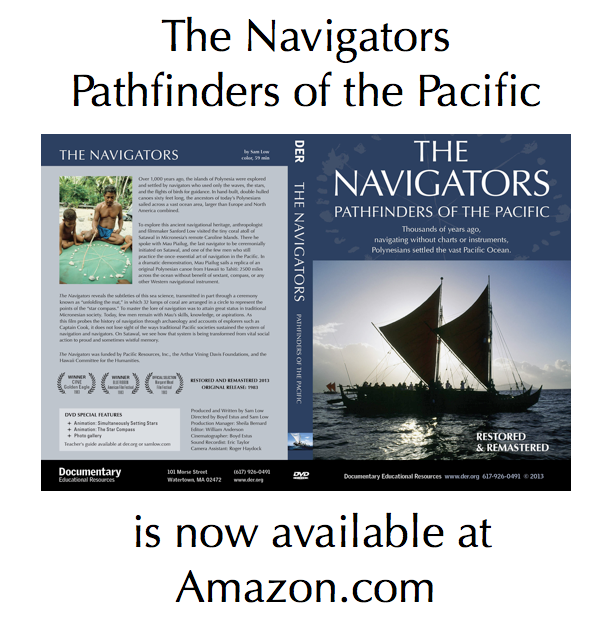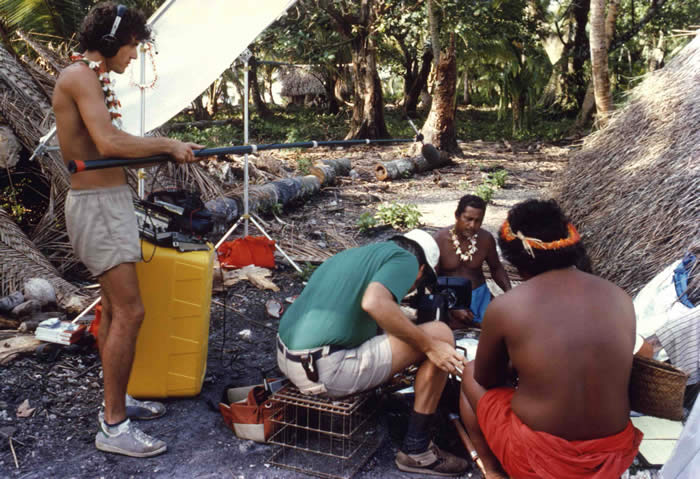 Filming interview with Mau Piailug on Satawal, Caroline Islands
The Navigators
___________________________________________________________
To purchase The Navigators go to
Documentary Educational Resources
http://www.der.org/
or email Sam Low at
samfilm2@gmail.com
__________________________________
Filming The Navigators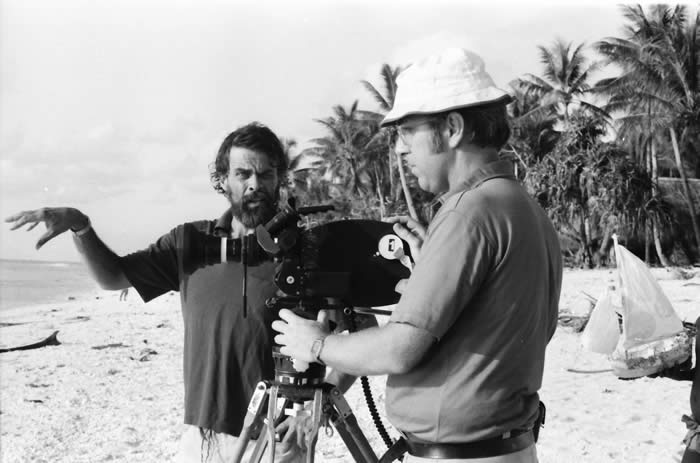 Producer Sam Low and Director Boyd Estus confer about a scene on Satawal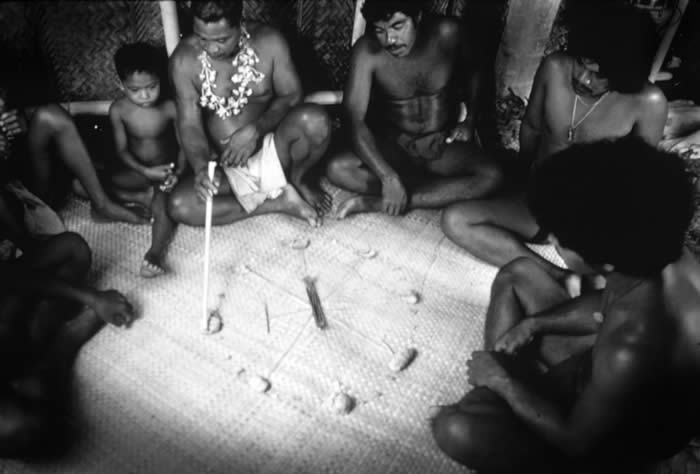 Mau Piailug Teaching the "star compass" on Satawal - Steve Thomas Photo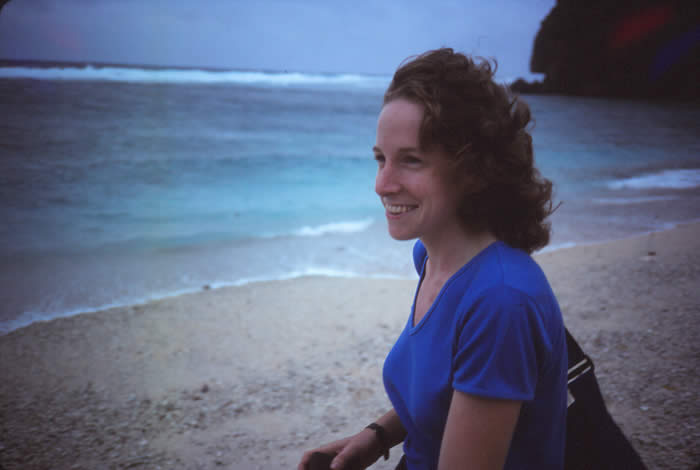 Associate Producer Sheila Curran Bernard in Hawaii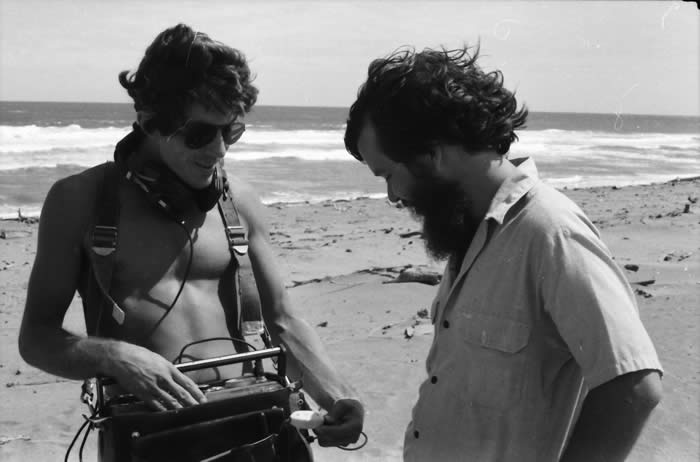 Soundman Eric Taylor with archeologist Patrick Kirch in the Halawa Valley - Molokai, Hawaii.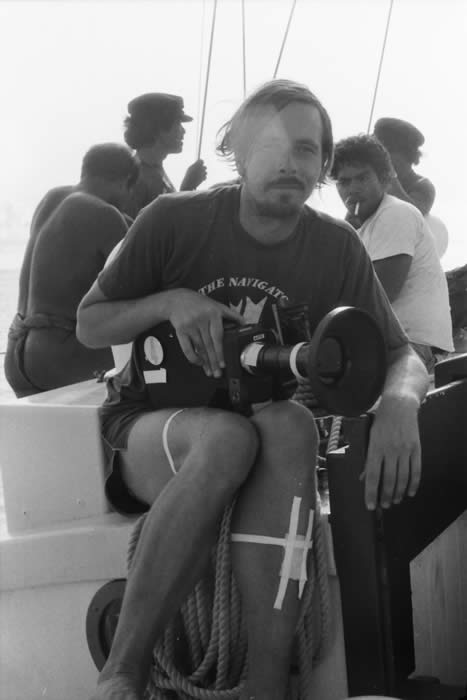 Assistant Cameraman Roger Haydock on SV Dorcas with men from Satawal.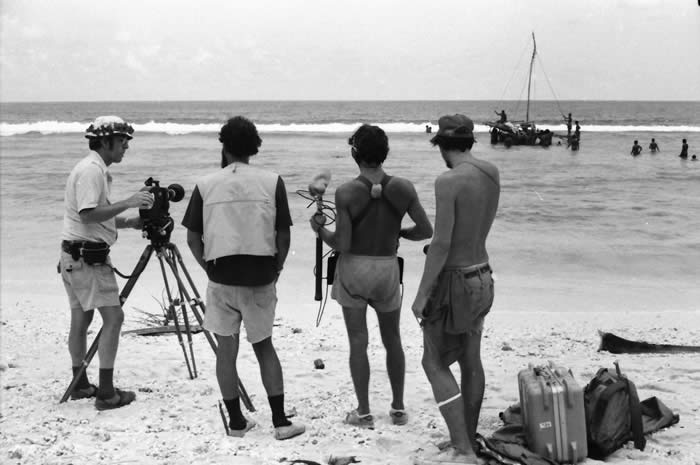 Launching a canoe through the reef on satawal
Sheila Curran Bernard Photo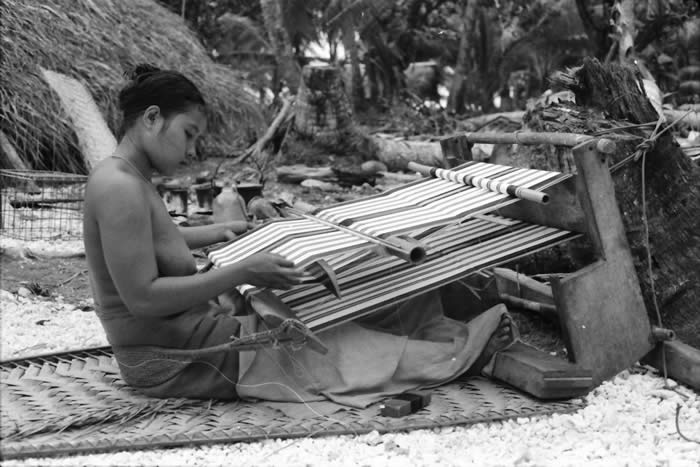 Woman weaving on satawal - Sheila Curran Bernard Photo
-------------------------------------------------------------------
Sam's New Book
Hawaiki Rising - Hokule'a, Nainoa Thompson and the Hawaiian Renaissance
released on May 18th, 2013
NOW IN ITS THIRD PRINTING
A great book to accompany Sam's film - The Navigators
FOR INFORMATION ABOUT SAM'S NEW BOOK
CLICK THE IMAGE BELOW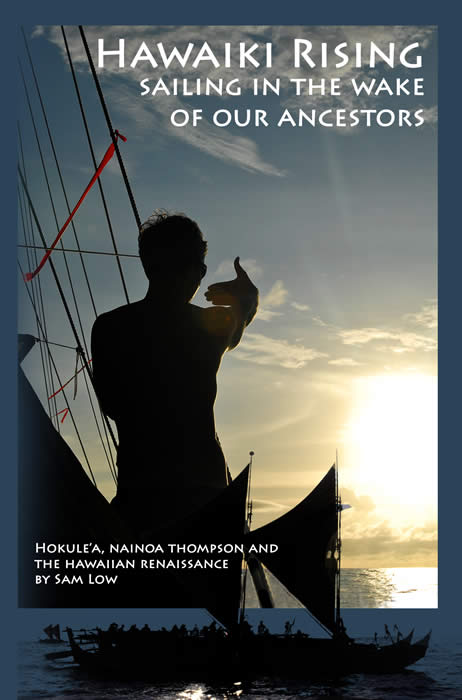 _____________________
OTHER SAM LOW FILMS
Fast Cars
A film by Sam Low for NOVA on PBS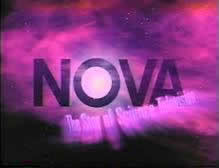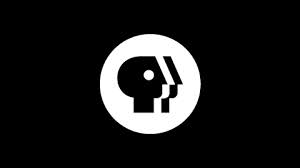 The quest for speed at the world famous Indianapolis 500 automobile race.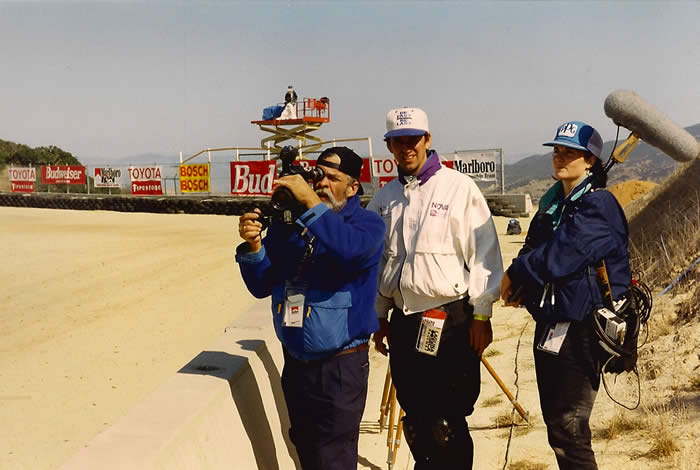 Filming Fast Cars - at Laguna Seca, California

Fast Cars - The genesis of a NOVA documentary
Film and Television Sam Low's Filmography
---------------------------------------------------------------------------------------------
The Ancient Mariners
a film by Sam Low
for the Odyssey Series of PBS programs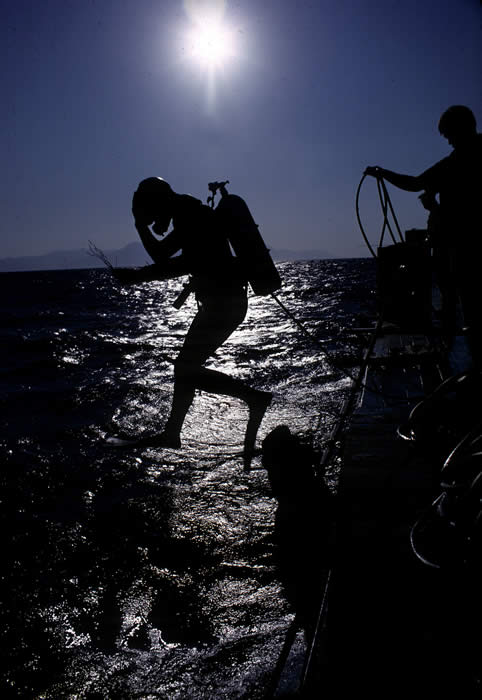 Diver leaps from barge anchored over Byzantine shipwreck near Yassi Ada, Turkey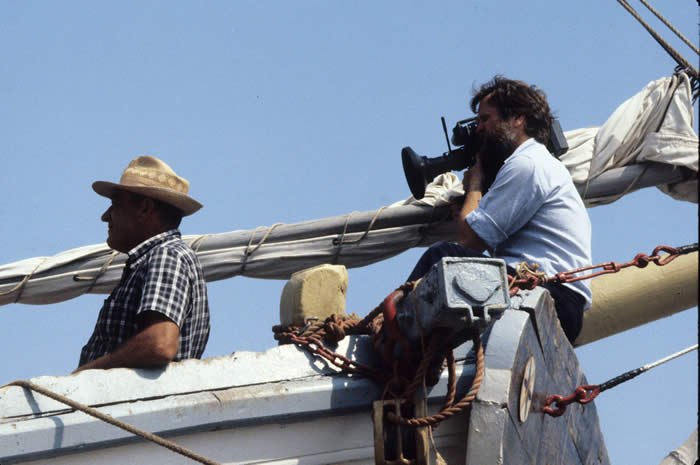 Cinematographer and director, Werner Bundschuh, filming for the Ancient Mariners in Greece
The Ancient Mariners follows nautical archaeologists as they excavate three shipwrecks in the depths of the Eastern Mediterranean and as they analyze their finds in the laboratory. The three ships, dating from before 300 B.C. to 1025 A.D., tell the story of a significant change in the methods of ship construction - a change reflecting broader alterations in social, economic, and political conditions.
At Serse Liman, Turkey, George Bass, the founder of the Institute of Nautical Archaeology (INA), led an investigation of a ship that sank in 1025 A.D. As we see it before excavation begins, the wreck is barely noticeable on the seabed; but the ship's cargo, mostly broken glass, appears as the archaeologist divers remove silt with an airlift. Showing the huge collection at Bodrum, Turkey, Bass explains that the ship must have been carrying glass for eventual recycling. Frederick Van Dorninick shows the elaborate methods for preserving the fragile pieces of the ship's hull on land. Michael Katzev, also associated with INA, excavated a Greek merchant ship that sank off Kyrenia on Cypress in the fourth century, B.C. The ship carried a cargo of wine in large amphoras. Richard Steffy learns from making a model of the ship that it was built quite differently from the Serce Liman ship. This "hull-first" construction process required not only more labor but a great deal more wood. Lionel Casson tells us that the craftsmanship of the Kyrenia ship was made possible by the use of slave labor, on which Greek society then depended.
George Bass had earlier excavated another shipwreck near Yassi Ada, an island off Turkey, that helps to explain the change in ship construction. The Yassi Ada ship dates from the seventh century A.D. and its construction fell somewhere between hull-first and later frame-first methods.
Film Review
THE NEW YORK TIMES
TV: 'ANCIENT MARINERS'
By RICHARD F. SHEPARD
Published: September 29, 1981

MAN made a road out of the barrier of the sea by building ships, and this most adventurous and ancient pursuit opens the new season of ''Odyssey,'' the series that looks at history and life through the lens of anthropology. ''The Ancient Mariners,'' at 9 o'clock tonight on WNET-TV, achieves a fascination worthy of its topic in sound and picture.
The episode shows how modern scientists have recreated from wreckage found at sea bottom near Greece, Turkey and Cyprus the way ancient shipbuilders built the sturdy craft that carried cargoes. They have also learned about the crews and the civilizations the ships served.
Three antique ships are involved in this program, one from the fourth century B.C., another from A.D. 625 and the third from the 11th century. The scenes shift from underwater sites to the Nautical Archeology Institute at Texas A & M University. From blackened fragments of wood, from thousands of lumpish remains of amphora containers, entire ships and cargoes are reconstructed. Dick Steffy, a marine historian and craftsman, makes models from the evidence and tells how he learns about the thinking of the ancient shipmakers by trying to reproduce their work.
This is more than a program about ships and history; it is a most absorbing account of research process, of forensic investigation, of the scientific mind applied to the humanities. ''Odyssey'' is good at this sort of thing, and this first showing, with Michael Ambrosino as executive producer, Sam Low as producer and Werner Bundschuh as director, gets the season off to a fine start.
To purchase The Ancient Mariners please see: http://www.der.org/films/ancient-mariners.html
Out of the Past
Eight films for PBS on the rise and fall of
the ancient Maya
Cambridge Studios and WQED-Pittsburgh
Sam Low - Series Producer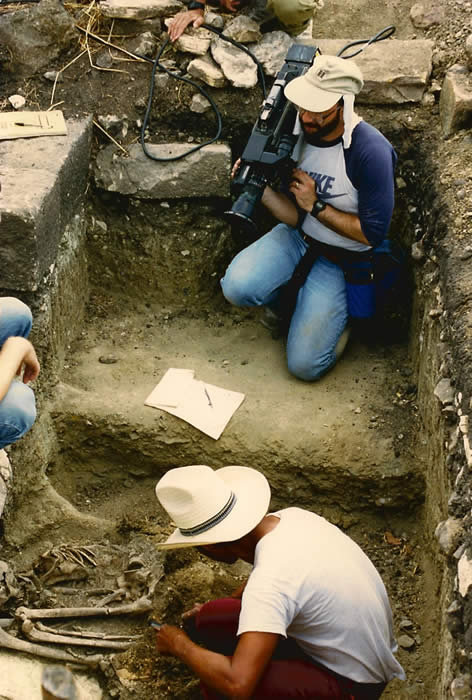 filming excavation of a burial in Copan, Honduras
for Out of the Past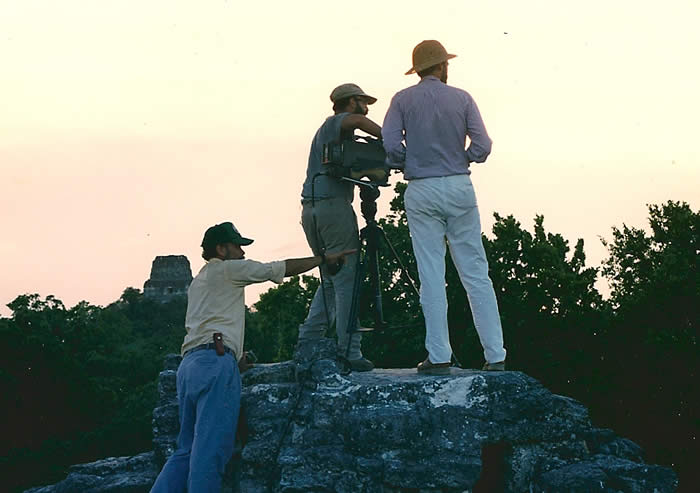 filming for Out of the Past
atop a pyramid in Tikal, Guatemala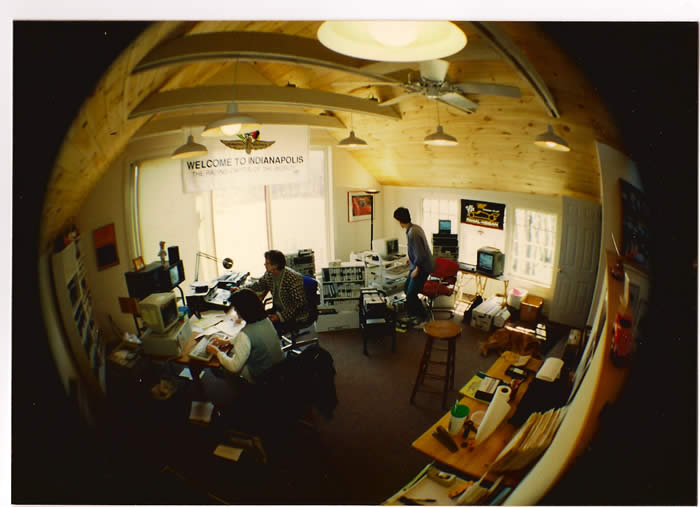 Off-line editing at Cambridge Studios north